FREQUENCY OF CONTRALATERAL PATENT PROCESSUS VAGINALIS IN CHILDREN PRESENTING WITH UNILATERAL HERNIAS
Patent Processus Vaginalis
Lt Col Chaudhry Aqeel Safdar

Department of Paediatric Surgery, MH Rawalpindi

Rehan-e-kibria .

Military Hospital Rawalpindi

Jamshed Ahmed Rehmani

Military Hospital Rawalpindi
Keywords:
Inguinal hernia, children, contralateral hernia, patent processus vaginalis
Abstract
Objective: To determine the frequency of contralateral patent processus vaginalis (PPV) in children who presented with unilateral inguinal hernias.
Study Design: A Descriptive Study. Place & Duration of Study: Department of Paediatric Surgery, Military Hospital Rawalpindi, from November 2006 to November 2007. Patients and Methods: All children under the age of 6 years and presenting with unilateral inguinal hernia were included. Those children who had a hernia on the contralateral side, or a history of swelling in the past, previous operations on the contralateral side, associated conditions like connective tissue disorders, ascites or VP shunts were also excluded. A standard Rehbein procedure was carried out for hernia repair on both sides. The results were analyzed and presented as mean (range) or mean ± SD. Results: There were 76 patients who underwent bilateral inguinal explorations. Males were 66 (86.8%) and 10 (10.8%) were female. Almost two thirds (n=52, 68.4%) were children younger than two years of age (mean age 1 year and 9 months). There was a preponderance of left sided hernias (45 vs. 31, 59.2% vs. 40.8%). The asymptomatic contralateral side exploration showed the presence of a definite PPV in 5 (6.6%) patients. The mean operating time was 35 + 10.4 minutes. Conclusion: The risk of contralateral hernia, in children presenting with one sided inguinal hernia is quite low. This does not justify routine exploration of the contralateral groin to prevent only a few clinical hernia developments later on.
Downloads
Download data is not yet available.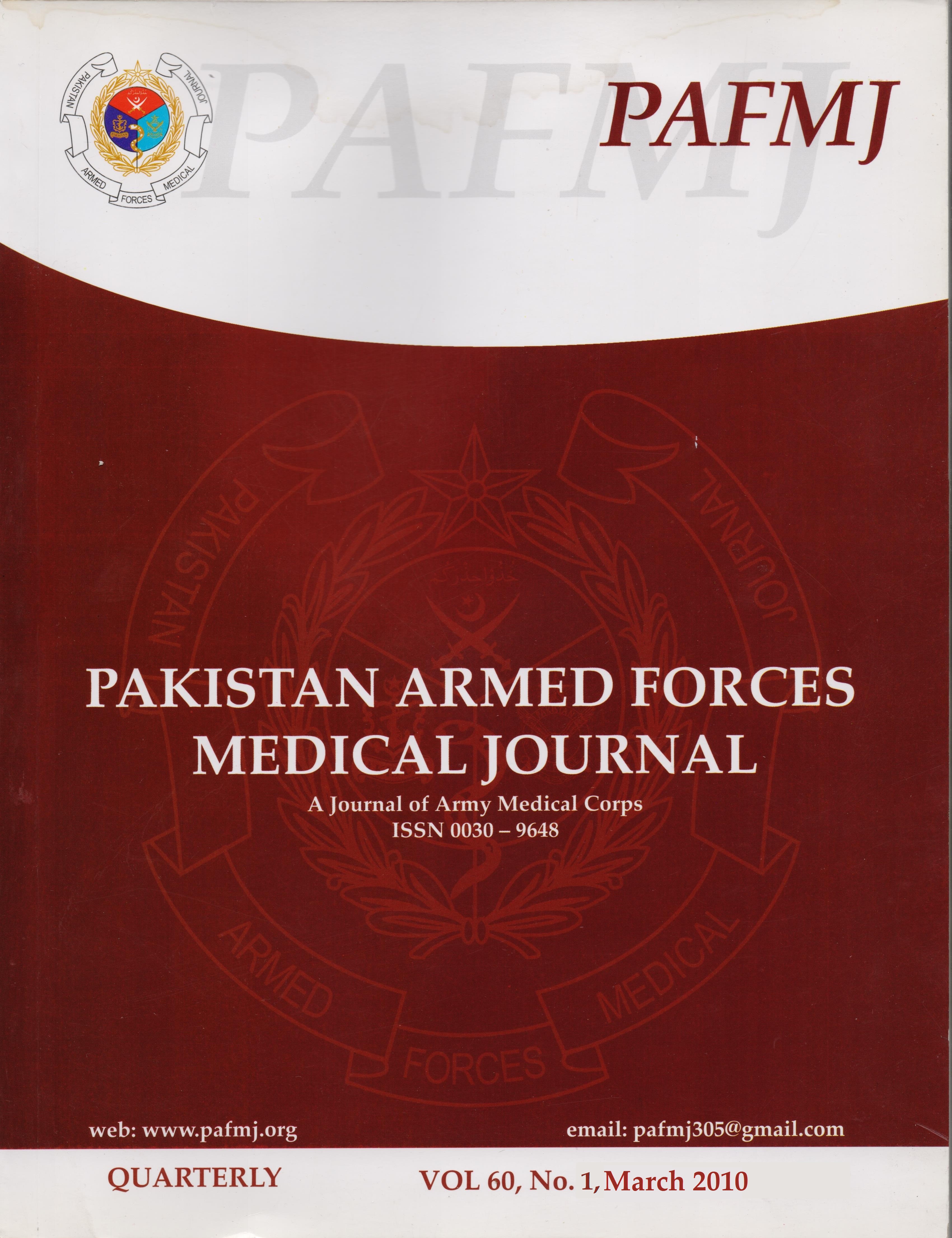 How to Cite
Safdar, L. C. C., ., R.- e- kibria, & Rehmani, J. (2010). FREQUENCY OF CONTRALATERAL PATENT PROCESSUS VAGINALIS IN CHILDREN PRESENTING WITH UNILATERAL HERNIAS. Pakistan Armed Forces Medical Journal, 60(1), 69-72. Retrieved from https://pafmj.org/index.php/PAFMJ/article/view/221
Section
Original Articles