SERUM MAGNESIUM LEVELS IN DIABETIC RETINOPATHY
Diabetic Retinopathy
Naveed Ahmed Shah

Combined Military Hospital Lahore Pakistan

Muhammad Amir

Armed Forces Institute of Dentistry

Lubna Noreen

National University of Medical Sciences (NUMS) Rawalpindi Pakistan

Jamil Ahmed Shah

Fauji Foundation Hospital Rawalpindi Pakistan

Rubina Habib

Combined Military Hospital Quetta

Naveed Khan

National University of Medical Sciences (NUMS) Pakistan

Yasser Nadeem

National University of Medical Sciences (NUMS) Pakistan
Keywords:
Diabetes, Retinopathy, Serum Magnesium
Abstract
Objective: To determine the serum magnesium levels in patients with diabetic retinopathy.
Study Design: Descriptive cross sectional study.
Place and Duration of Study: Department of Medicine, Combined Military Hospital Lahore, Six months from Nov 2014 to May 2015.
Patients and Methods: A total of 50 cases of type 2 Diabetes Mellitus were included in the study. Serum magnesium levels, fasting blood sugar and HbA1c were recorded in all patients. Retinopathy was confirmed by direct Ophthalmoscopy.
Results: In our study, out of 50 cases, 30% (n=15) were between 20-40 years of age while 70% (n=35) were between 41-65 years of age. Mean ± SD was calculated as 46.12 ± 7.76 years. Forty-six percent (n=23) were males and 54% (n=27) were females. Mean fasting blood sugar was calculated as 8.06 ± 0.49 mmol/L. Mean HbA1C was calculated as 7.11± 0.30 while mean serum magnesium levels were calculated as 1.15 ± 0.15 mg/dl.
Conclusion: Mean magnesium levels in patients with diabetic retinopathy were significantly lower than the magnesium levels that were taken as the reference suggesting a possible role of hypomagnesaemia in increasing the risk of retinopathy amongst patients with diabetes.
Downloads
Download data is not yet available.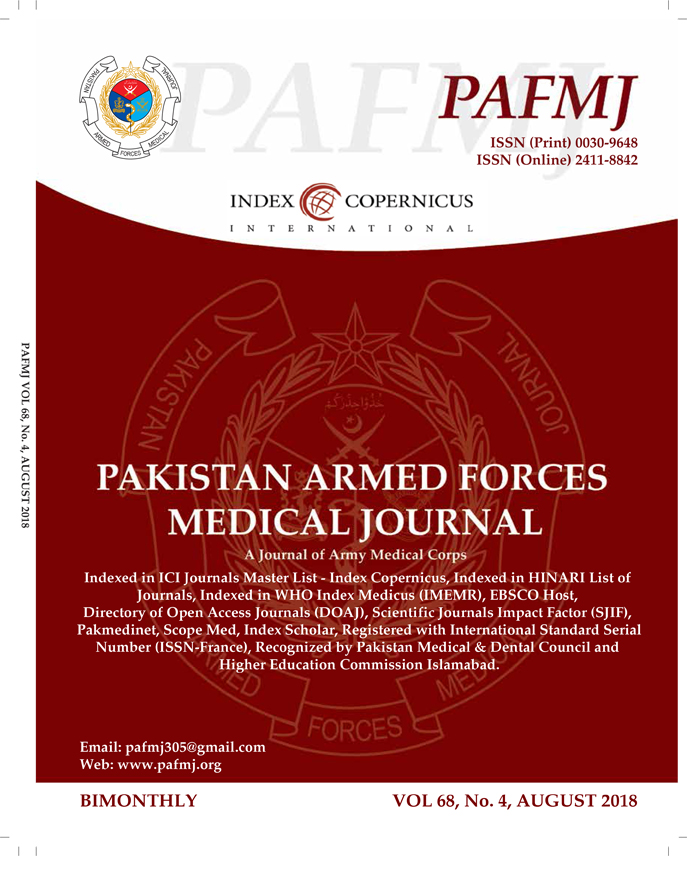 How to Cite
Shah, N., Amir, M., Noreen, L., Shah, J., Habib, R., Khan, N., & Nadeem, Y. (2018). SERUM MAGNESIUM LEVELS IN DIABETIC RETINOPATHY. Pakistan Armed Forces Medical Journal, 68(4), 740-44. Retrieved from https://pafmj.org/index.php/PAFMJ/article/view/22
Section
Original Articles