FREQUENCY OF PREDIABETES IN A COHORT OF INDIVIDUALS REPORTING TO COMBINED MILITARY HOSPITAL, QUETTA FOR EVALUATION OF SERUM GLUCOSE LEVELS
Prediabetes Evaluation of Serum Glucose Levels
Majid Latif

Classified Pathologist, CMH Quetta Pakistan

Saeed Bin Ayaz

National University of Medical Sciences (NUMS) Pakistan

Muhammad Amir

Government Hospital Ghaziabad Lahore Pakistan

Muneeba Manzoor

Government Hospital Ghaziabad Lahore Pakistan
Keywords:
Beta-Catenin, Medulloblastoma, Molecular Classification, WHO, Wnt-Pathway
Abstract
Objective: To investigate the pediatric group expression of β-catenin and pattern of immunohistochemistry in medulloblastoma patients following WHO classification.
Study Design: Cross-sectional descriptive study.
Place and Duration of Study: Current study designed and conducted in Department of Histopathology, Shaukat Khanum Hospital Memorial Cancer Hospital and Research Canter, Lahore. All cases of medulloblastoma (1 year -15 year) were retrieved from a computerized database diagnosed between 2015-2017 year.
Material and Methods: Electronic hospital information system was used to select medulloblastoma patients. Results were categorized to see the frequency in all cases. Beta-catenin and other immune-histochemical staining pattern were observed among different molecular types. Nuclear positivity of beta-catenin was considered as a positive result.
Results: Sixty diagnosed cases of Medulloblastoma were retrieved from the records. Mean age of the patients was 4.68 ± 3.62 years. There were n=41 (68%) males as compared to n=19 (32%) females. SHH pathway active- tion was the most common abnormality seen in n=39 (65%) of the patients followed by Non-SHH pathway medulloblastomas n=19 (32%). Only one case (1.6%) was found with positive expression of beta-catenin. Major expression of immune-histochemical stain was Synaptophysin positive in 56 (94%) cases.
Conclusion: Molecular classification helps to stratify these patients according to their biological aggressiveness and aid clinicians to better plan treatment strategies. Beta-Catenin nuclear expression leads activation of Wnt Pathway which is associated with better prognosis and is nowadays treated with therapy de-escalation. However, our study has shown that our population has an extremely small number of patients with this phenotype.
Downloads
Download data is not yet available.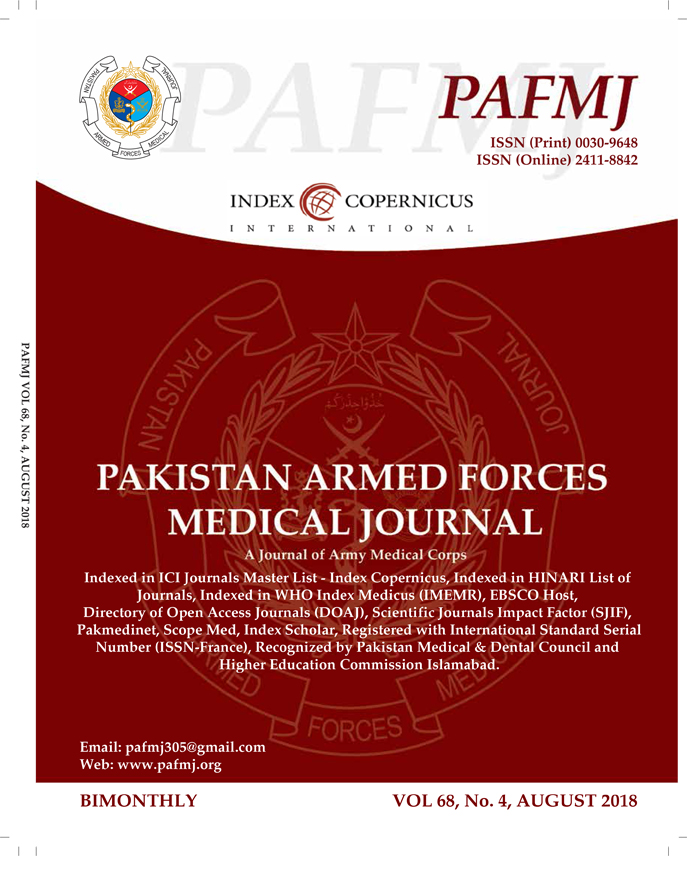 How to Cite
Latif, M., Ayaz, S., Amir, M., & Manzoor, M. (2018). FREQUENCY OF PREDIABETES IN A COHORT OF INDIVIDUALS REPORTING TO COMBINED MILITARY HOSPITAL, QUETTA FOR EVALUATION OF SERUM GLUCOSE LEVELS. Pakistan Armed Forces Medical Journal, 68(4), 729-33. Retrieved from https://pafmj.org/index.php/PAFMJ/article/view/21
Section
Original Articles