FREQUENCY OF NAPSIN A POSITIVITY IN OVARIAN CLEAR CELL CARCINOMA AND SEROUS CARCINOMA
Napsin A Positivity in Ovarian Clear Cell Carcinoma
Zara Saeed

Shaukat Khannam Memorial Hospital Lahore Pakistan

Sajid Mushtaq

Shaukat Khanum Memorial Cancer Hospital Lahore Pakistan

Noreen Akhtar

Shaukat Khanum Memorial Cancer Hospital Lahore Pakistan

Usman Hassan

Shaukat Khanum Memorial Cancer Hospital Lahore Pakistan
Keywords:
Clear cell carcinoma ovary, High grade serous carcinoma, Napsin A
Abstract
Objective: To differentiate ovarian clear cell carcinoma and serous carcinoma by expression of Napsin A positivity.
Study Design: Cross-sectional & descriptive study.
Place and Duration of Study: The study was conducted in Shaukat Khannam Memorial cancer hospital from 2016 to 2017.
Material and Methods: A total of n=59 cases of previously diagnosed cases of clear cell carcinoma and high grade serous carcinoma were selected for this study. The slides were reviewed by an expert panel. Napsin A (MRQ-60) Ventana monoclonal antibody was applied to all the cases. Weak to strong membranous staining in more 5% tumor cells was considered positive. 
Results: Mean age of patients in the study was 46.25 ± 11.1 years. There were n=33 (55.9%) cases of serous carcinoma, n=23 (38.9%) cases of clear cell carcinoma and n=3 (5.08%) cases had biphasic morphology. CK7 was applied and showed positive expression in all the cases. Napsin A was found positive in all the cases of clear cell carcinoma as compared to only n=1 (3%) high grade serous carcinomas and none of the mixed tumors. The relationship was considered significant with a p-value of <0.05.
Conclusion: Expression of Napsin A showed a significant difference in high grade serous carcinoma and clear cell carcinoma. Therefore, Napsin A was found a sensitive and specific marker for the diagnosis of ovarian clear cell carcinoma and can reliably differentiated it from high grade serous carcinoma. Current research recommends a study with large sample size to insight the expression of Napsin A and other immunohistochemical stains.
Downloads
Download data is not yet available.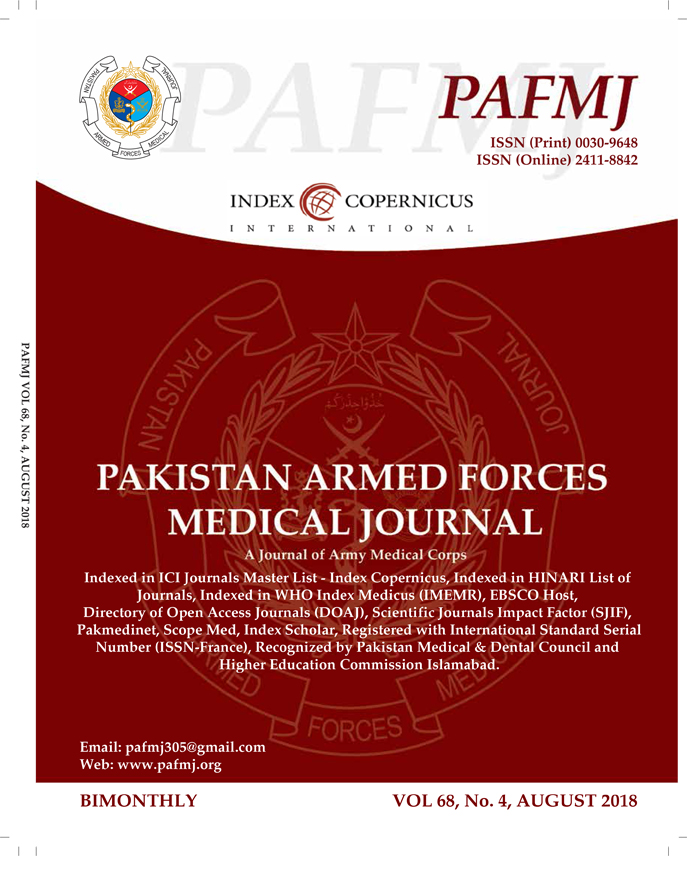 How to Cite
Saeed, Z., Mushtaq, S., Akhtar, N., & Hassan, U. (2018). FREQUENCY OF NAPSIN A POSITIVITY IN OVARIAN CLEAR CELL CARCINOMA AND SEROUS CARCINOMA. Pakistan Armed Forces Medical Journal, 68(4), 723-28. Retrieved from https://pafmj.org/index.php/PAFMJ/article/view/20
Section
Original Articles