FREQUENCY AND LEVELS OF FACTOR EIGHT INHIBITORS IN KNOWN HAEMOPHILIACS
Eight Inhibitors In Haemophiliacs
Keywords:
FVIII, FVIII alloantibodies, Haemophilia A, Immune tolerance, Inhibitors, Risk factors
Abstract
Abstract
Objective: To determine the frequency and levels of factor VIII inhibitors in known haemophilics in our population. 
Study Design: Cross sectional study. 
Place and Duration of Study: Department of Haematology, Armed Forces Institute of Pathology, Rawalpindi, from Mar 2016 to Aug 2016.
Patients and Methods: A total of 88 patients were included in this study. aPTT based screening for inhibitor was done both immediately and two hours after mixing the patients plasma with the normal plasma. Both host related and treatment related risk factors for inhibitor formation were checked. They were followed during the treatment. Outcome was noted in terms of inhibitor presence and strength of inhibitor. 
Results: Patients ranged between 2-30 years of age. Mean age of the patients was 6.68 ± 4.90 years. All patients were males. Severity of haemophilia was as follows: Eighteen cases (20.4%) were mild, 43 cases (48.9%) were moderate and 27 cases (30.7%) were having severe haemophilia. Level of factor VIII inhibitors was >0.5 BU in 4 patients (4.5%) and <0.5 BU was seen in 84 patients (95.5%). Out of 88 patients, 81 patients (92%) were under treatment for <10 years and 7 patients (8%) were under treatment >10 years. Stratification with regard to age, severity of haemophilia and duration of treatment was carried out. 
Conclusion: In conclusion, though development of factor VIII inhibitors has not yet become major issue in our population and only 4.5% haemophiliaA patients developed inhibitors in present study.
Downloads
Download data is not yet available.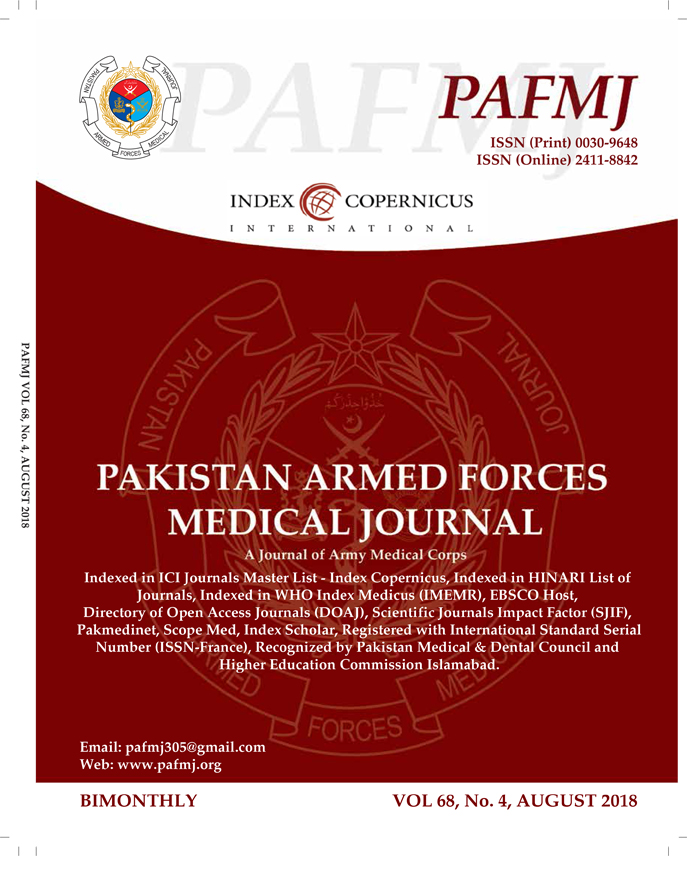 Downloads
How to Cite
Amir, M., Hassan, Z. U., Aziz, O. B. A., Ali, N., & Ahmad, S. Q. (2018). FREQUENCY AND LEVELS OF FACTOR EIGHT INHIBITORS IN KNOWN HAEMOPHILIACS: Eight Inhibitors In Haemophiliacs. Pakistan Armed Forces Medical Journal, 68(4), 712–16. Retrieved from https://pafmj.org/PAFMJ/article/view/17
Section
Original Articles