ROLE OF HEPATOBILIARY SCINTIGRAPHY & BILIRUBIN PROFILE IN EARLY DIAGNOSIS OF BILIARY ATRESIA IN CHILDREN WITH PERSISTENT NEONATAL JAUNDICE–A REVIEW OF 8 YEAR EXPERIENCE
Hepatobiliary Scintigraphy & Bilirubin Profile
Muhammad Inamullah

Armed Forces Institute of Pathology Rawalpindi Pakistan

Mohammad Omair Riaz

National University of Medical Sciencs (NUMS) Rawalpindi Pakistan

Fida Hussain

Combined Military Hospital Lahore Pakistan
Keywords:
Biliary atresia, Hepatobiliary scintigraphy, Neonatal jaundice
Abstract
Abstract
Objective: To evaluate the role of Hepatobiliary scintigraphy and bilirubin profile in early diagnosis of biliary atresia in children with persistent neonatal jaundice in resource constrained settings. 
Study Design: Cross sectional observational study including retrospective data evaluation. 
Place and Duration of Study: Nuclear Medical Center (NMC), AFIP Rawalpindi, from Jul 2009 to Jun 2017 over a period of 8 years 
Material and Methods: Neonates/infants referred for Hepatobiliary scintigraphy were included in the study with a diagnosis of cholestatic liver disease along with conjugated hyperbilirubinemia. Age in days, gender and total/ direct bilirubin levels were documented for each case at presentation. Patients were classified into three diagnostic subgroups on the basis of hepatobiliary scintigraphy into biliary atresia, normal and neonatal hepatitis in both genders. The mean of direct/total bilirubin in all gender specific subgroups was calculated and differences in similar groups across genders tested for significance by students' t-test. Differences in age and gender specific frequency of bilary atresia were tested by chi square Fischer's exact test. 
Results: Total 106 patients comprising 69 males and 37 females having persistent neonatal jaundice were included. Among them, those with a final diagnosis of biliary atresia, normal and hepatitis were 33, 27, 9 in males and 24, 10 and 3 in females respectively. Biliary atresia was distinguishable from normal cases in male infants through bilirubin profile whereas it provided insignificant help in such cases in female infants. With an earlier mean age at presentation as compared to males (69 vs 80 days), this underscored the importance of early HIDA scan. 
Conclusion: In clinically equivocal cases, early hepatobiliary scintigraphy helped by excluding biliary atresia definitively.
Downloads
Download data is not yet available.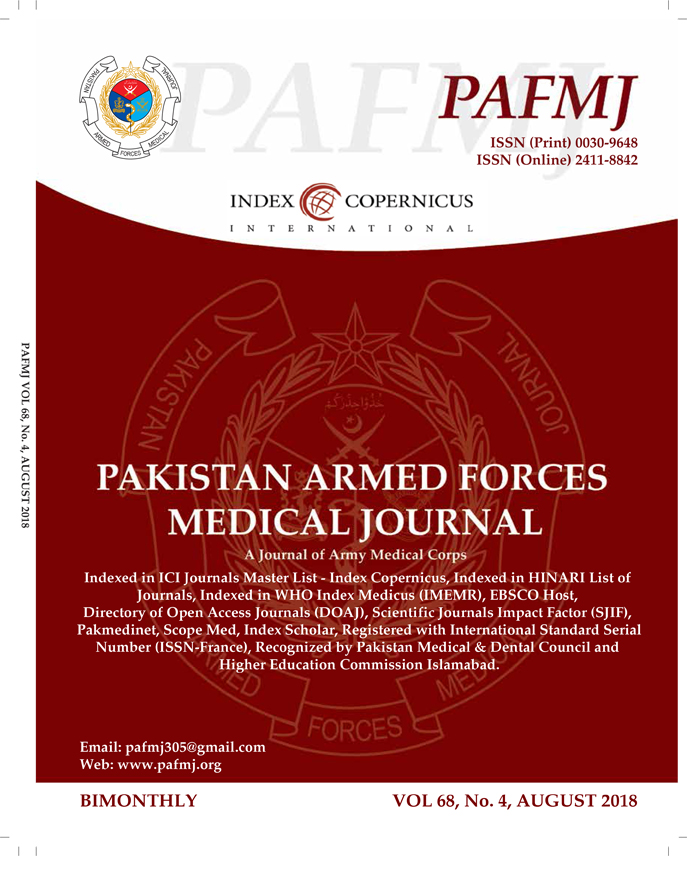 How to Cite
Inamullah, M., Riaz, M., & Hussain, F. (2018). ROLE OF HEPATOBILIARY SCINTIGRAPHY & BILIRUBIN PROFILE IN EARLY DIAGNOSIS OF BILIARY ATRESIA IN CHILDREN WITH PERSISTENT NEONATAL JAUNDICE–A REVIEW OF 8 YEAR EXPERIENCE. Pakistan Armed Forces Medical Journal, 68(4), 706-11. Retrieved from https://pafmj.org/index.php/PAFMJ/article/view/16
Section
Original Articles