PATHOLOGICAL ASSESSMENTOF TUMOR RESPONSE IN A NEO-ADJUVANT THERAPY TREATED RESECTIONS FOR OSTEOSARCOMAS
Neo-Adjuvant Therapy For Osteosarcomas
Syed Gardezi Saad Gardezi

Dept of Histopathology, Shaukat Khanum Memorial Cancer Hospital Lahore Pakistan

Iftikhar Ali Rana

Shaukat Khanum Memorial Cancer Hospital Lahore Pakistan

Asif Loya

Shaukat Khanum Memorial Cancer Hospital Lahore Pakistan

Sajid Mushtaq

Shaukat Khanum Memorial Cancer Hospital Lahore Pakistan

Noreen Akhter

Shaukat Khanum Memorial Cancer Hospital Lahore Pakistan

Muhammad Tariq Mehmood

Shaukat Khanum Memorial Cancer Hospital Lahore Pakistan
Keywords:
Osteosarcoma, Chemotherapy, response
Abstract
Objective: To assess of the pathologic response of patients of osteosarcoma, after neoadjuvant chemotherapy.
Study Design: Descriptive study.
Place and Duration of Study: Shaukat Khanum Memorial Cancer Hospital & Research Centre, Lahore from Jan
2016 to Aug 2016.
Material and Methods: A total of 60 cases of osteosarcoma found suitable by inclusion criteria were included
in this study. Demographic details such as name, sex and age were collected. All specimens were grossed and
staged according to CAP guidelines. Tumor response was assessed by two pathologists and graded as good and
poor response.
Results: Sixty percent (n=36) of patients were between 7-18 years of age while 40% (n=24) of patients were
between 19-45 years of age. Mean age was 17.65 years. A total of 58.33% (n=35) of patients were males and
41.67% (n=25) of patients were females. Thirty percent (n=18) of the patients had good response, while 70%
(n=42) of patients had poor response to chemotherapy.
Conclusion: We concluded that the assessment of pathologic response of osteosarcoma after neoadjuvant
chemotherapy in terms of good response and poor response is a useful tool for the pathologist and the oncologist.
It gives us useful information regarding patient's response to neoadjuvant chemo radiotherapy that also helps in
determining the further management and overall survival rate of the patient.


Downloads
Download data is not yet available.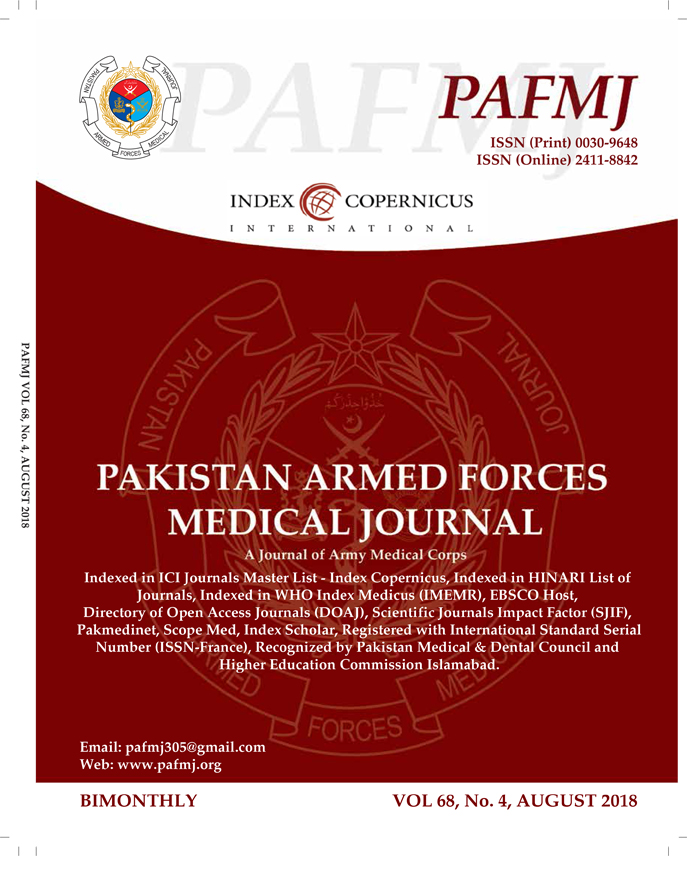 How to Cite
Gardezi, S. G., Rana, I., Loya, A., Mushtaq, S., Akhter, N., & Mehmood, M. (2018). PATHOLOGICAL ASSESSMENTOF TUMOR RESPONSE IN A NEO-ADJUVANT THERAPY TREATED RESECTIONS FOR OSTEOSARCOMAS. Pakistan Armed Forces Medical Journal, 68(4), 697-700. Retrieved from https://pafmj.org/index.php/PAFMJ/article/view/12
Section
Original Articles