Early Post-Stroke Seizures: A Comparison Between Acute Ischemic and Haemorrhagic Stroke Patients
Keywords:
Epilepsy, Haemorrhagic stroke, Ischemic stroke, Seizures
Abstract
Objective: To compare the frequency of post-stroke seizure between acute ischemic and haemorrhagic stroke patients.
Study Design: Comparative, prospective study.
Place and Duration of Study: Combined Military Hospital, Rawalpindi Pakistan, from Oct 2021 to Oct 2022.
Methodology: A total of 180 patients with acute stroke, were included in the study. CT brain and/or MRI brain were
performed to diagnose all patients. Patients were divided into haemorrhagic and ischemic stroke groups. Patients were
followed for four weeks.
Results: The mean age of the patients was 48.92±7.80 years. The majority were males 127(70.5%),125(69.4%) patients had an ischemic stroke, while 55(30.6%) had haemorrhagic. Post-stroke seizures were seen in 12(7.07%). In haemorrhagic stroke
patients, the frequency was 5/55(9.09%), while 7/125(5.6%) in ischemic ones. The difference in frequencies was 4.03%. There
was no significant difference in seizure frequencies between the two groups (p=0.298).
Conclusion: This study concluded that there is no significant statistical difference in frequencies of post-stroke seizure in
haemorrhagic stroke compared to ischemic stroke patients.
Downloads
Download data is not yet available.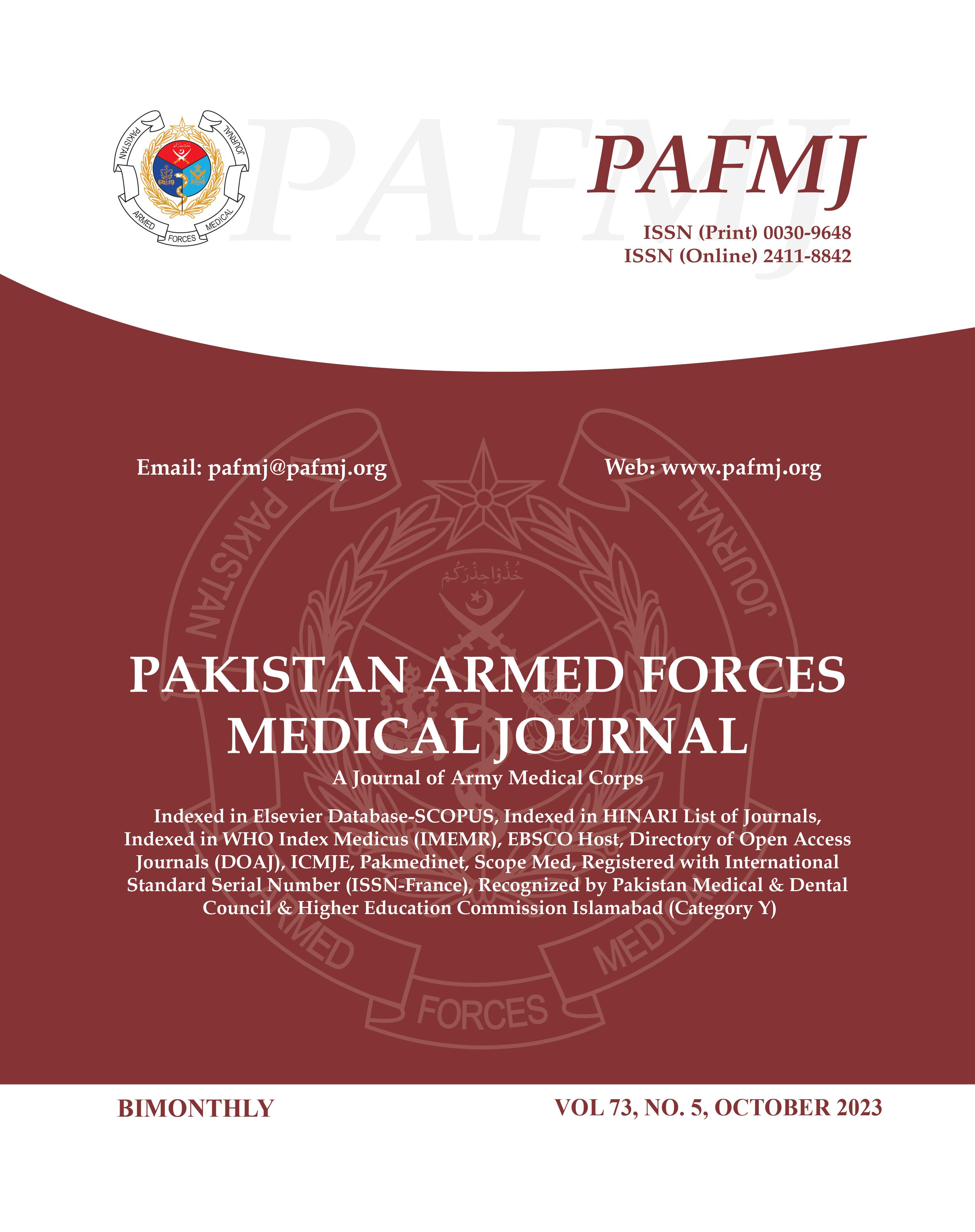 Downloads
How to Cite
Khan, I., Khan, Z. W., Khattak, A. L., Anwar, J., Ibrahim, T., & Hassan, F. (2023). Early Post-Stroke Seizures: A Comparison Between Acute Ischemic and Haemorrhagic Stroke Patients. Pakistan Armed Forces Medical Journal, 73(5), 1439–1442. https://doi.org/10.51253/pafmj.v73i5.9752
Section
Original Articles