Sacroiliac Joint Index in Healthy Pakistani Population and Patients with Sacroiliitis Using Technetium-99m Methylene Diphosphonate Bone Scintigraphy
Keywords:
Bone scintigraphy, Quantitative bone scintigraphy, Sacroiliac joint index, Sacroiliitis
Abstract
Objective: To determine the values of the Sacroiliac Joint Index (SI Index) in normal population and patients with sacroiliitis
(SI) and the correlation of normal values with age and gender.
Study Design: Prospective longitudinal study.
Place and Duration of Study: Nuclear Medical Centre, Armed Forces Institute of Pathology, Rawalpindi Pakistan, from Dec
2020 to Jul 2022.
Methodology: A total of 140 patients (Group-I consisting of 129 cancer patients having no clinical or radiological evidence of SI referred for metastatic/staging workup and Group-II consisting of 11 patients with clinical, laboratory and radiological
diagnosis of ankylosing spondylitis) who underwent whole body bone scintigraphy using Technetium Pertechnetate (Tc-99m) labelled Methylene Diphosphonate (MDP) were included. The SI Index was calculated for each patient using the sacroiliac joint (SIJ) to sacrum radiotracer uptake ratio using the ROI method.
Results: The mean SI Index was 1.02±0.09, (range: 0.87-1.24) in normal individuals while 1.28±0.09 (range: 1.15-1.53) in patients with SI. A significant statistical difference was observed in both groups for the SI Index (p-<0.001). In addition, the SI Index was significantly associated with age (p=0.016) in the normal population.
Conclusion: The SI Index quantification using bone scintigraphy is a sensitive and cost-effective method for detecting SI. In
addition, the SI Index differs according to age, so a different cut-off value should be used for each group.
Downloads
Download data is not yet available.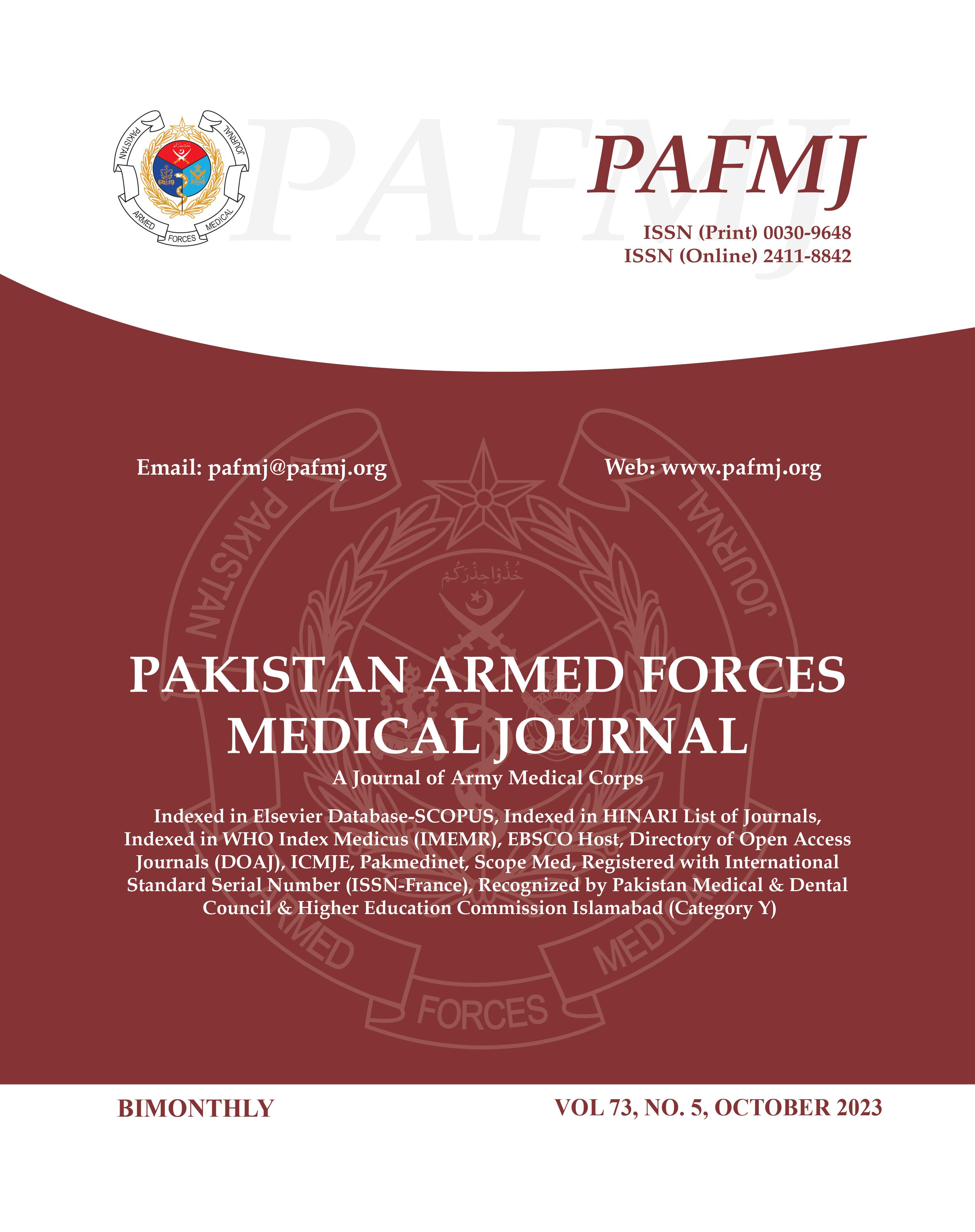 Downloads
How to Cite
Ibrahim, M. U., Hussain, F., Adil, M., Ibrahim, M. I., Dar, Z. `Salim, & Sikandar, Z. (2023). Sacroiliac Joint Index in Healthy Pakistani Population and Patients with Sacroiliitis Using Technetium-99m Methylene Diphosphonate Bone Scintigraphy. Pakistan Armed Forces Medical Journal, 73(5), 1541–1544. https://doi.org/10.51253/pafmj.v73i5.9746
Section
Original Articles