Comparison Between Prophylactic Use of Intravenous Dexmedetomidine and Intravenous Ketamine for Control of Post-Operative Shivering in Patients Undergoing Surgeries Under Spinal Anaesthesia
Keywords:
Dexmedetomidine, Ketamine, Shivering, Spinal anaesthesia
Abstract
Objective: To compare prophylactic use of intravenous Dexmedetomidine and intravenous Ketamine for control of postoperative shivering in patients undergoing surgeries under spinal anaesthesia.
Study Design: Comparative cross-sectional study.
Place and Duration of Study: Combined Military Hospital, Lahore Pakistan, from Feb to Aug 2022.
Methodology: Patients who were planning to undergo any surgical procedure under spinal anaesthesia other than caesarean section was included in the study. Random allotment to two groups was done for all the patients. One Group received intravenous Dexmedetomidine, while the other Group received intravenous Ketamine before the induction of spinal anaesthesia. Both groups were observed for three hours after the procedure in the recovery room for the presence of any significant shivering episode.
Results: Out of 350 patients randomised into two groups, 171(48.8%) took Dexmedetomidine and 179(51.2%) took intravenous Ketamine before routine spinal anaesthesia. The mean age of patients who underwent surgeries under spinal anaesthesia in our study was 46.76±8.78 years. Out of a total, 60(17.1%) had episodes of significant shivering after the surgery. Statistical analysis revealed that post-operative shivering (p-value<0.001) was seen statistically significantly less in the group of patients who were given Dexmedetomidine (p-value<0.001) as compared to those who were given Ketamine.
Conclusion: Post-operative shivering was seen in many patients undergoing various procedures under spinal anaesthesia. The use of Dexmedetomidine was found to be associated with less incidence of shivering as compared to the use of Ketamine in our study participants.
Downloads
Download data is not yet available.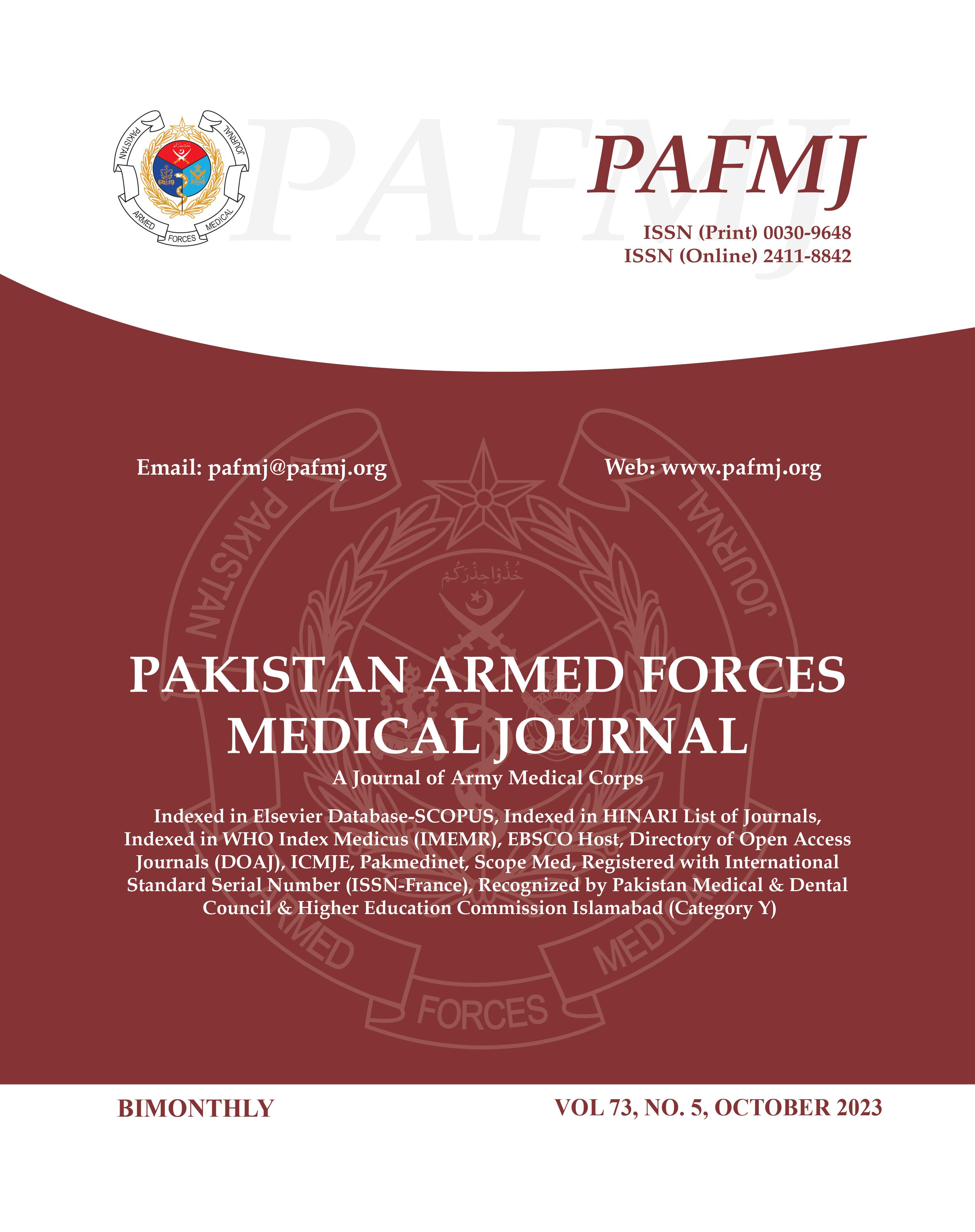 Downloads
How to Cite
Ahmed, S. S., Tariq, W., Musa, M. A., Malik, N. K., Khan, M. R., & Khalid, S. (2023). Comparison Between Prophylactic Use of Intravenous Dexmedetomidine and Intravenous Ketamine for Control of Post-Operative Shivering in Patients Undergoing Surgeries Under Spinal Anaesthesia. Pakistan Armed Forces Medical Journal, 73(5), 1368–1371. https://doi.org/10.51253/pafmj.v73i5.9426
Section
Original Articles