Evaluation of Common Interventions to Manage Halitosis Based On Organoleptic Scoring
Keywords:
Halitosis, Organoleptic, Pseudo-halitosis
Abstract
Objective: To determine the efficacy of interventions undertaken to manage common causes of halitosis based on organoleptic scoring.
Study Design: Quasi-experimental study.
Place and Duration of Study: Combined Military Hospital, Pano Aqil Pakistan, from Sep 2021 to Aug 2022.
Methodology: Three hundred patients with halitosis fulfilling the inclusion criteria were treated as per their root cause of
halitosis and evaluated by organoleptic scoring method on a fortnightly basis for one month. Pre-treatment organoleptic
scoring was compared with post-treatment organoleptic scores.
Results: Among 300 patients, 177(59%) were females and 123(41%) were males. Halitosis due to poor oro-dental hygiene was seen in 92(30.66%) cases, food-related halitosis in 90(30%), periodontal diseases in 47(15%) cases, while 33 patients (11%) have halitosis due to ENT diseases. A comparison of pre-treatment and post-treatment organoleptic scores revealed a marked decrease in the number of patients having persistent halitosis (p-value 0.001).
Conclusion: The most common etiological factor is poor oral hygiene. An organoleptic scoring system is a simple and quick
method to recognize and grade halitosis without requiring costly gadgetry.
Downloads
Download data is not yet available.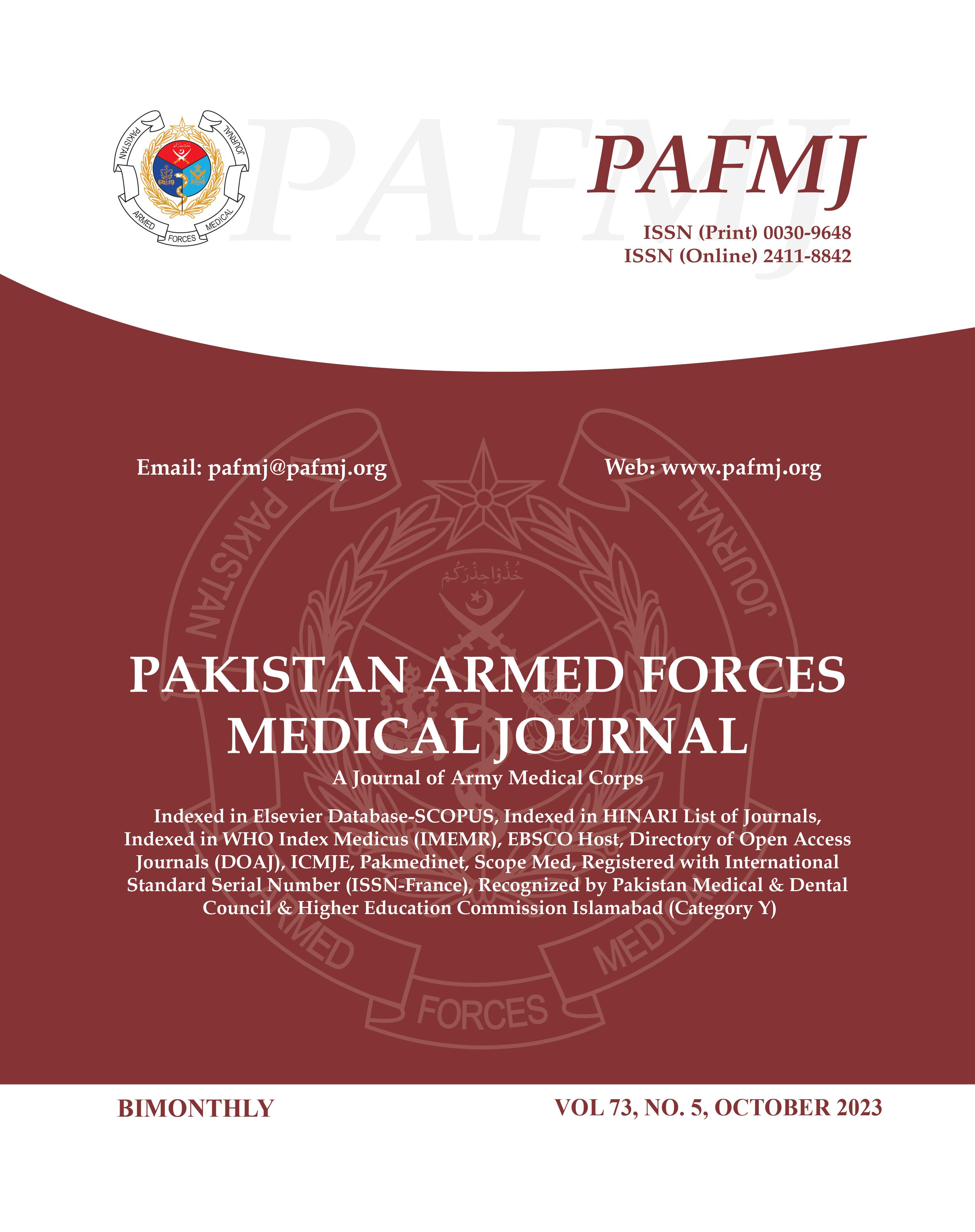 Downloads
How to Cite
Khan, A. A., Ayub, Z., Rehman, S. T., Mehdi, S. A. A., Malik, U. A., & Khan, M. A. (2023). Evaluation of Common Interventions to Manage Halitosis Based On Organoleptic Scoring. Pakistan Armed Forces Medical Journal, 73(5), 1372–1374. https://doi.org/10.51253/pafmj.v73i5.9324
Section
Original Articles