Comparison of Derangement of Cerebrospinal Fluid Markers in Neonates with Early and Late-Onset Sepsis
Keywords:
Cerebrospinal fluid, Early onset, Late onset, Meningitis, Neonates, Sepsis
Abstract
Objective: To compare derangement of cerebrospinal fluid markers in neonates with early and late-onset sepsis managed at the Neonatal Intensive Care Unit.
Study Design: Comparative cross-sectional study.
Setting and Duration of Study: Neonatology Department, Pak Emirates Military Hospital, Rawalpindi Pakistan, from Jul 2021 to Jun 2022.
Methodology: This study was conducted on neonates managed at our Neonatal Intensive Care Unit for late or early-onset
sepsis. A consultant neonatologist diagnosed neonatal sepsis based on clinical and laboratory findings. The cerebrospinal fluid routine examination was performed on all the study participants, and the derangement of various markers was compared in neonates with early and late-onset sepsis.
Results: A total of 348 neonates admitted to the neonatal intensive care unit with sepsis were included in the final analysis.
The mean age of the newborns included in the study was 5.38±4.53 days. Out of all the neonates in the study, 194(55.7%) had early-onset sepsis, while 154(44.3%) neonates had late-onset sepsis. All the cerebrospinal fluid markers were statistically significantly deranged in patients with late-onset sepsis (p-value<0.005).
Conclusion: Derangement of cerebrospinal fluid markers was seen more in patients with late-onset neonatal sepsis admitted to the neonatal intensive care unit. Emphasis should be laid on performing this necessary investigation timely in neonates with late-onset sepsis as chances of meningeal involvement are higher in this group.
Downloads
Download data is not yet available.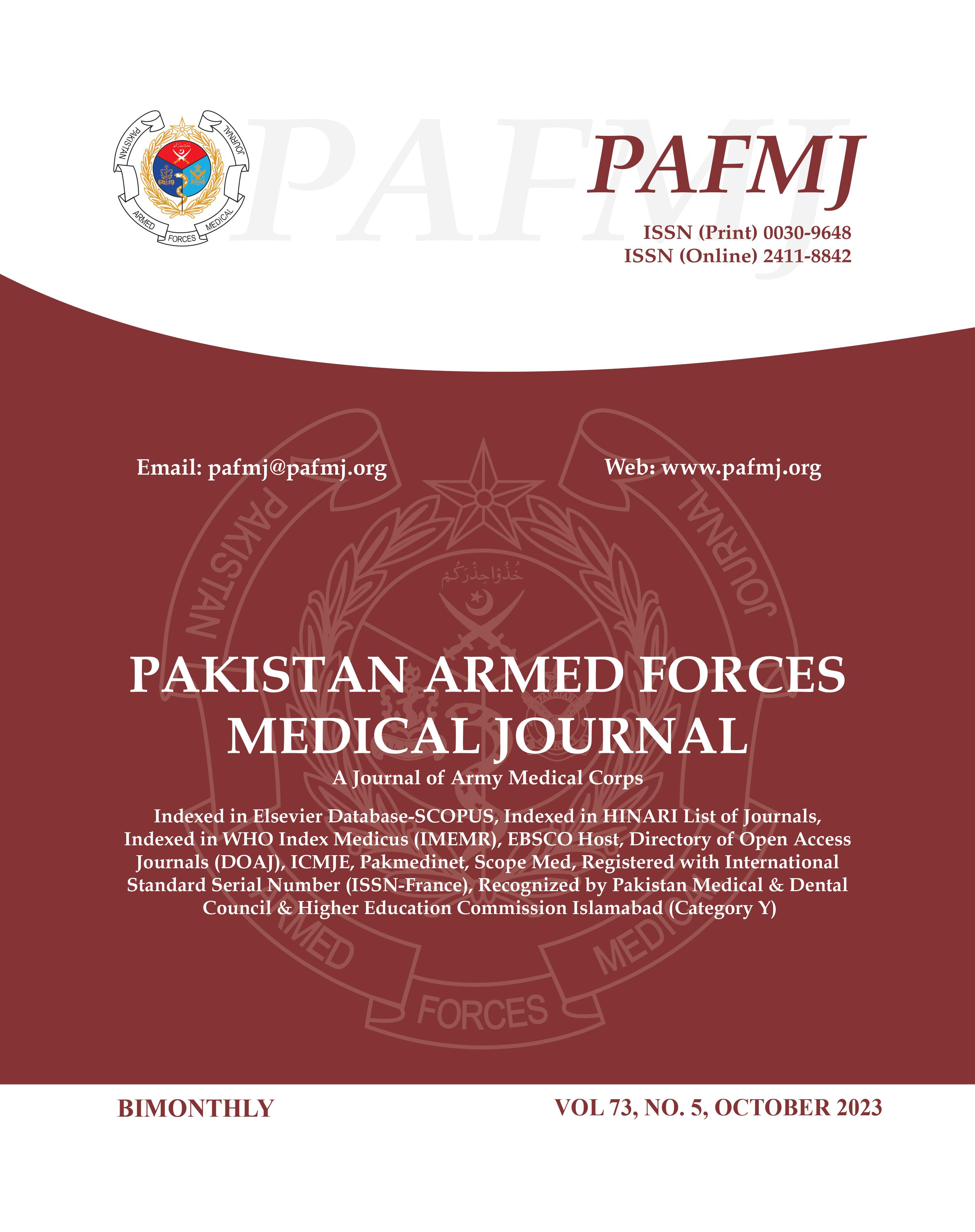 Downloads
How to Cite
Qadir, E., Syed Awais Ul Hassan Shah, Zeeshan Ahmed, Nauman Naseer, Zohaib Akhtar, & Farah Shahid. (2023). Comparison of Derangement of Cerebrospinal Fluid Markers in Neonates with Early and Late-Onset Sepsis. Pakistan Armed Forces Medical Journal, 73(5), 1407–1410. https://doi.org/10.51253/pafmj.v73i5.9175
Section
Original Articles