Role of Capillary Blood Ketone Assay in Management of Diabetic Ketoacidosis in Paediatric Intensive Care Unit
Keywords:
Capillary blood ketone, Diabetic Ketoacidosis, Pediatric Intensive Care Unit, Ketosis
Abstract
Objective: To assess the role of capillary blood ketone assay in managing Diabetic Ketoacidosis in the Paediatric Intensive
Care Unit.
Study Design: Prospective longitudinal study.
Place and Duration of Study: Paediatric Intensive Care Unit of Children's Hospital, University of Child Health Sciences,
Lahore Pakistan, from Jul to Dec 2021.
Methodology: Patients with Diabetic ketoacidosis fulfilling the inclusion criteria and admitted during the study period were
enrolled, and treatment was given according to standard protocol. On admission, capillary blood ketones were measured after 4-6 hours, and serial blood glucose, serum electrolytes, serum creatinine and venous blood gas were done.
Results: Out of 554 admissions, 55(9.9%) patients with diabetic ketoacidosis were enrolled. The mean age was 8.2±3.5 years, with 28(50.9%) females. Among 33(60%) newly diagnosed cases, 13(23.6%) were moderate and 41(74.5%) with severe diabetic ketoacidosis. 12(21.8%) cases developed AKI, 5(9.1%) required continuous renal replacement therapy, 10(18.2%) needed mechanical ventilation, and 2(3.6%) expired. A positive statistical correlation was observed between capillary blood ketones and standard acidosis markers on admission.
Conclusion: Capillary blood ketone assay has a significant role in managing Diabetic Ketoacidosis by prompt diagnosis, early initiation of treatment and early stoppage of insulin infusion at resolution of ketosis without waiting for blood gas parameters to normalise. Its use should be encouraged in PICUs, especially in low-resource settings, because of its cost-effectiveness.
Downloads
Download data is not yet available.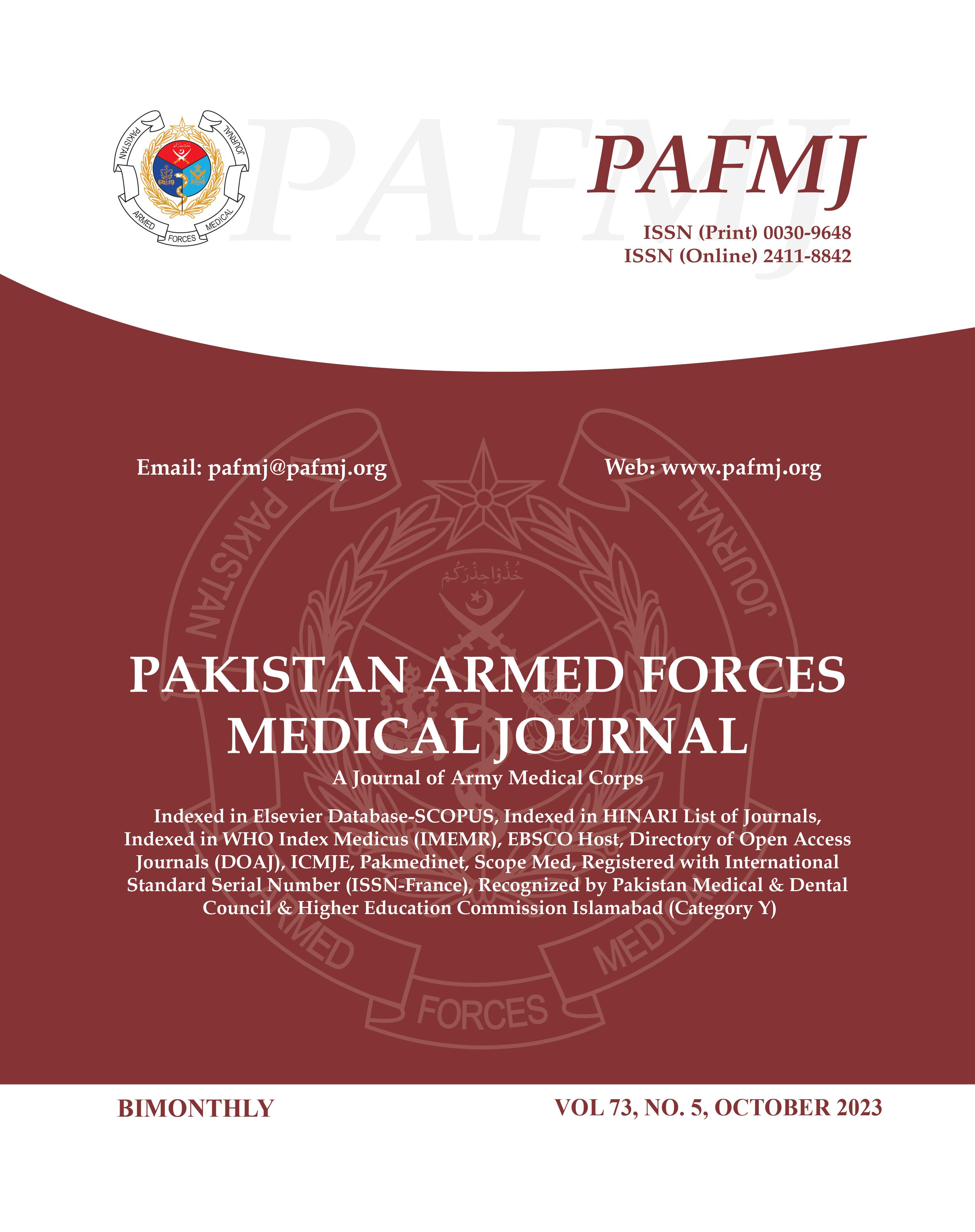 Downloads
How to Cite
Kausar, F., Sarwar, M., Aslam, A., Jamil, A., Sultana, N., & Shaffqat, G. (2023). Role of Capillary Blood Ketone Assay in Management of Diabetic Ketoacidosis in Paediatric Intensive Care Unit. Pakistan Armed Forces Medical Journal, 73(5), 1448–1451. https://doi.org/10.51253/pafmj.v73i5.9116
Section
Original Articles