An Insight Into Neonatal Cholestasis; A Tertiary Care Hospital Experience in Rawalpindi, Pakistan
Keywords:
Biliary atresia, Consanguinity, Idiopathic neonatal cholestasis, Neonatal cholestasis, Pakistan
Abstract
Objective: To determine the frequencies of various etiologies of neonatal cholestasis diagnosed by clinical findings and
laboratory investigations at the Pak Emirates Military Hospital, Rawalpindi, Pakistan.
Study Design: Cross-sectional study.
Place and Duration of Study: Pediatric Department of Pak Emirates Military Hospital, Rawalpindi Pakistan, from Jan 2021 to Apr 2022.
Methodology: Infants of either gender aged 14 days to six months admitted to Inpatient facility who had jaundice with direct bilirubin and more than 20% of total bilirubin were included in the study. The proforma was formulated to record the clinical features, laboratory investigations, weight, level of activity and consanguinity among the parents.
Results: A total of 146 infants were included in the study. Jaundice was seen in 100% of infants, hepatomegaly in 66.4%,
splenomegaly in 38.4%, followed by ascites in 25%. The most common aetiology of neonatal cholestasis was Biliary Atresia
26.7% in the extrahepatic Group, Idiopathic Neonatal Hepatitis 25.3% in the intrahepatic Group. Consanguinity was present in parents of 65% of infants.
Conclusion: The most common aetiology of extrahepatic Neonatal Cholestasis was Biliary Atresia, while Idiopathic Neonatal Hepatitis and Progressive Familial Intrahepatic Cholestasis were the most common causes of intrahepatic cholestasis.
Downloads
Download data is not yet available.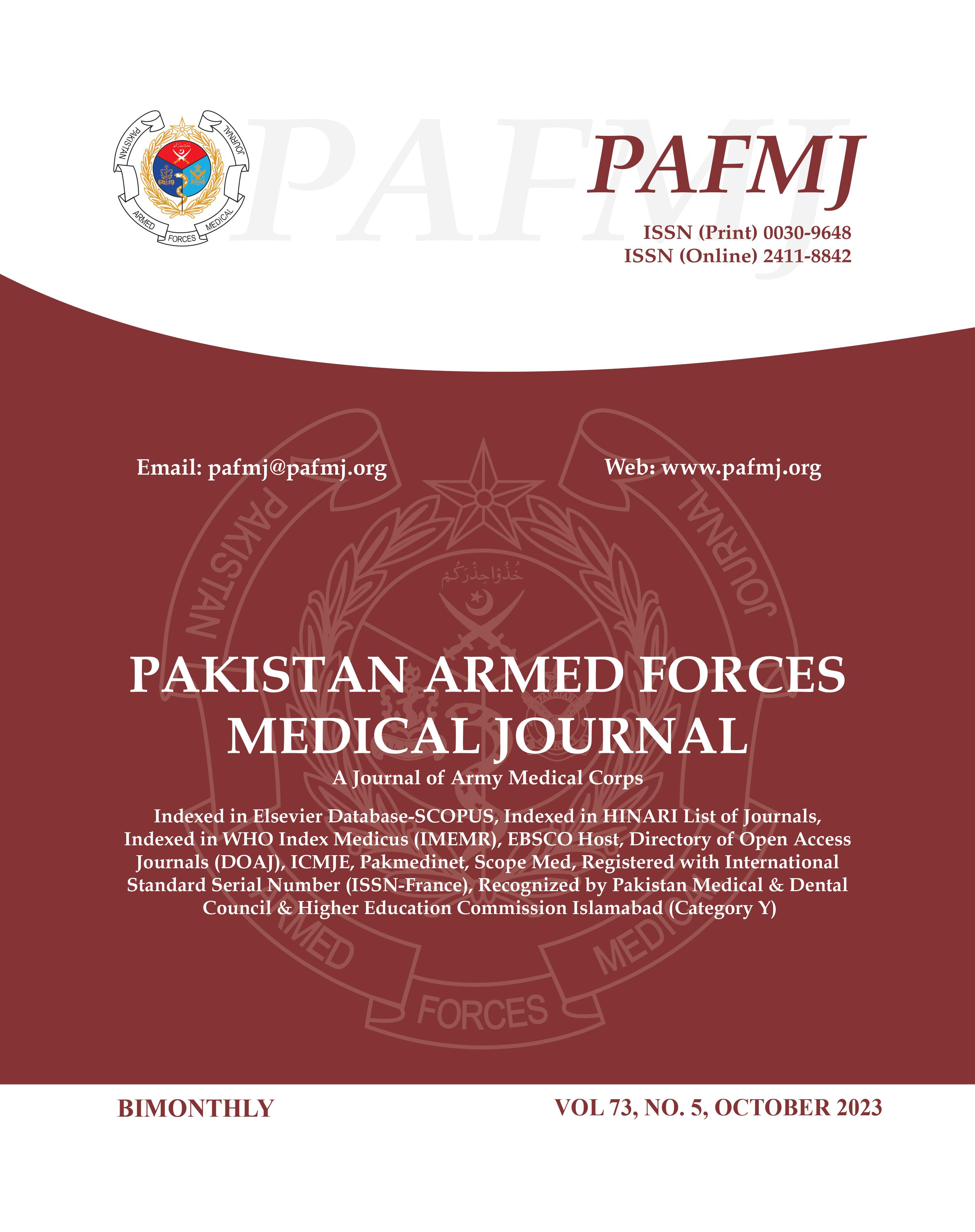 Downloads
How to Cite
Azhar, S., Farooq Ikam, Sarina Zainab Shirazi, Junaid Altaf, & Rahmeen Pervaiz. (2023). An Insight Into Neonatal Cholestasis; A Tertiary Care Hospital Experience in Rawalpindi, Pakistan. Pakistan Armed Forces Medical Journal, 73(5), 1284–1287. https://doi.org/10.51253/pafmj.v73i5.9108
Section
Original Articles