Basilic Vein Transposition versus Basilic Vein Elevation: A Comparative Study in terms of Wound Infection, Limb Oedema, Hematoma and Primary Patency Rates
Keywords:
Arteriovenous fistula, Basilic vein transposition, Basilic vein, Hemodialysis access
Abstract
Objective: To compare the results of basilic vein elevation with basilic vein transposition in terms of wound complications and patency rates.
Study Design: Quasi-experimental study.
Place and duration of study: Vascular Surgery Department, Combined Military Hospital, Rawalpindi Pakistan, from Jan 2021 to Jan 2022.
Methods: Ninety-four patients participated in the study, with 47 in each Group. Patients in the basilic vein elevation (BVE)
Group underwent single-stage elevation, whereas 34 underwent two-stage elevation. The patients were closely followed for a year after the first successful dialysis from the fistula at three months, six months and 12-months period. The primary patency rates were comparable in both Groups.
Results: The mean age of participants was 52.46± 13.54 years, ranging from 23-76 years. There were 7(7.4%) patients in whom fistula failed to mature, out of which 4(8.5%) were from the Basilic Vein Transposition (BVT) Group, and 3(6.4%) were from the BE-Group. There were fistula salvage attempts in all cases, and 4(4.3%) fistulas were salvaged 2(4.3%) in each group.3(3.2%) fistulas were declared as primary failure. There were 17(37.8%) complications in the BVT-Group and 27(58.7%) in the BE-Group (p-value= 0.046).
Conclusion: Various techniques have been related to brachiobasilic fistula creation with variable results in terms of postoperative complications and primary patency rates. Basilic vein transposition has a lower complication rate than basilic vein elevation.
Downloads
Download data is not yet available.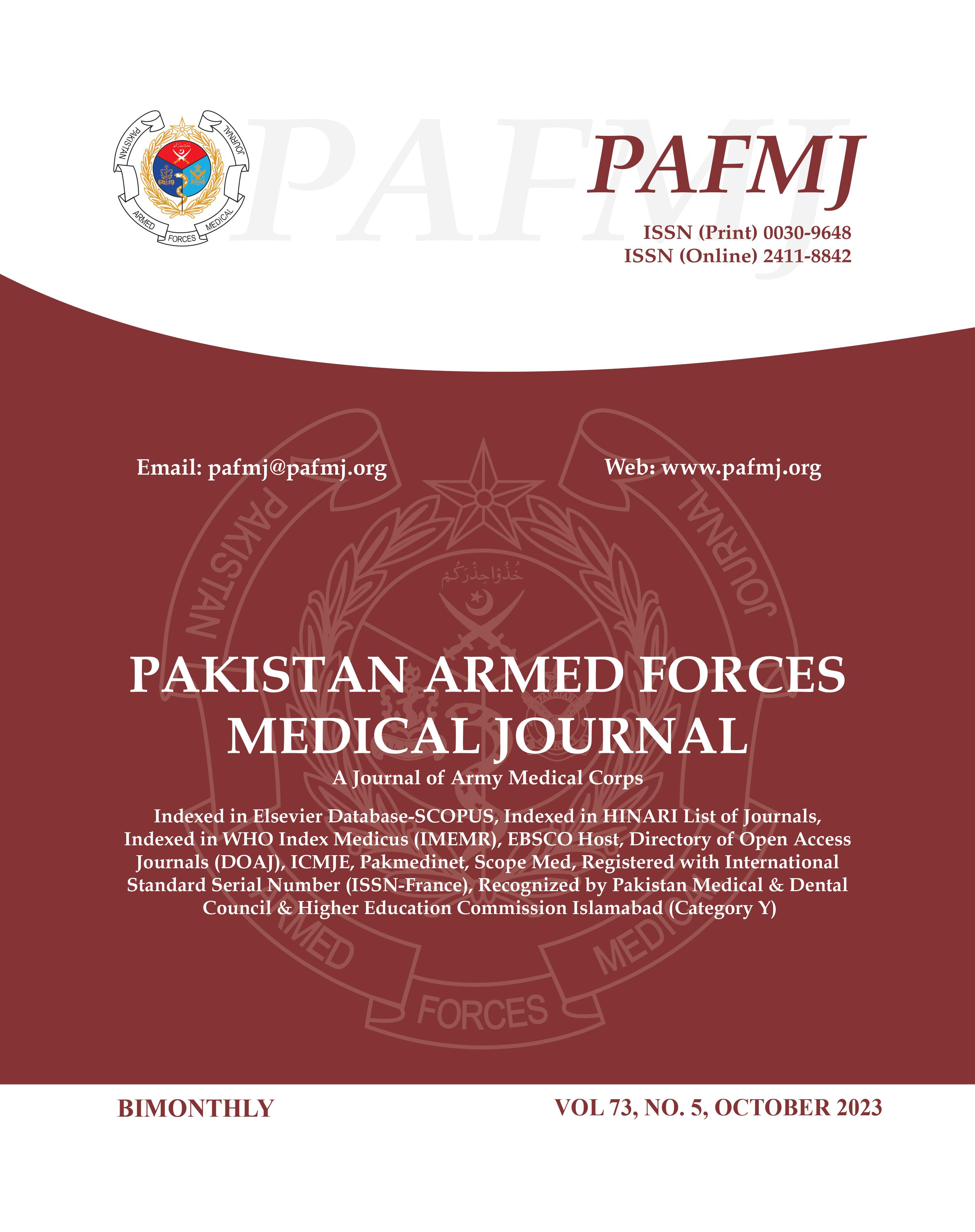 Downloads
How to Cite
Masood, A., Anas Bin Saif, Shehzad Ahmed Abbasi, Muhammad Jamil, Muhammad Irfan Khan, & Khurram Shoaib Khan. (2023). Basilic Vein Transposition versus Basilic Vein Elevation: A Comparative Study in terms of Wound Infection, Limb Oedema, Hematoma and Primary Patency Rates. Pakistan Armed Forces Medical Journal, 73(5), 1460–1463. https://doi.org/10.51253/pafmj.v73i5.9055
Section
Original Articles