Daclatasvir-Sofosbuvir Combination Therapy with or without Ribavirin for Hepatitis-C Virus Infection: An Experience from a Tertiary Care Hospital, Pakistan
Keywords:
Direct-acting antiviral therapy, Hepatitis C virus, Polymerase chain reaction, Sustained Viral response
Abstract
Objective: To assess the impact and effectiveness of a pan-genotypic Directly Acting Antiviral (DAA) based regimen for
patients with chronic Hepatitis-C (HCV) infection in our setup.
Study Design: Cross-sectional study.
Place and Duration of Study: Departments of Pathology and Medicine, Combined Military Hospital, Malir, Karachi, from Dec 2019 to Jan 2021.
Methodology: Sofosbuvir and Daclatasvir were administered orally at 400mg and 60mg daily, respectively, with or without
Ribavirin to treatment-naïve and treatment-experienced adult patients with chronic HCV infection. End-of-treatment response and Sustained virological response were determined among these patients by monitoring viral load using quantitative HCV RNA PCR and various genotypes.
Results: Of the 59 patients, 39(66%) patients received sofosbuvir (SOF)+Daclatasvir (DCV), 12(20.3%) patients were placed on SOF+Ribavirin (Rib) and 8(13.5%) were given triple regime of SOF+DCV+Rib for 12 and 24 weeks respectively. Most of our patients were females, 32(54.23%), with a mean age of 31±17 years. Forty-eight patients (81.35%) were infected with genotype 3, followed by genotype 1 and 2, respectively. The rapid viral response was noted after four weeks of therapy among 27(45.76%) patients. The sustained viral response was noted in 38(64.40%) and 21(35.59%) patients after 12 and 24 weeks, respectively. The end-of-treatment response was observed in 40(67.8%) patients.
Conclusion: Direct-acting antiviral-based regimens have shown favourable results with fewer adverse effects in our patients.
Downloads
Download data is not yet available.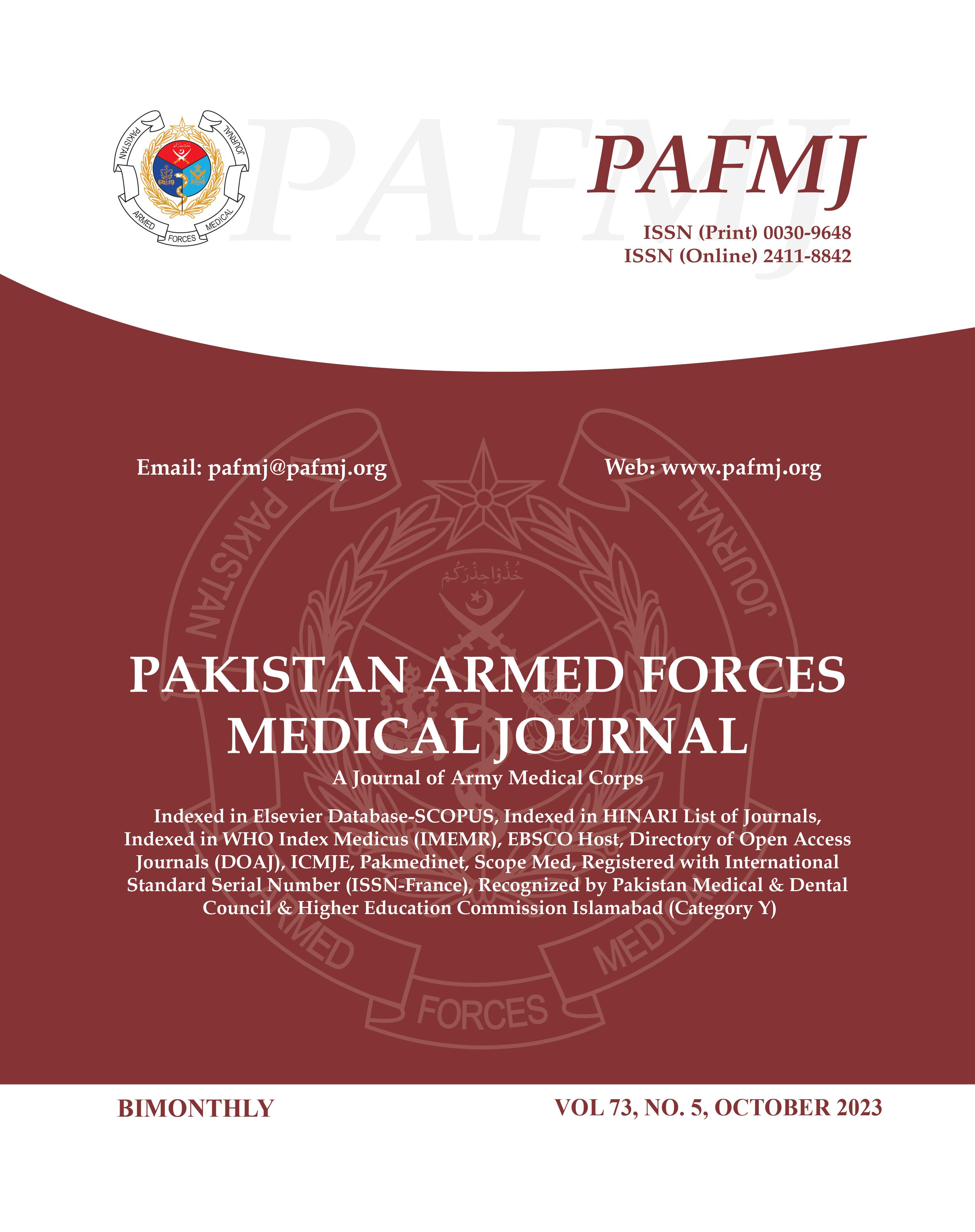 Downloads
How to Cite
Ahmed, A., Rafique, I., Sana, F., Khurshed, S., Yousef, S., & Khan, A. (2023). Daclatasvir-Sofosbuvir Combination Therapy with or without Ribavirin for Hepatitis-C Virus Infection: An Experience from a Tertiary Care Hospital, Pakistan. Pakistan Armed Forces Medical Journal, 73(5), 1517–1521. https://doi.org/10.51253/pafmj.v73i5.8446
Section
Original Articles