Comparison of Outcome after Open Pilonidal Sinus Treatment Versus Endoscopic Pilonidal Sinus Treatment (EPSIT)
Keywords:
Complications, Endoscopic pilonidal surgery, Open pilonidal surgery
Abstract
Objective: To compare the complications among open pilonidal sinus treatment versus endoscopic pilonidal sinus treatment (EPSIT).
Study Design: Comparative Cross-sectional Study.
Place and Duration of Study: Department of Surgery, Combined Military Hospital, Rawalpindi Pakistan, form Feb to
Nov 2021.
Methodology: The study was conducted on 150 patients who underwent pilonidal sinus treatment at our surgical unit.
Patients were randomly divided into two groups. Group-A underwent open pilonidal sinus surgery, while Group-B
underwent endoscopic pilonidal sinus treatment (EPSIT). Recurrence, bleeding, seroma formation and occurrence of wound
infection were compared in both groups.
Results: All of the 150 patients included in the final analysis were males. The mean age of patients who underwent surgery for pilonidal sinus in our study was 41.22±9.34 years. 79(43%) patients underwent the open surgical method, while 71(57%)
underwent the endoscopic one. All the complications were found statistically significant (p-value<0.05) in patients who
underwent open surgical procedures for pilonidal sinuses compared to those who underwent endoscopic surgical methods.
Conclusion: Endoscopic pilonidal surgery emerged as a better option than open pilonidal surgery. Patients undergoing open pilonidal surgery were more at risk of bleeding, recurrence, developing seroma and wound infections.
Downloads
Download data is not yet available.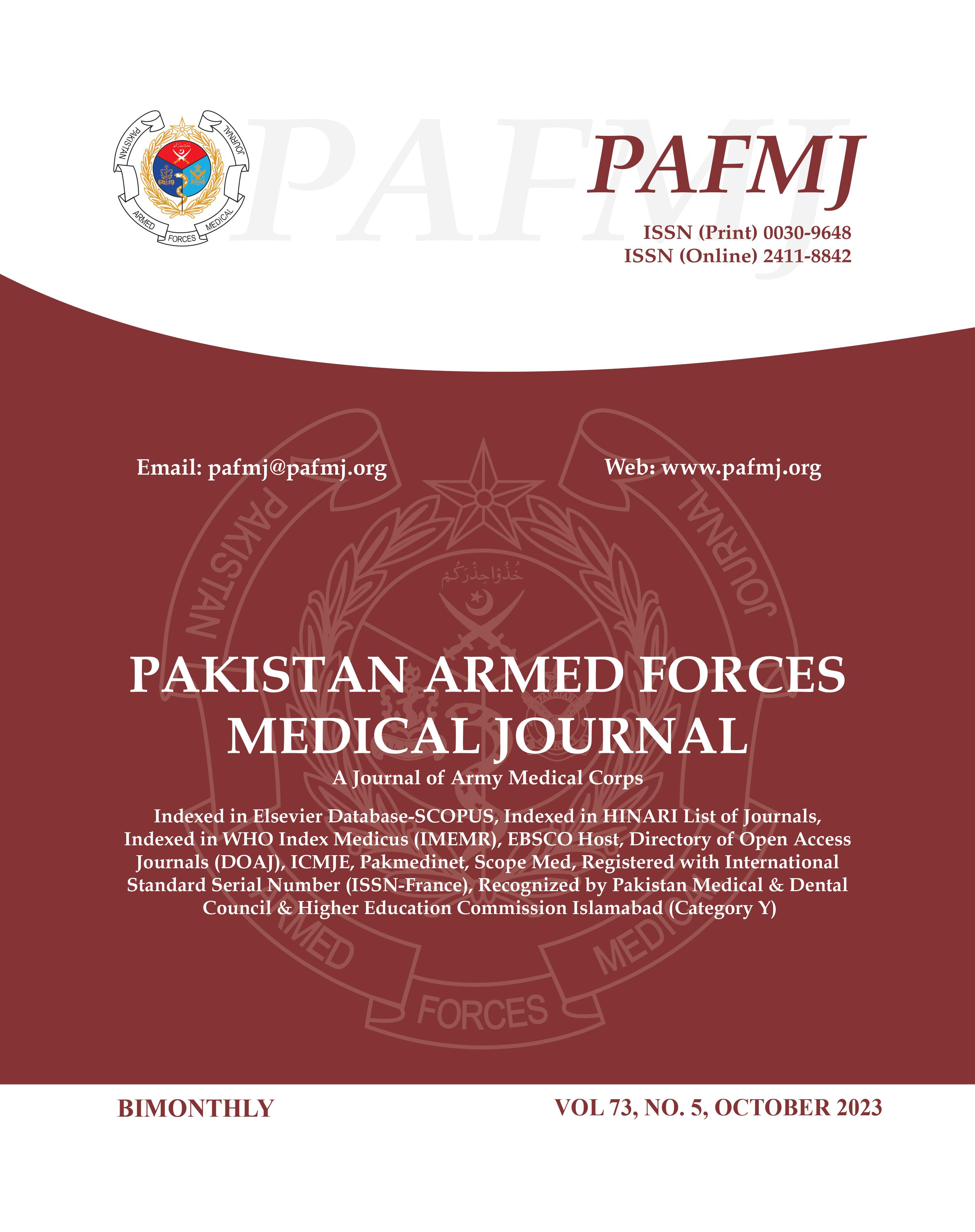 Downloads
How to Cite
Kamal, T., Khurram Sarfaraz, Faheem Ullah Naz, Abdul Jabbar Khaskheli, Zain Ul Abiden, & Rukh-E-Zanib Aftab. (2023). Comparison of Outcome after Open Pilonidal Sinus Treatment Versus Endoscopic Pilonidal Sinus Treatment (EPSIT). Pakistan Armed Forces Medical Journal, 73(5), 1414–1417. https://doi.org/10.51253/pafmj.v73i5.8074
Section
Original Articles