Acute Kidney Injury in COVID-19 and its Association with Patient Outcome
Keywords:
Acute kidney injury, Chronic kidney disease, COVID-19, Comorbidities
Abstract
Objective: To investigate the association between acute kidney injury (AKI) with patient outcome, among patients with
COVID-19 and compare its outcome with patients who did not develop AKI.
Study Design: Comparative cross sectional study.
Place and Duration of Study: COVID-19 Intensive Treatment Unit, Combined Military Hospital, Lahore Pakistan, from Apr to Jul 2020.
Methodology: We retrospectively reviewed the medical records of individuals with severe pneumonia caused by SARS-CoV-2 and having acute kidney infections hospitalized at Combined Military Hospital, Lahore. Patients were divided into two groups, Group-A (patients who developed acute kidney injury during their stay) and Group-B (patients who did not develop acute kidney injury). The outcome was compared in both groups.
Results: Of the 350 patients studied, 83 developed acute kidney injury (23.7%). Of the 350 patients with AKI, 59(71.08 %) were males, and 24(28.9%) were females, with a mean age of 68.3 years. Among acute kidney injury, urea (p=0.001), sodium (p=0.01) and potassium (p=0.001) were significantly different as compared to non-AKI patients. Independent predictors of severe AKI were chronic kidney disease and higher serum potassium at admission.
Conclusion: Acute kidney injury and renal replacement therapy are common in critically ill patients presenting with COVID19. It is associated with increased severity of illness on admission to ICU, increased mortality and prolonged ICU and hospital length of stay.
Downloads
Download data is not yet available.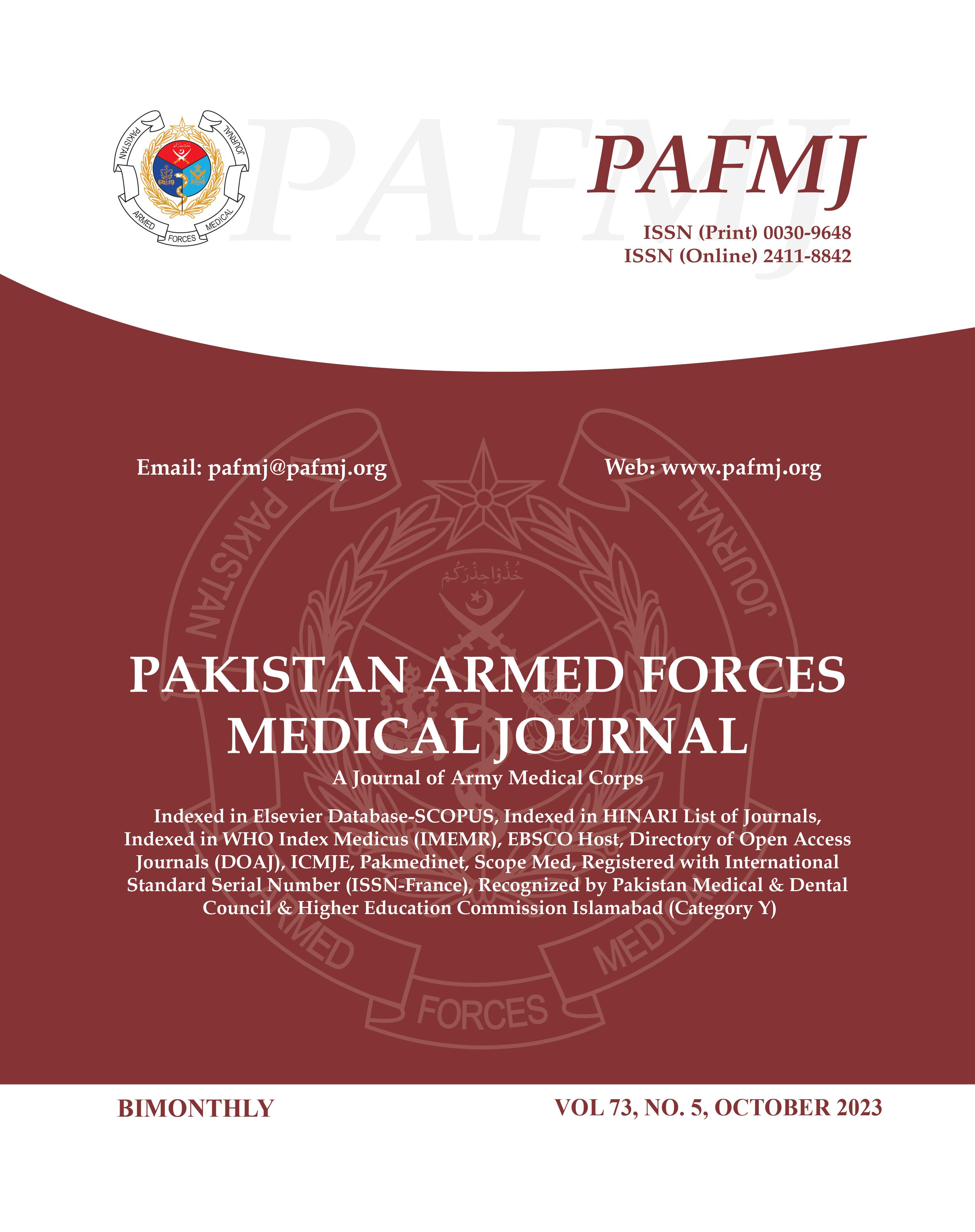 Downloads
How to Cite
Ashraf, A., Faisal Mehmood, Zahid Farooq Baig, Muhammad Arslan Javed, Muhammad Arsalan Javaid, & Karamat Hussain Shah Bukhari. (2023). Acute Kidney Injury in COVID-19 and its Association with Patient Outcome. Pakistan Armed Forces Medical Journal, 73(5), 1472–1475. https://doi.org/10.51253/pafmj.v73i5.7876
Section
Original Articles