Diagnostic Accuracy of Magnetic Resonance Imaging (MRI) in the Detection of Anterior Cruciate Ligament (ACL) Tear, keeping Arthroscopic Findings as Gold Standard
Keywords:
Anterior cruciate ligament, Arthroscopy, Magnetic resonance imaging, Tear
Abstract
Objective: To determine the diagnostic accuracy of Magnetic Resonance Imaging (MRI) compared to arthroscopy in detecting anterior cruciate ligament (ACL) tears.
Study Design: Cross-section study.
Place and Duration of Study: Combined Military Hospital, Kharian Pakistan, from Jan 2020 to Jan 2021.
Methodology: Adult patients of either gender coming to the Radiology Department for an MRI knee joint followed by
arthroscopy were included in the study after the institutional ethical review committee approved the study. A consultant with experience in musculoskeletal imaging reviewed the MRI images. An experienced orthopaedic surgeon performed
arthroscopy. Findings of MRI and arthroscopy were noted. The diagnostic features of MRI, including sensitivity, specificity,
negative predictive values (NPV), positive predictive values (PPV) and diagnostic accuracy were calculated.
Results: The study included 200 patients aged between 21-68 years, a mean age of 40.89±11.49 years. Magnetic resonance
imaging had a sensitivity of 93.20%, specificity of 76.31%, positive predictive value (PPV) of 94.37%, negative predictive value(NPV) of 72.5% and diagnostic accuracy of 90%.
Conclusion: Magnetic resonance imaging is an efficient imaging investigation for diagnosing ACL tears.
Downloads
Download data is not yet available.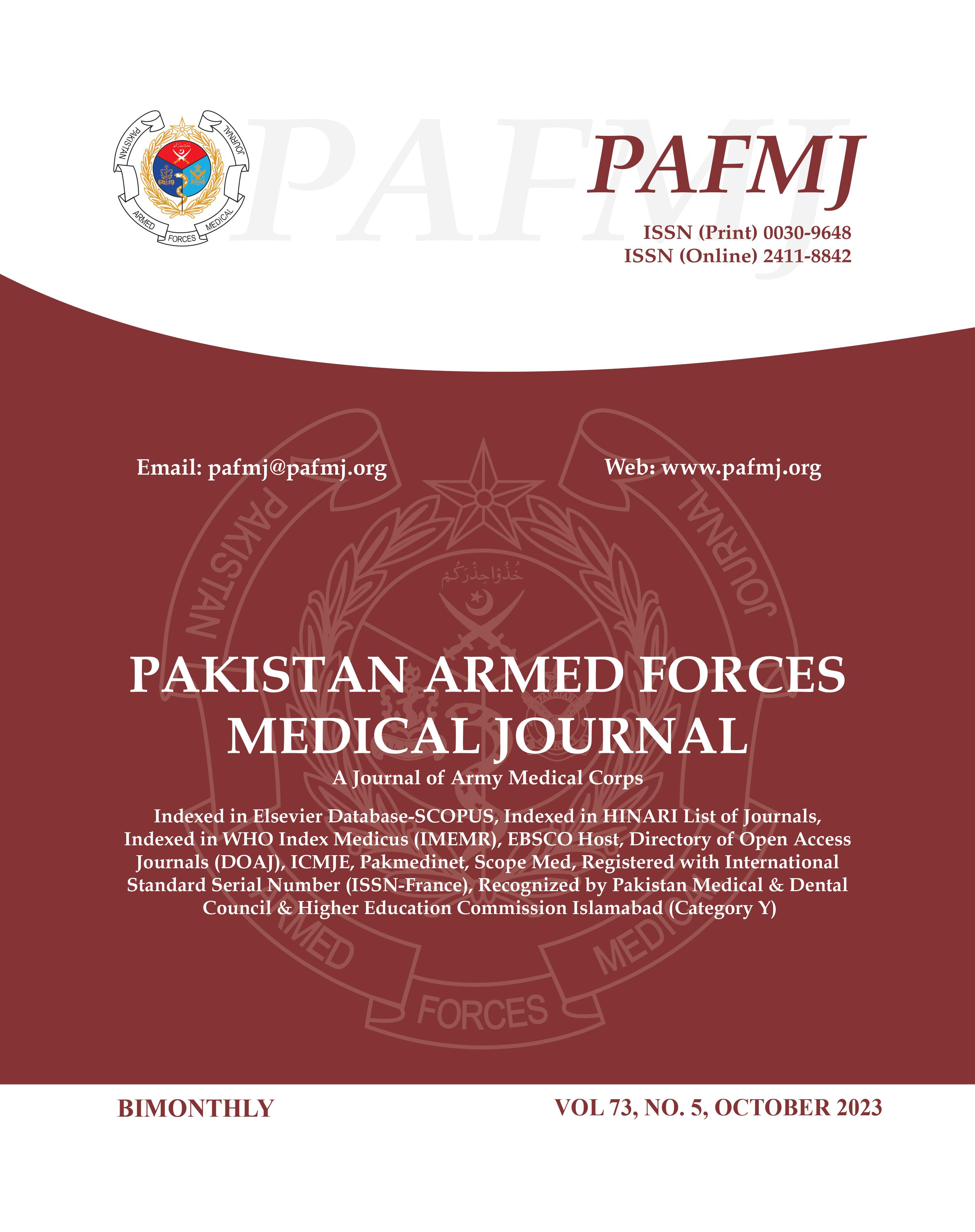 Downloads
How to Cite
Javaid, A., Anam, W., Ullah, H., Afzal, T., Mahmood, R., & Salah ud din Balooch. (2023). Diagnostic Accuracy of Magnetic Resonance Imaging (MRI) in the Detection of Anterior Cruciate Ligament (ACL) Tear, keeping Arthroscopic Findings as Gold Standard. Pakistan Armed Forces Medical Journal, 73(5), 1249–1252. https://doi.org/10.51253/pafmj.v73i5.7687
Section
Original Articles