Mandibular Reconstruction with Vascularized Fibular Graft: Comparing Outcomes of Adjuvant Radiotherapy Versus No-Radiotherapy
Keywords:
Fibular graft, Mandibular reconstruction, Non-union, Plate exposure, Radiotherapy
Abstract
Objective: To compare the outcomes of mandibular reconstruction with vascularized fibular graft in adjuvant and nonradiotherapy Groups.
Study Design: Retrospective longitudinal study.
Place and Duration of Study: Plastic Surgery Department, Shifa International Hospital, Islamabad Pakistan, from 2010 to 2018.
Methodology: The data of 92 patients from 2010-2018 was included. Outcomes regarding local wound complications, wound dehiscence, fistula, skin necrosis, plate exposure and bone union rate were compared in Radiated (IR) and Non-Radiated (NR) Groups. Orthopantomography (OPG) was done at one month, six months, and one-year follow-up and was reviewed by a Radiologist.
Results: Ninety-two patients were included in the study, 56(60.9%) patients in the IR-Group and 36(39.1%) patients in the NRGroup. In the IR-Group, 56(60.9%) causes were intraoral squamous cell carcinoma in 51(91.0%) cases and osteosarcoma in 5(9.0%) cases. In NR-Group cases were ameloblastoma (15,41.6%), giant cell tumor (4,11.1%), craniofacial microsomia
(4,11.1%), osteonecrosis (6,16.6%) and trauma (7,19. 4%). Common complications were plate exposure (2.1%), wound
breakdown (10.8%) in the IR-Group, and, on the other hand, in the NR Group, wound breakdown noted in (3.2%)
respectively(p=0.05).
Conclusion: With our experience, adjuvant radiation is an important modality that increases survival rate and can be safely
administered without any significant complications related to soft tissue and reconstructed bone.
Downloads
Download data is not yet available.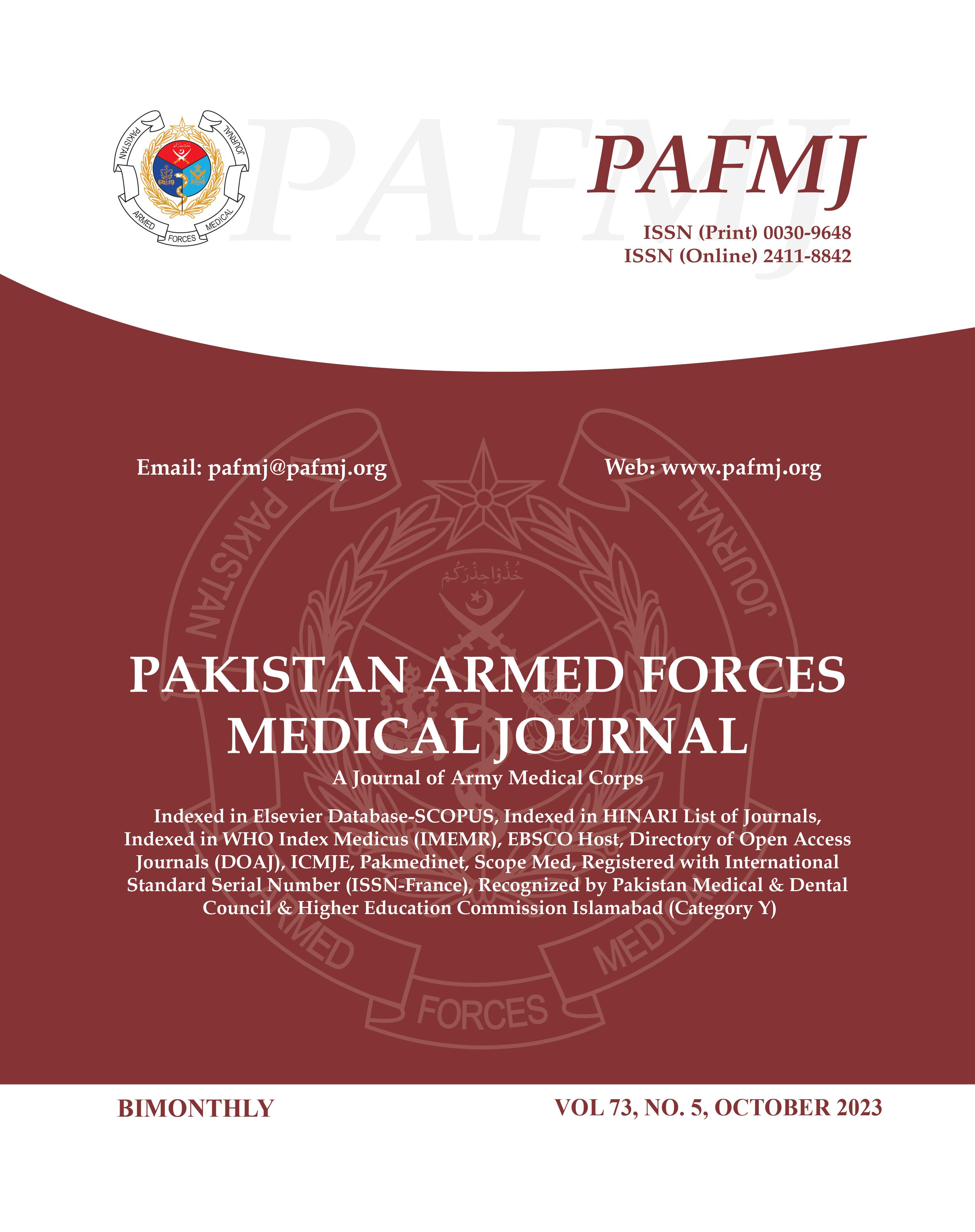 Downloads
How to Cite
., N. B., ., M. R., Saad-ur-Rehman, ., H.-U.-R., ., F. S., & Sakina Malik. (2023). Mandibular Reconstruction with Vascularized Fibular Graft: Comparing Outcomes of Adjuvant Radiotherapy Versus No-Radiotherapy. Pakistan Armed Forces Medical Journal, 73(5), 1288–1292. https://doi.org/10.51253/pafmj.v73i5.7659
Section
Original Articles