Response of Tocilizumab in Treating Severe to Critical COVID-19; Single-Centre Experience at a Tertiary Care Centre
Keywords:
Efficacy, Tocilizumab, Severe COVID-19, Standard Care, Survival
Abstract
Objective: To study the effectiveness of Tocilizumab in reducing mortality in severely or critically ill patients.
Study Design: Quasi-experimental study
Place and Duration of Study: Mayo Hospital, Lahore Pakistan, from Dec 2020 to May 2021.
Methodology: The participants meeting the inclusion criteria of the study were allocated to an Experimental and a Control
Arm based on age and oxygen requirements. The Experimental-Group was given Tocilizumab plus standard care, while the
Control- Group received standard care only. Primary outcome was death, while secondary outcomes were the need for
invasive ventilation and length of hospital stay. Results were analyzed after 28 days.
Results: Among 81 patients, 60(74.1%) were males, 21(25.9%) were females. Of these, 44(54.3) received Tocilizumab plus
Standard Care, while 37(45.7%) received Standard Care only. Out of 44 patients from the Tocilizumab-Group, 21(47.7%)
survived, whereas, from 37 in the Standard Care-Group, 15(40.54%) survived at the end of 28 days. However, the difference in survival distributions between the two groups was not statistically significant (p=0.41).
Conclusion: Tocilizumab was found to have no significant impact on improving the chances of survival and reducing the risk of Invasive Ventilation in COVID-19 patients. A wider confidence interval, however, cannot rule out the possibility of some benefit or harm. Hence, further studies are needed on this subject.
Downloads
Download data is not yet available.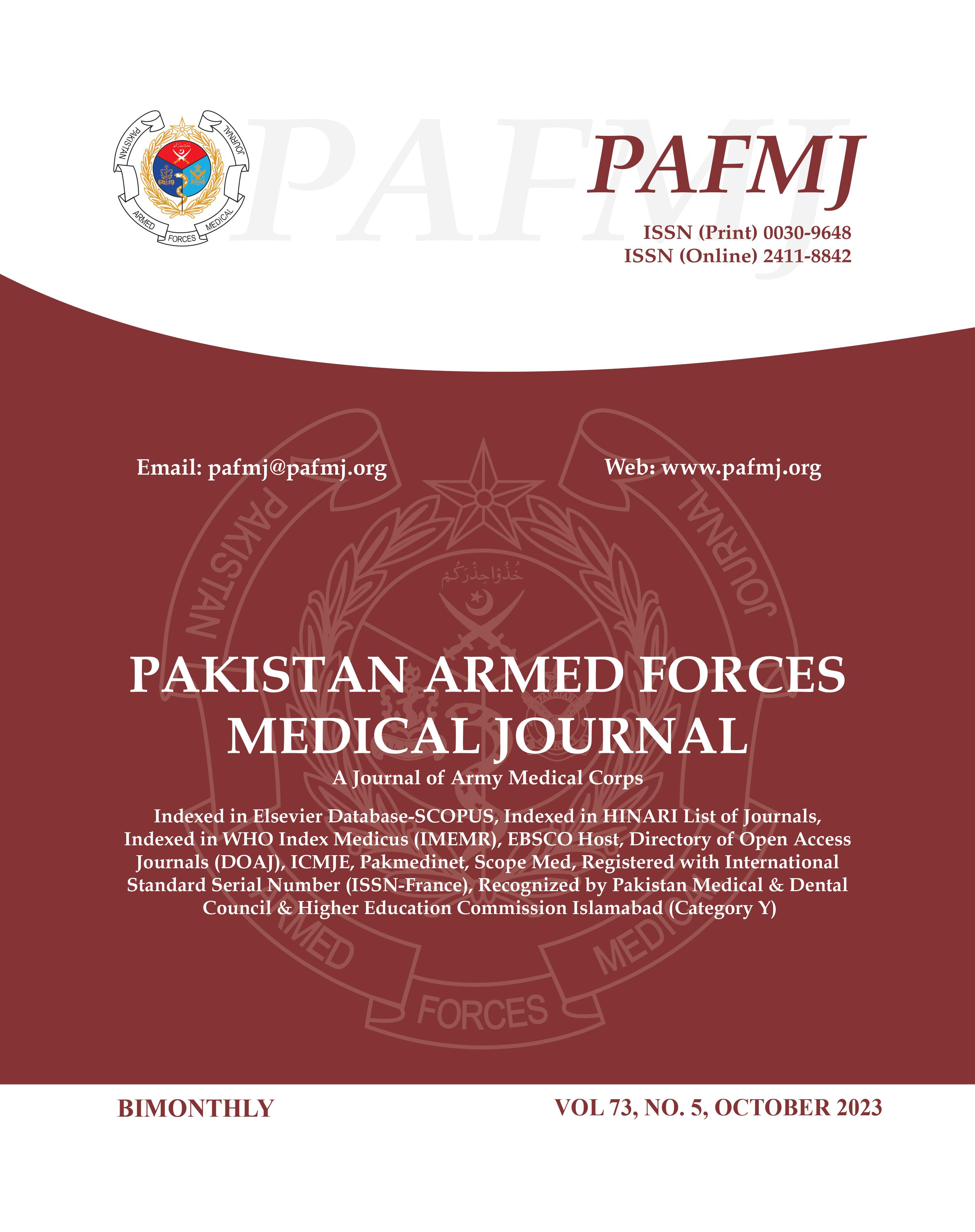 Downloads
How to Cite
Khan, S., Atif, M. M., Asif, S., Malik, U., Zahoor, S., & Firdous, S. (2023). Response of Tocilizumab in Treating Severe to Critical COVID-19; Single-Centre Experience at a Tertiary Care Centre. Pakistan Armed Forces Medical Journal, 73(5), 1468–1471. https://doi.org/10.51253/pafmj.v73i5.7532
Section
Original Articles