Red Cell Distribution Width and Neutrophil Lymphocyte Ratio as A New Biomarker for Severity in Rheumatoid Arthritis and its Comparison with DAS 28 ESR Score
Keywords:
Disease activity score (DAS 28 ESR), Neutrophil to lymphocyte ratio (NLR), Red cell distribution width (RDW), Spearman correlation, Toxic granulations
Abstract
Objective: To determine the association of red cell distribution width (RDW)and neutrophil-lymphocyte ratio (NLR)with the
severity of rheumatoid arthritis by using DAS28 ESR. Additionally, toxic granulations were assessed as an indicator of disease severity.
Study Design: Cross-sectional study.
Place and Duration of Study: Rheumatology Outpatient Department, Federal Government Polyclinic Hospital, Islamabad
Pakistan, from Dec 2020 to Jun 2021.
Methodology: Two hundred ninety rheumatoid arthritis patients were included. DAS 28 ESR was calculated using the DAS 28 ESR calculator, and RDW and NLR were extracted from the complete blood picture and peripheral smears.
Results: There were 238(82.1%) female and 52 17.9%) male study participants. The mean age of patients was 45.2±12.8. The
mean RDW, NLR and DAS 28 ESR in the study were 45.67±4.25, 2.93±1.35 and 4.29±1.25, respectively. Toxic granulations on
peripheral smears were also found in 188(64.8%) patients. A significant positive association was found using the Spearman
rho correlation between the DAS28 ESR score, RDW and NLR (p-value 0.024 and <0.001, respectively).
Conclusion: Red cell distribution width and neutrophil-lymphocyte ratio, along with toxic granulations, can be used as
reliable biomarkers of inflammation in rheumatoid arthritis patients. Values higher than the reference range indicate higher
disease severity.
Downloads
Download data is not yet available.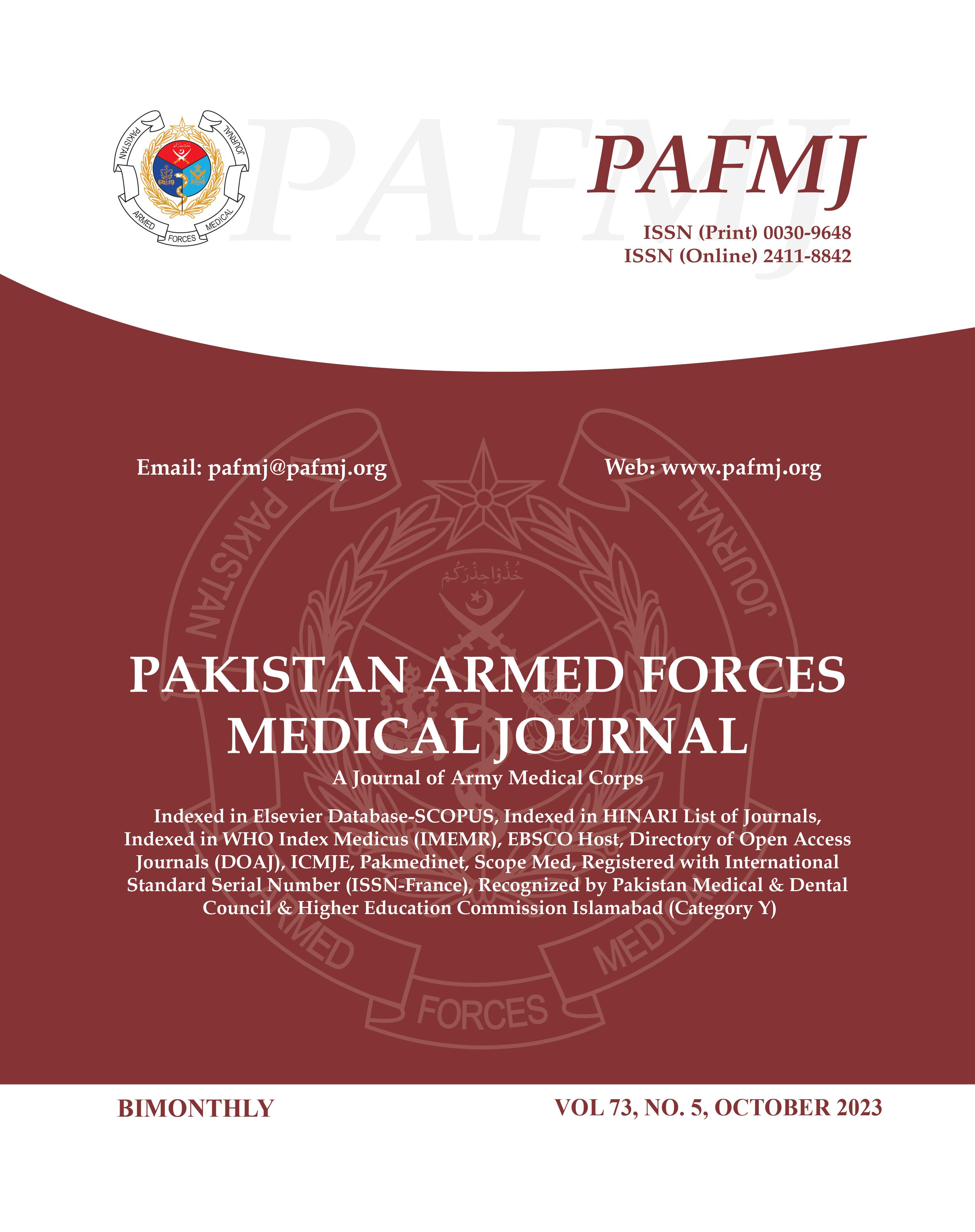 Downloads
How to Cite
Sarah Azam Shah, Taqdees Khaliq, Khadija Iftikhar, & Saad Saleem. (2023). Red Cell Distribution Width and Neutrophil Lymphocyte Ratio as A New Biomarker for Severity in Rheumatoid Arthritis and its Comparison with DAS 28 ESR Score. Pakistan Armed Forces Medical Journal, 73(5), 1422–1426. https://doi.org/10.51253/pafmj.v73i5.7449
Section
Original Articles