Efficacy of Manual Vacuum Aspiration versus Dilatation and Curettage in First Trimester Miscarriages
Keywords:
Dilatation and curettage, Manual vacuum aspiration, Miscarriage
Abstract
Objective: To compare the efficacy of Manual Vacuum Aspiration (MVA) with Dilatation and Curettage (DNC) in
miscarriages of the first trimester.
Study Design: Quasi-experimental study.
Place and Duration of Study: Department of Obstetrics and Gynaecology CMH, Peshawar Pakistan, from Feb to Aug 2018.
Methodology: A total number of 182 Adult female (20-35 years of age) patients having miscarriage during the first trimester who were either primigravida or with previous history of spontaneous vaginal delivery were included in this study. Patients were assigned randomly into Manual vacuum aspiration (MVA) and Dilatation and Curettage (DNC) groups using the draw randomization technique. Data regarding the efficacy of both procedures and procedural success rate was measured in all patients.
Results: A total of 182 Adult female patients, with a mean age of 30.53+5.23 years, having miscarriage in the first trimester,
were evaluated. The mean gestational age at the time of abortion was 8.64+1.30 weeks, and the mean parity of study females was 1.96±0.82. The procedure was successfully done in 87(95.6%) patients in the MVA Group versus 84(92.3%) in the D&C Group (p-value 0.35).
Conclusion: Manual vacuum aspiration (MVA) is an effective and safe method of abortion with a success rate comparable to that of Dilatation and Curettage (D&C).
Downloads
Download data is not yet available.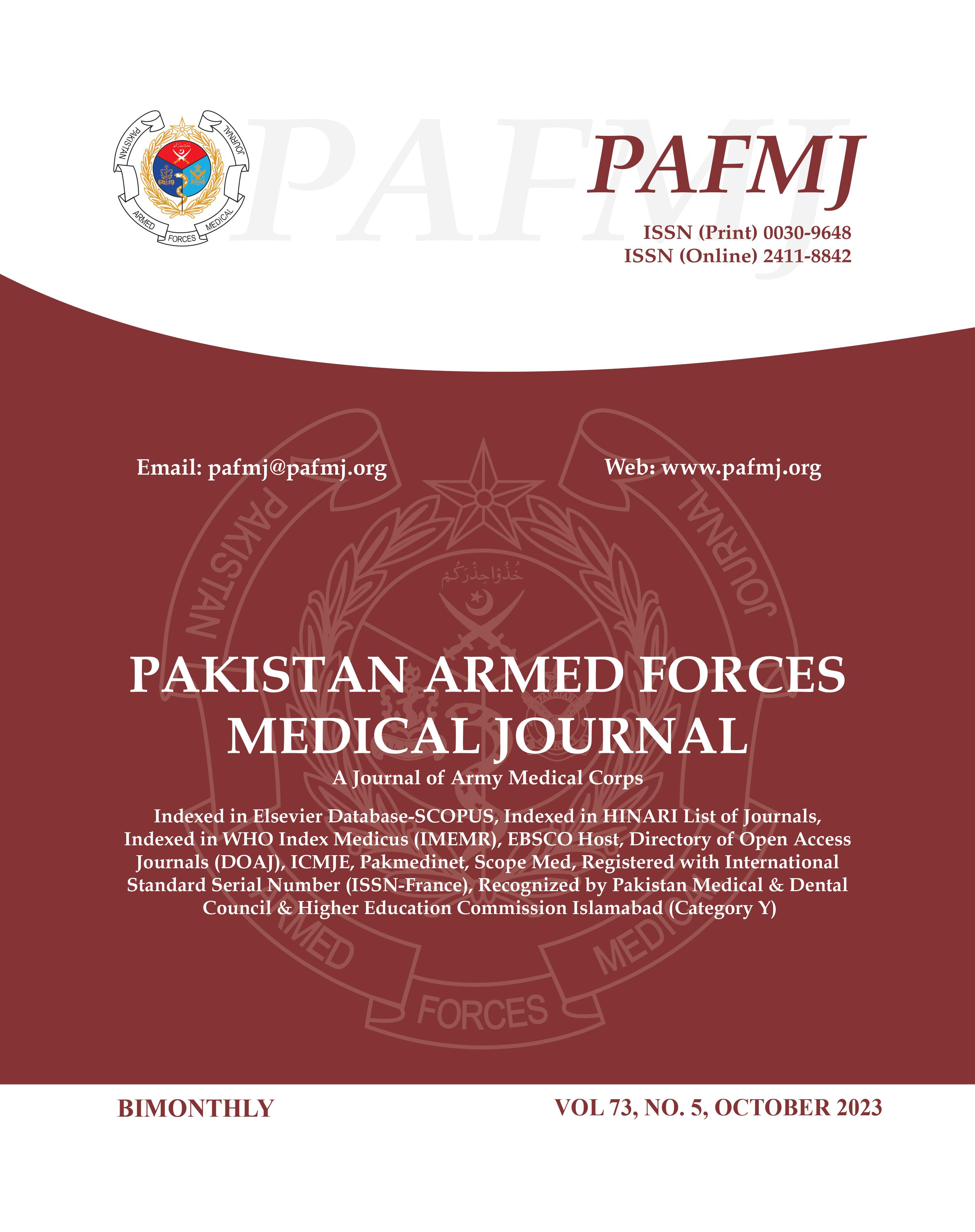 Downloads
How to Cite
Hira Sikander, Shazia Mahmood Awan, & Kashif, S. (2023). Efficacy of Manual Vacuum Aspiration versus Dilatation and Curettage in First Trimester Miscarriages. Pakistan Armed Forces Medical Journal, 73(5), 1326–1329. https://doi.org/10.51253/pafmj.v73i5.7201
Section
Original Articles