The Effect of WhatsApp Messaging on Learning Paediatrics During Clinical Rotation of Final Year MBBS Medical Undergraduates
Keywords:
Clinical attachment, Paediatrics, Ubiquitous learning, Undergraduate medical education, WhatsApp.
Abstract
Objective: To determine the impact of WhatsApp Messaging on learning paediatrics during clinical rotation of final year
MBBS medical undergraduates.
Study Design: Quasi-Experimental study
Place and Duration of Study: Bahria University Medical and Dental College, Karachi Pakistan, from Apr to Oct 2018.
Methodology: Final year MBBS students attending the Department of Paediatrics for three months of clinical rotation were
randomly allocated to two Groups. Group-A was the control Group without WhatsApp, and Group-B was the intervention
Group with WhatsApp messaging. Both Groups had a pre-test and post-test before and after their clinical rotation. The
evaluation was performed before and after clinical rotation using Multiple choice questions (MCQs) for the final evaluation.
Results: Of a total of 80 students, 19(23.8%) were males, and 61(76.3%) were females, with a median age of 23(22-23) years. Of 40 students in the WhatsApp Group, active participation was observed in 37(92.5%) students, whereas the quality of the
shared content by students was found to be adequate/relevant in 35(87.5%) cases. The median score was significantly higher in both Groups' clinical rotation test than in the pre-clinical rotation assessment (p-value <0.001). However, the median score of the post-clinical rotation test was significantly higher in the WhatsApp Group than in the non-WhatsApp Group (p-value <0.001).
Conclusion: WhatsApp was found to be a highly effective tool for learning paediatrics among medical students during their
clinical attachment.
Downloads
Download data is not yet available.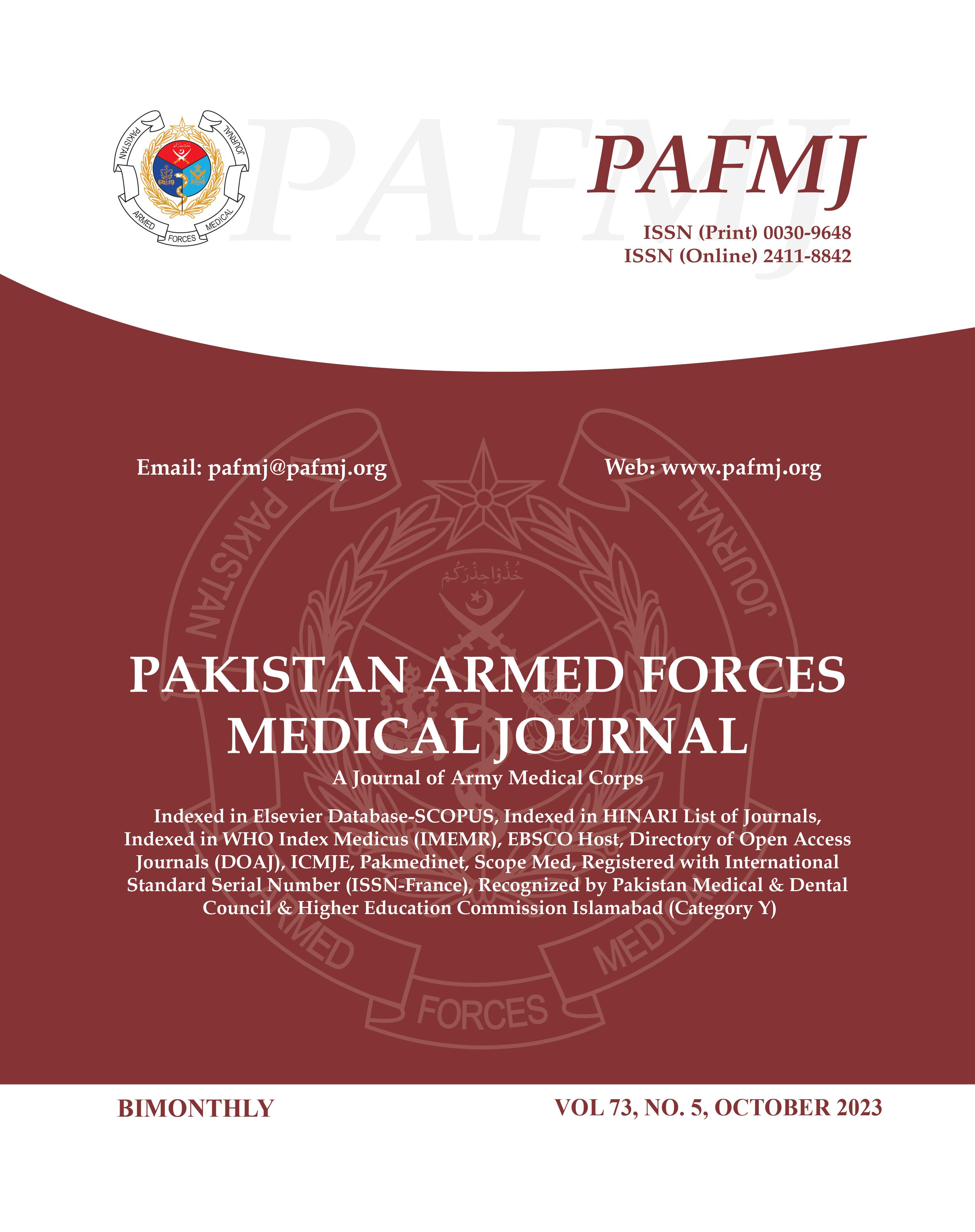 Downloads
How to Cite
Malik, Q. U., Usmani, A., & Haque, S. (2023). The Effect of WhatsApp Messaging on Learning Paediatrics During Clinical Rotation of Final Year MBBS Medical Undergraduates. Pakistan Armed Forces Medical Journal, 73(5), 1383–1386. https://doi.org/10.51253/pafmj.v73i5.6698
Section
Original Articles