Assessment of Acute Gastroenteritis in Children Under Five Years of Age by Vesikari Score; A Comparative Analysis of the Efficacy of the Rota-Virus Vaccine
Keywords:
Acute gastroenteritis, Rotavirus vaccination, Vesikari score
Abstract
Objective: To assess the severity of acute gastroenteritis by Vesikari score in children under five years of age and compare the severity in children vaccinated for Rotavirus with those who have not been vaccinated.
Study Design: Comparative Prospective study.
Place and Duration of Study: Paediatrics Department, Pak Emirates Military Hospital, and Combined Military Hospital,
Rawalpindi Pakistan, from Oct 2019 to Oct 2020.
Methodology: Children aged 1-5 years presenting with acute gastroenteritis to the Outpatient Department were included in the study. Vesikari scoring was carried out in all of them at the presentation time. They were divided into two groups based on their Rotavirus vaccination status. The presence of hyponatremia, hypoglycemia, duration of admission and severity of Vesikari score were compared in both groups.
Results: Out of 250 children presenting with acute gastroenteritis, 135(54%) patients were male and 115(46%) were female. The mean age of the patients was 3.144±2.75 years. 165(66%) were vaccinated for Rotavirus, while 85(34%) were not vaccinated. Based on the Vesikari score, 154(61.6%) had mild, 70(28%) had moderate and 26(10.4%) had severe illness. Hyponatremia, hypoglycemia, longer duration of admission and severe forms of illness were found significantly more in the non-vaccinated group (p-value<0.05).
Conclusion: Vesikari score revealed that many children with acute gastroenteritis had moderate to severe illness. Children not vaccinated with the Rotavirus had more chances of having severe illness.
Downloads
Download data is not yet available.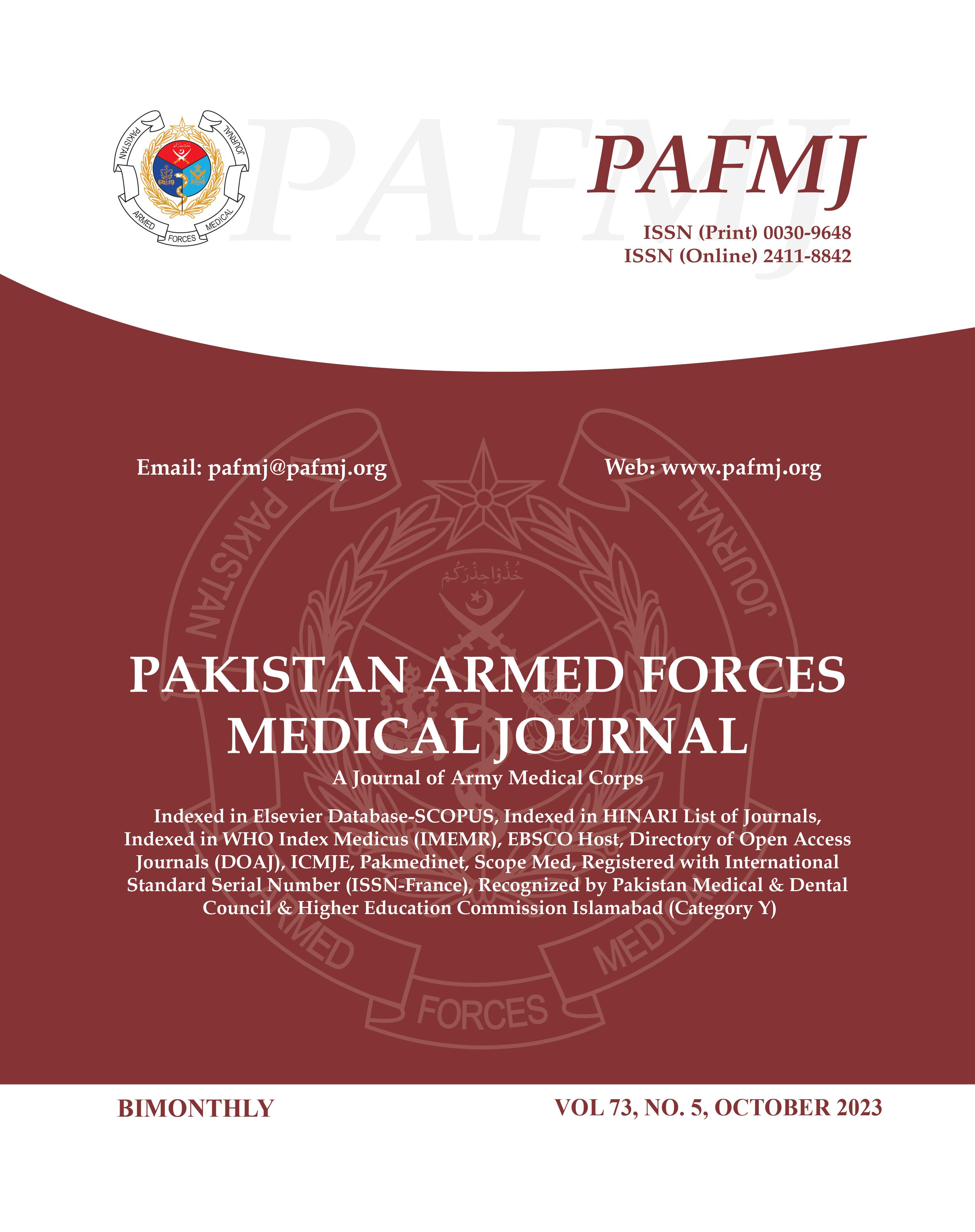 Downloads
How to Cite
Rahman, A., Malik, Q. ullah, Ikram, F., Abbasi, A. N., Mumtaz, S., & Akram, S. (2023). Assessment of Acute Gastroenteritis in Children Under Five Years of Age by Vesikari Score; A Comparative Analysis of the Efficacy of the Rota-Virus Vaccine. Pakistan Armed Forces Medical Journal, 73(5), 1262–1265. https://doi.org/10.51253/pafmj.v73i5.6580
Section
Original Articles