Evaluation of the Effect of Nebivolol in Bone Defect Healing in An Experimental Rat Model
Keywords:
Anti-oxidant effect, Bone regrowth,, Nebivolol, Nitric oxide
Abstract
Objective: to evaluate the beneficial role of Nebivolol on bone formation in Experimental model of rat.
Study Design: Laboratory-based experimental study
Place and Duration of Study: Department of Pharmacology, Army Medical College, Rawalpindi Pakistan, from Jun-Aug 2020
Methodology: Fourteen (14) rats of the Sprague Dawley variety were obtained for the study. The bone defect was made in
each rat's upper quadrant of the right femur shaft by surgical intervention.1-2mm bone defect was created using a Dental
Engine motor, avoiding any injury to muscles or other areas of bone. Rats were divided into two equal groups. The Disease
Control Group was labelled as Group-A, which was restricted to normal drinking water and feed for three weeks after
surgery. Nebivolol-Group was tagged as Group-B, given Nebivolol (2.5mg/kg) once daily (OD) for three weeks starting postop Day 1. Rats included in the study were sacrificed at the end of the three weeks, and their right femurs were collected in sample jars for radiography and histopathology.
Results: The radiographic scores, as well as the histopathology scores, were analyzed. Results depicted noteworthy differences between Group-A and Group-B and found to be highly significant (p-value <0.01).
Conclusion: Nebivolol efficaciously enhances bone regeneration in bone defects induced in a rat model.
Downloads
Download data is not yet available.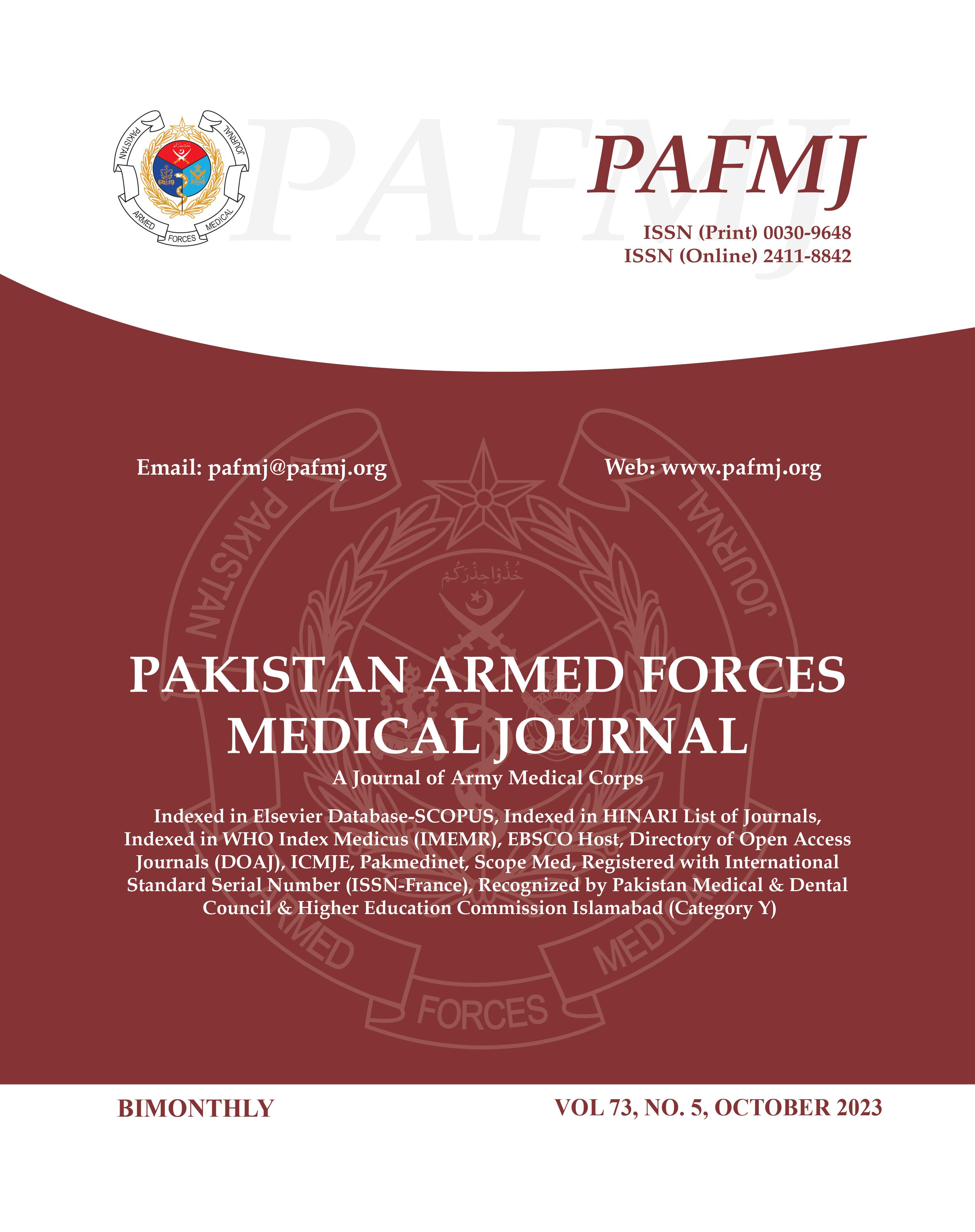 Downloads
How to Cite
Qurrat-ul-Ain Haider, Ali, S., Aslam Khan, M. W., Farhat, K., Sohail Bajwa, N., & Ata, N. (2023). Evaluation of the Effect of Nebivolol in Bone Defect Healing in An Experimental Rat Model. Pakistan Armed Forces Medical Journal, 73(5), 1387–1390. https://doi.org/10.51253/pafmj.v73i5.6341
Section
Original Articles