Raised Alpha-Fetoprotein Level and its Association with Hepatocellular Carcinoma
Keywords:
Alpha-fetoprotein, Child-Pugh score, Hepatocellular carcinoma, Hepatitis C, Hepatitis B, Liver cirrhosis
Abstract
Objective: To evaluate raised alpha feto-protein levels for socio-demographic and clinicopathological features in
hepatocellular carcinoma.
Study Design: Cross-sectional study.
Place and Duration of Study: Department of Medical Oncology, Jinnah Postgraduate Medical Center, Karachi Pakistan, from Jan 2019 to Jan 2020.
Methodology: Two hundred and thirty-six patients of age more than 20 years, of either gender diagnosed with hepatocellular carcinoma were included. Detailed demographic data, information regarding addiction and medical history were collected. According to The National Comprehensive Cancer Network, Hepatocellular carcinoma was diagnosed using a multiphasic liver protocol CT scan with intravenous contrast. The alpha-fetoprotein levels were checked after confirmation of hepatocellular carcinoma on a multiphasic CT scan. The cut-off value for elevated alpha feto-protein was ≥20 ng/mL.
Results: The median alpha protein levels were reported as 411 ng/mL. About 183(78%) patients had elevated alpha protein
levels. In univariate analysis, age, gender, diabetes mellitus, hepatitis B, hepatitis C, portal vein thrombosis, number of lesions, cirrhotic liver, features of portal hypertension, anti-viral treatment status, cigarette smoking, and segment of the liver showed a statistically significant relationship with elevated alpha protein levels (p<0.05). On the multivariate model, age, hepatitis C, number of lesions, portal vein thrombosis, and Child Pugh score showed statistically significant association with elevated alpha protein (p<0.05).
Conclusions: The elevated alpha protein levels level was found to be higher among hepatocellular carcinoma and associated with age, hepatitis C, number of lesions, portal vein thrombosis and Child Pugh score.
Downloads
Download data is not yet available.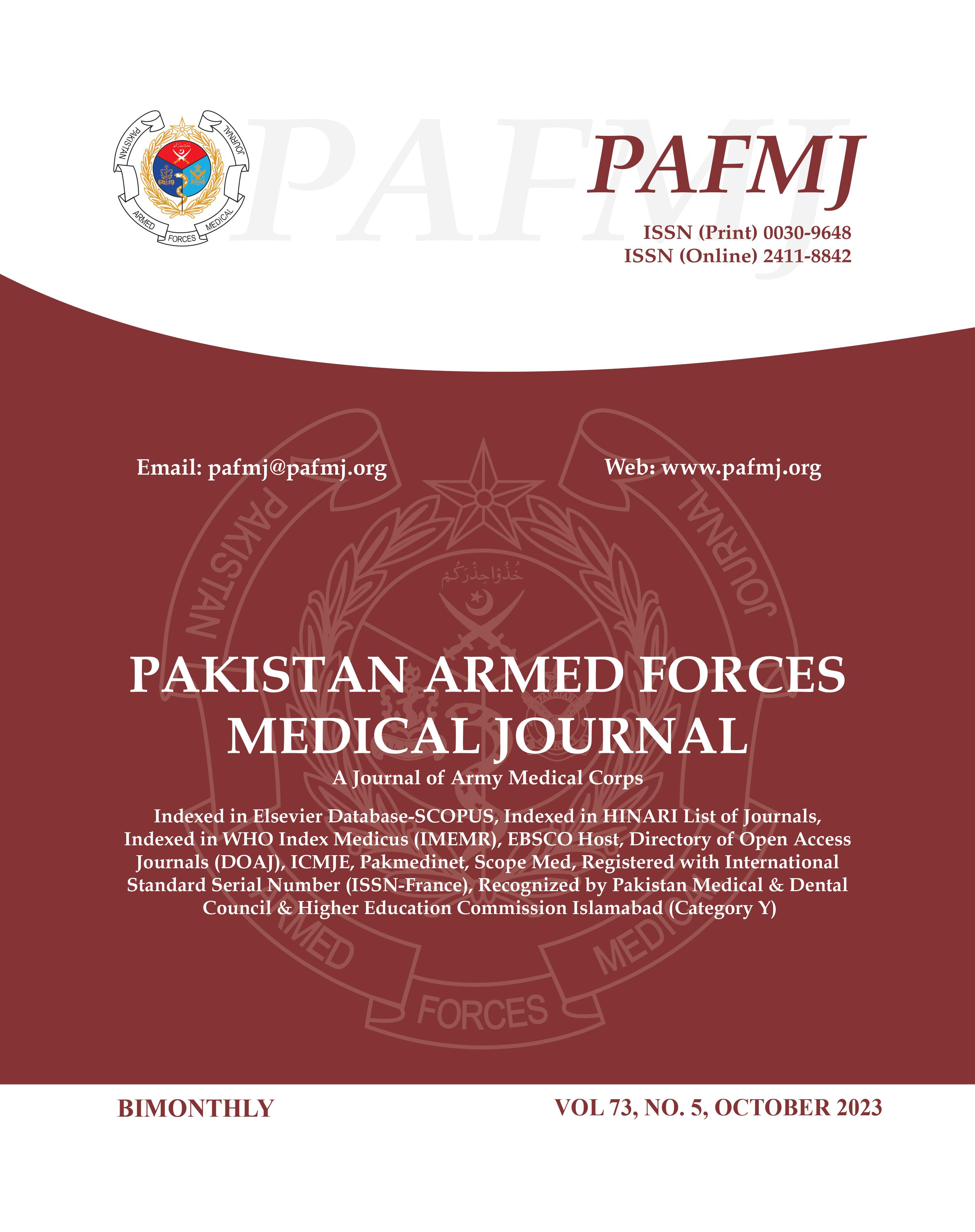 Downloads
How to Cite
Hashmi, M., Ghulam Haider, Muhammad Danish, Anusha Hassan, Razia Irshad, & Khalil Ahmed. (2023). Raised Alpha-Fetoprotein Level and its Association with Hepatocellular Carcinoma. Pakistan Armed Forces Medical Journal, 73(5), 1257–1261. https://doi.org/10.51253/pafmj.v73i5.5419
Section
Original Articles