Frequency and Causal Relationship of Pneumothorax in Premature Neonates in a Tertiary Care Hospital
Keywords:
Pneumothorax, Prematurity, Neonate, Thoracostomy, Thoracocentesis
Abstract
Objectives: To determine the frequency and causal relationship of Pneumothorax in prematurely born neonates in a tertiary
care hospital.
Study Design: Prospective longitudinal study
Place and Duration of Study: Department of Paediatrics, Pak Emirates Military Hospital, Rawalpindi Pakistan, from Aug 2017 to Jul 2019.
Methodology: A total of 510 premature neonates fulfilling the inclusion criteria were enrolled in the study. In suspected cases,Pneumothorax was confirmed on a chest radiograph. Hemodynamically stable neonates were closely observed for
spontaneous resolution, whereas unstable neonates were managed by needle thoracocentesis or thoracostomy with or without ventilator support. The outcome of the study was either death of the neonate or discharge from the NICU (Neonatal Intensive Care Unit).
Results: Of 510 included premature neonates, 43(8.4%) developed Pneumothorax. Pneumothorax was more common in late pre-term (51.2%) and moderate pre-term (46.5%) infants. Underlying diseases causing Pneumothorax were respiratory distress syndrome (RDS) 21(48.8%), meconium aspiration syndrome (MAS) 8(18.6%), transient tachypnoea of the newborn (TTN) 5(11.6%), birth asphyxia syndrome (BAS) 6(14%) and Pneumonia 3(7%). 34(79.1%) patients required thoracostomy, whereas 7(16.3%) required only needle thoracocentesis. Spontaneous resolution occurred in only 2(4.7%) patients. Of 43 patients, 35(81.39%) were discharged, and 8 (18.60%) died.
Conclusion: Pneumothorax is not an uncommon complication, especially in premature neonates. A high index of suspicion is required for early recognition and timely management of Pneumothorax, as delay is associated with significant mortality.
Downloads
Download data is not yet available.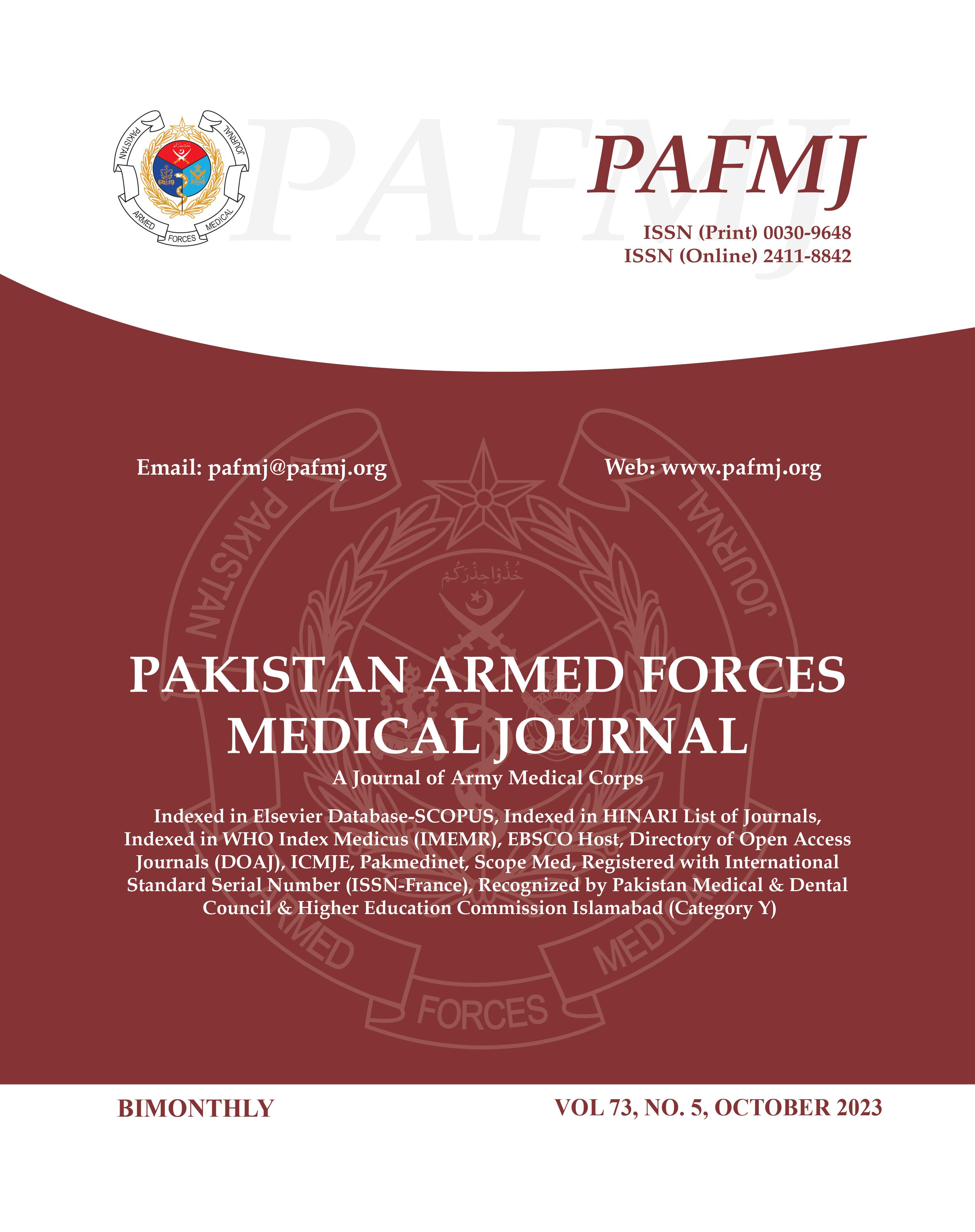 Downloads
How to Cite
Aamir Aslam Awan, Qudratullah Malik, Faisal Basheer, Ammara Iftikhar, Hafiz Abdul Quddus, & Hafiz Murtaza Sabir. (2023). Frequency and Causal Relationship of Pneumothorax in Premature Neonates in a Tertiary Care Hospital. Pakistan Armed Forces Medical Journal, 73(5), 1271–1274. https://doi.org/10.51253/pafmj.v73i5.5395
Section
Original Articles