Comparison of Post Extubation Cough with Instillation of 2% Lidocaine Versus air in Endotracheal Tube
Keywords:
Endotracheal tube, Extubation, Lidocaine, Post-operative cough
Abstract
Objective: To determine the efficacy of 2% Lidocaine instillation for endotracheal tube cuff inflation versus air on postextubation cough.
Study Design: Quasi-experimental study.
Place and Duration of Study: Combined Military Hospital, Rawalpindi Pakistan, from May to Nov 2018.
Methodology: The study was carried out on 64 patients undergoing surgery under general anaesthesia of a duration greater than one hour. Patients with respiratory pathology, risk of aspiration, difficult airway, and who need postop ventilator support were excluded. Patients were divided into Group-A (inflated with air) and Group-L (inflated with 2% Lidocaine) by sealed opaque envelop method. Post-extubation cough and one hour later was recorded.
Results: The mean age of Group-A and Group-L was 30.06±4.36 years and 29.66±4.45 years, respectively. 43(67.19%)
participants were males, whereas 21(32.81%) were females. The efficacy of 2% Lignocaine versus air in endotracheal cuff on
post-extubation cough and one hour following extubation in Group-A was 19(59.38%) and 11(34.38%), respectively. This was reduced to 06(18.75%) and 1(3.13%) in Group-L, respectively (p<0.05).
Conclusion: This study concluded that using 2% Lidocaine for inflation of the endotracheal tube cuff decreases the cough
frequency after extubation compared to air.
Downloads
Download data is not yet available.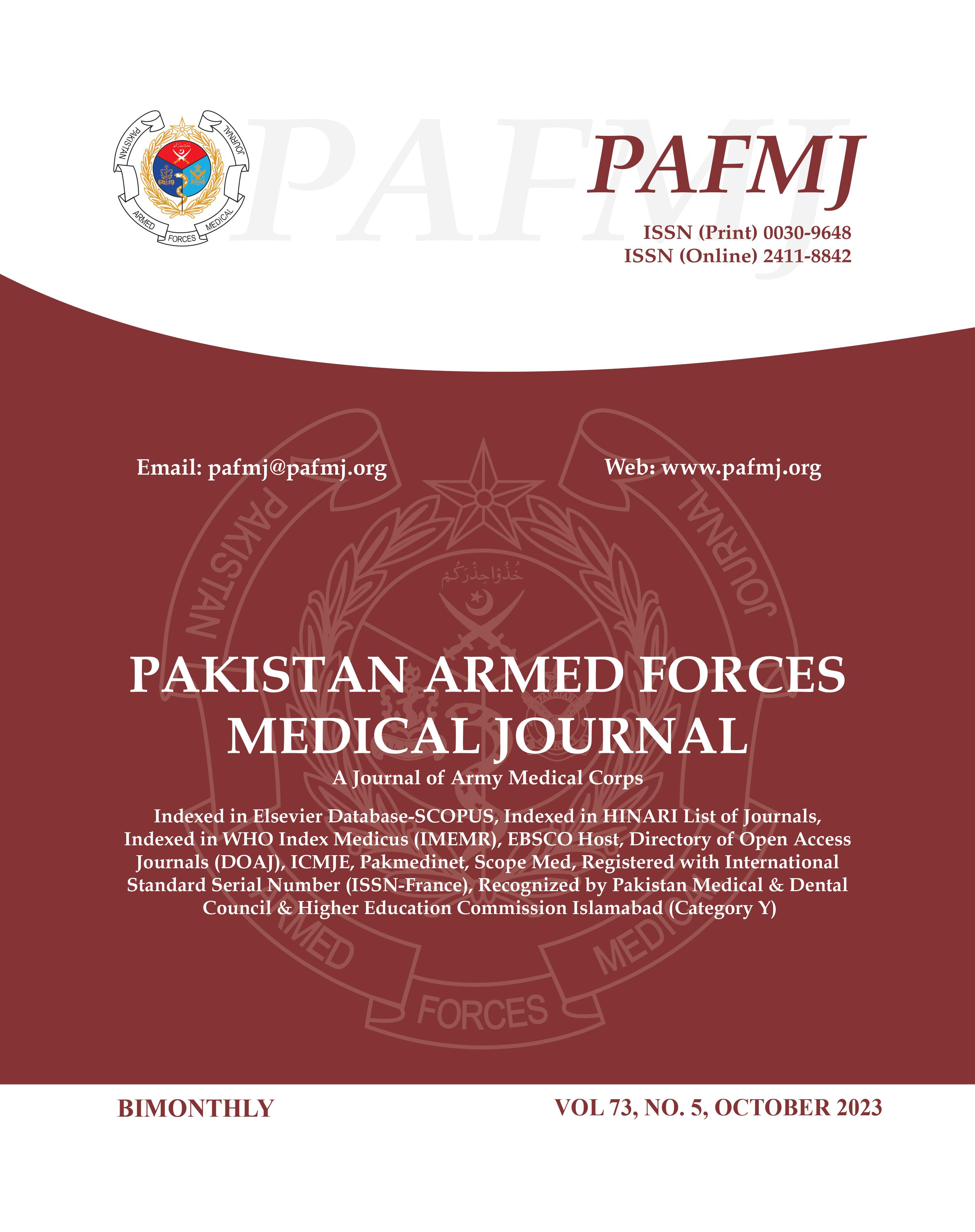 Downloads
How to Cite
Junaid Zafar, Basit Mehmood, Rashid Iqbal, Sana Abbas, Shmyla Hamid, & Uzma Urooj. (2023). Comparison of Post Extubation Cough with Instillation of 2% Lidocaine Versus air in Endotracheal Tube. Pakistan Armed Forces Medical Journal, 73(5), 1237–1240. https://doi.org/10.51253/pafmj.v73i5.4254
Section
Original Articles