Evaluating the Interplay between Pentraxin-3 and Cystatin C in Migraine Patients
Keywords:
Pentraxin-3, Cystatin C, Migraine, Neuroinflammation, Neuroprotection, Antioxidant
Abstract
Objective: Evaluate the levels of serum pentraxin-3 and human cystatin C in migraine patients and the relationship between
various parameters in migraine patients to healthy controls.
Study Design: Cross-sectional comparative study.
Place and Duration of Study: Department of Physiology, University of Lahore, Lahore Pakistan, from Apr 2021 to Apr 2022.
Methodology: Following the collecting of histories, participants in the study - both cases and controls - were given a thorough
clinical examination. A proforma was filled out by each candidate and a non-probability convenience sampling approach was
chosen. After drawing blood samples, the serum was separated by centrifugation. The enzyme-linked immunosorbent assay
(ELISA) was used to determine the concentrations of serum pentraxin-3 and cystatin C. Utilizing SPSS version 22, statistical
analysis was conducted. The median IQR values of both groups were ascertained using the Mann-Whitney U test, with a pvalue of less than 0.05 being deemed significant.
Results: Cases include 52.5% female patients and 47.5% male patients. Cases and controls had average ages of 25.57 5.93 and
26.15 7.19 respectively. BMI falls in the category 18–25 in most cases. Photophobia was the most common symptom, which was
followed by phonophobia, nausea and vomiting. When comparing cases to controls, the mean cystatin C and pentraxin-3 levels
were much higher in patients. Mean value of PTX-3 was 145.57±157.7 pg/l in cases and 43.65±33.01 pg/l in controls. Mean value
of cystatin C was 0.97±0.67 mg/l in cases and 0.60±0.44 mg/l in controls.
Conclusion: Levels of serum pentraxin-3 and human cystatin C were ....
Downloads
Download data is not yet available.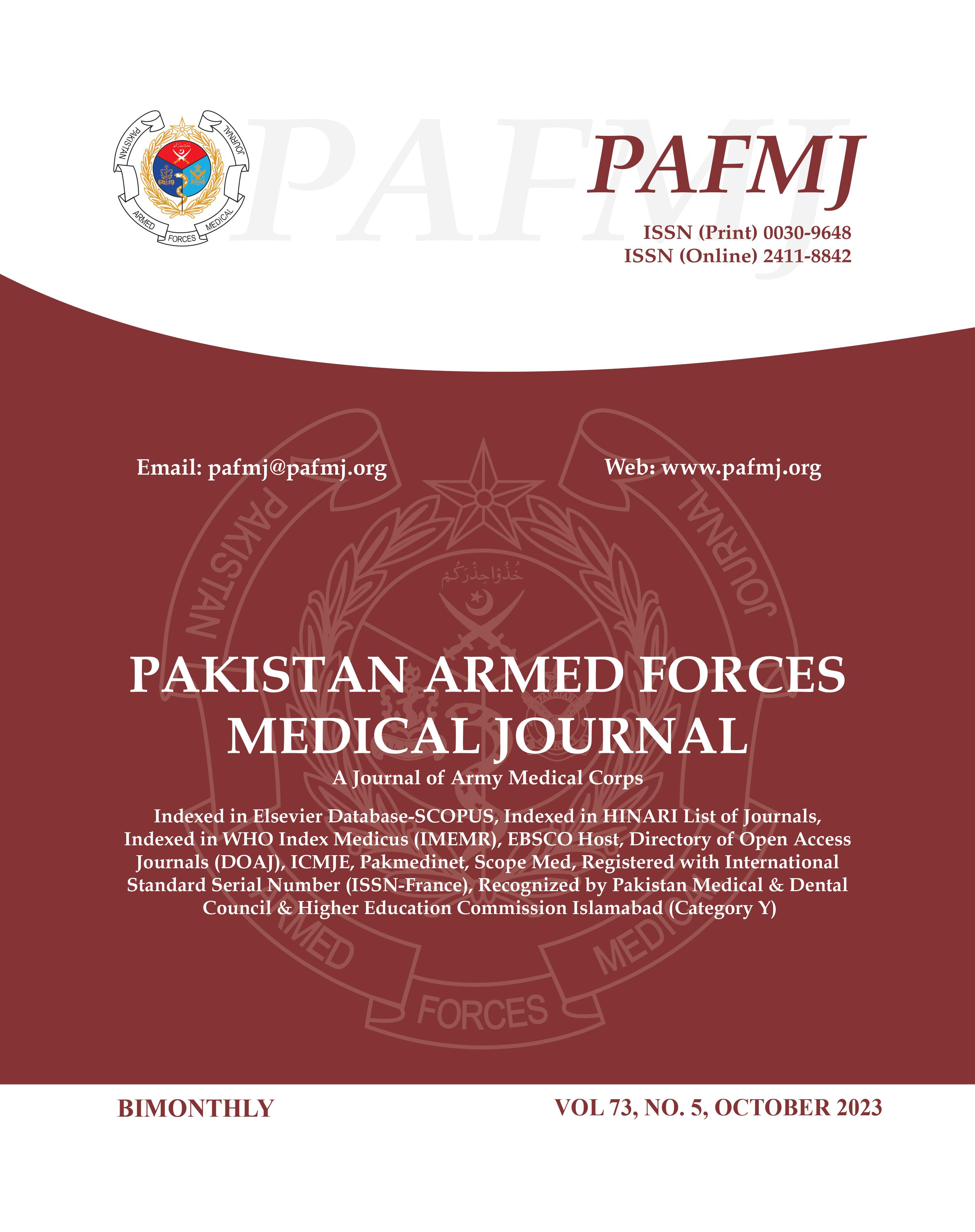 Downloads
How to Cite
Maham Tahir, Mariyam Khan, Mamoona Shafiq, Adnan Ali, Nayab Khalid, & Arooj Fatima. (2023). Evaluating the Interplay between Pentraxin-3 and Cystatin C in Migraine Patients. Pakistan Armed Forces Medical Journal, 73(5), 1526–1530. https://doi.org/10.51253/pafmj.v73i5.11158
Section
Original Articles