To Determine The Diagnostic Accuracy of Urinary Nuclear Matrix Protein 22 in Detection of Recurrence of TCC Bladder Among Patients Who Are on Active Surveillance By Taking Cystoscopic Biopsy As A Gold Standard
Keywords:
Bladder cancer, Urinary nuclear matrix protein 22, Transitional Cell Carcinoma, Urinary NMP22
Abstract
Objective: To determine the diagnostic accuracy of urinary nuclear matrix protein 22 in detection of recurrence of TCC
bladder among patients who are on active surveillance by taking cystoscopic biopsy as a gold standard.
Study Design: Cross-sectional study.
Place and Duration of Study: Departments of Urology, Histopathology and Molecular Biology: Sindh Institute of Urology and
Transplantation (SIUT), Karachi Pakistan, from Jan 2021 to Jun 2021.
Methodology: Total 83 patients previously biopsy proven bladder carcinoma who are on active surveillance whether or not
they have received intravesical chemotherapy were included in this study. All the information were noted into proforma,
Results: The average age of the patients was 48.80±11.86 years. There were 46(55.42%) male and 37(44.58%) female. Sensitivity,
specificity, PPV, NPV and accuracy of urinary nuclear matrix protein 22 was 88.9%, 80%, 93.3%, 69.6% and 86.7% resepctively.
Practical implication: This study will help us to diagnose TCC bladder in early stages and to manage it in time sothat
morbidity and mortality may be reduced.
Conclusion: Measuring NMP22 level in the blood is a very important tool for detecting Tcc of the urinary bladder as it is much
specific and sensitive test.
Downloads
Download data is not yet available.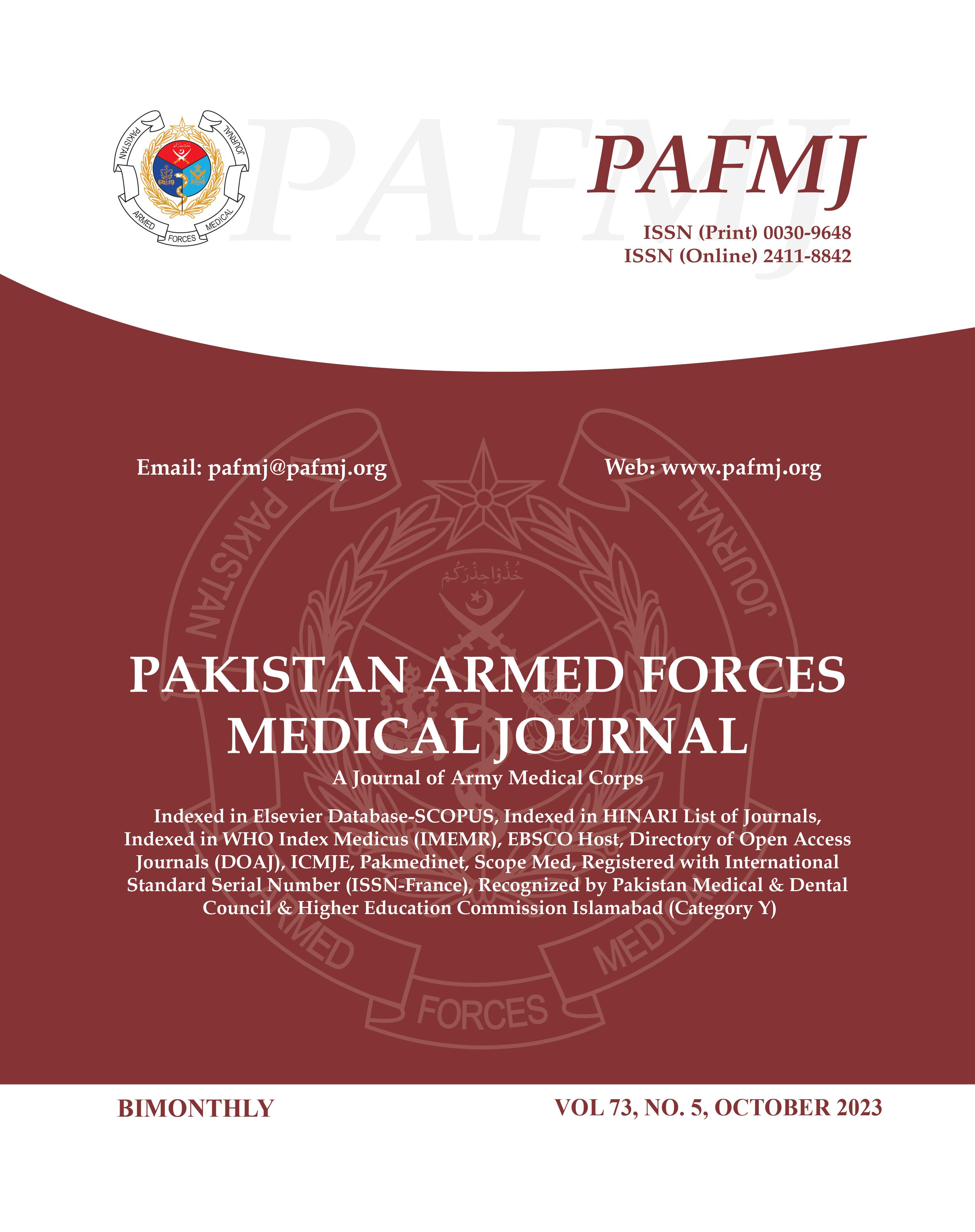 Downloads
How to Cite
Shireen Pyarali, Sunil Kumar, Rabeea Saleem, Mehnaz Jabeen, Altaf Hashmi, & Gauhar Sultan. (2023). To Determine The Diagnostic Accuracy of Urinary Nuclear Matrix Protein 22 in Detection of Recurrence of TCC Bladder Among Patients Who Are on Active Surveillance By Taking Cystoscopic Biopsy As A Gold Standard. Pakistan Armed Forces Medical Journal, 73(5), 1488–1492. https://doi.org/10.51253/pafmj.v73i5.11156
Section
Original Articles