Cardio-Respiratory and Metabolic Implication of Intranasal Packing in Patients Undergoing Sino-Nasal Surgery
Keywords:
Epistaxis, Hematoma, Hypoxia, Nasal Septum, Oxygen Consumption, Respiration, Splints
Abstract
Objective: To determine impact of various forms of intra nasal packings and trans-septal suturing (without nasal packing) on cardiopulmonary and metabolic milieu of patients undergoing nasal and paranasal sinus operations.
Study Design: Randomized controlled trial. ( Ltr no: IERB-01/3/23/Trg dated 8 March 2023)
Place and Duration of Study: Department of Otorhinolaryngology (ENT), Combined Military Hospital, Jhelum Cantonment,
Pakistan, from Aug 2022 to Aug 2023.
Methodology: Clinical and laboratory markers of cardio-pulmonary and metabolic assessment of 140 subjects were evaluated, who had undergone some form of intranasal packing procedure or trans-septal suturing (without nasal packing) following nose or paranasal sinus operations.
Results: Ventilated nasal packs and completely avoiding nasal packing by performing trans-septal suturing have a significant impact on clinical parameters like resting heart rate, respiration, blood pressure, arterial blood pH and arterial blood partial pressure of carbon dioxide (PaCO2) in patients undergoing surgical operations of the nose and paranasal sinuses.
Conclusion: We strongly recommend adopting less invasive and technically more advanced operative methodology and
refining surgical expertise regarding septal splinting during rhinologic operative procedures, mitigating discomfort and
antecedent morbidity in patients undergoing these sino-nasal surgical operations.
Downloads
Download data is not yet available.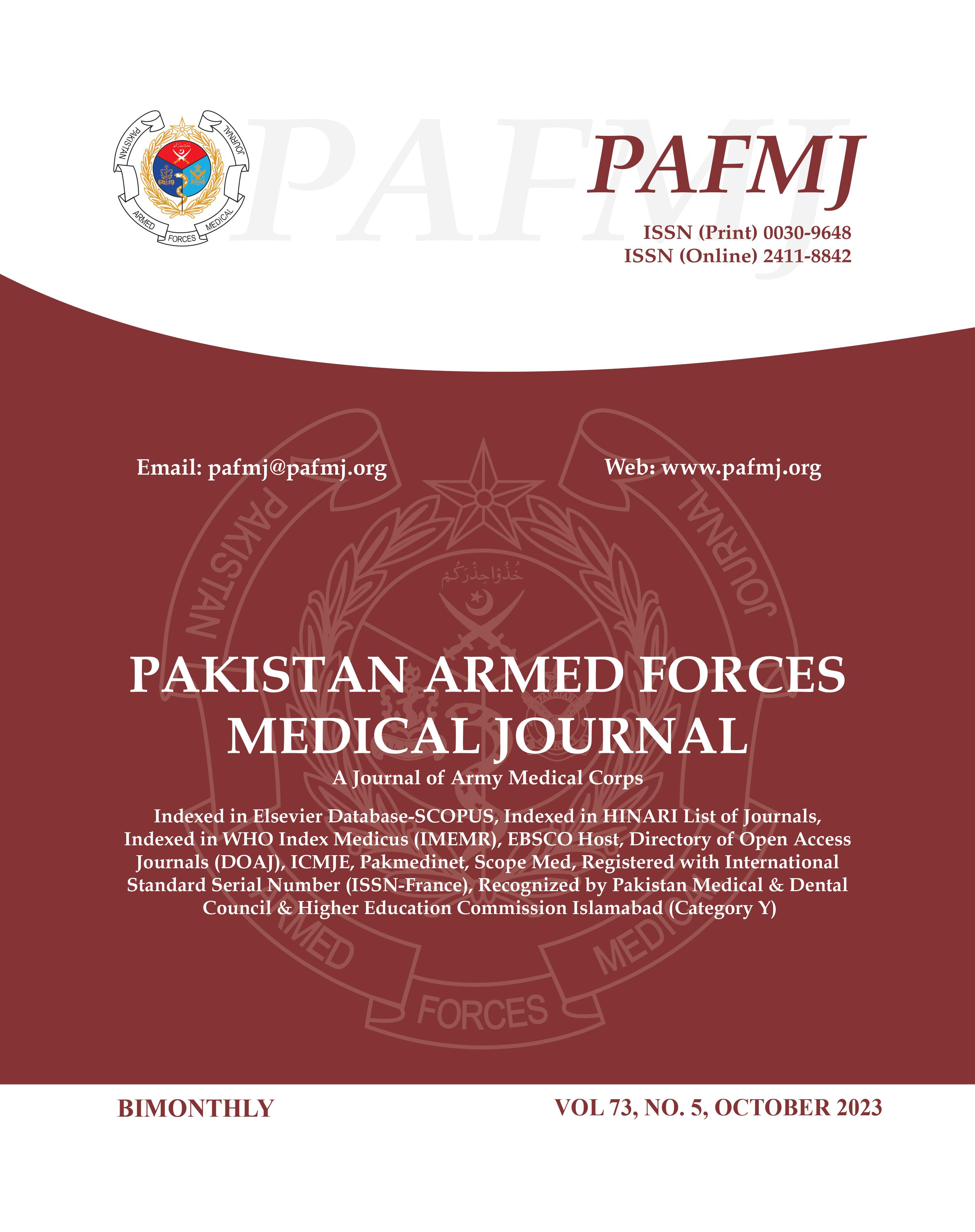 Downloads
How to Cite
Sheikh, N. A., Anwar, W., Khan, Y. S., Siddiqi, F. A., Hayat, A., & Nadeem, K. (2023). Cardio-Respiratory and Metabolic Implication of Intranasal Packing in Patients Undergoing Sino-Nasal Surgery. Pakistan Armed Forces Medical Journal, 73(5), 1535–1540. https://doi.org/10.51253/pafmj.v73i5.10107
Section
Original Articles