Prevalence of Anxiety Related Irritable Bowel Syndrome Symptoms Among Medical Students of Rawalpindi
Keywords:
IBS, anxiety, medical students, healthcare professionals, stress
Abstract
Objective: The aim of the study was to find prevalence of Irritable Bowel Syndrome (IBS), compare its prevalence among male
and female students and find association of IBS with anxiety among medical students of Rawalpindi.
Study Design: Descriptive cross-sectional study
Place and Duration of Study: It was conducted among the Medical Students of Army Medical College and Rawalpindi Medical
University, Rawalpindi Pakistan, from Mar to May 2021.
Methodology: A structured, self-administered questionnaire was distributed after obtaining consent. Systematic Random Sampling was done. Sample size was 363. Questionnaire consisted of two parts; IBS Questionnaire for healthcare professionals and Generalized Anxiety Disorder Questionnaire. Data analysis was done using SPSS 26.
Results: All the questionnaires were inquired from the age group of 15 to 30 years. A total of 243 responses were collected from females and 120 from males. Analysis of the data revealed that 84 out of 363 respondents (23.1%) had probable IBS. There was a preponderance of females with IBS (26.7%) over males (15.8%). There was significant association of IBS with Gender. Out of 243 females, 37 had severe anxiety, 46 had moderate anxiety, 96 had mild anxiety and 64 had no anxiety. Six males had severe anxiety, 20 had moderate anxiety, 29 had mild anxiety and 65 had no anxiety. Overall prevalence of severe anxiety was 11.845%. 20.2% individuals with probable IBS had severe anxiety. Data analysis revealed (p<0.05) implying that the association of IBS
with anxiety is highly significant.
Conclusions: The overall prevalence of Probable IBS was found to be 23.1%. A significant association was found between IBS and gender as well as IBS and anxiety levels. The problem can be addressed by managing the stress levels among medical students.
Downloads
Download data is not yet available.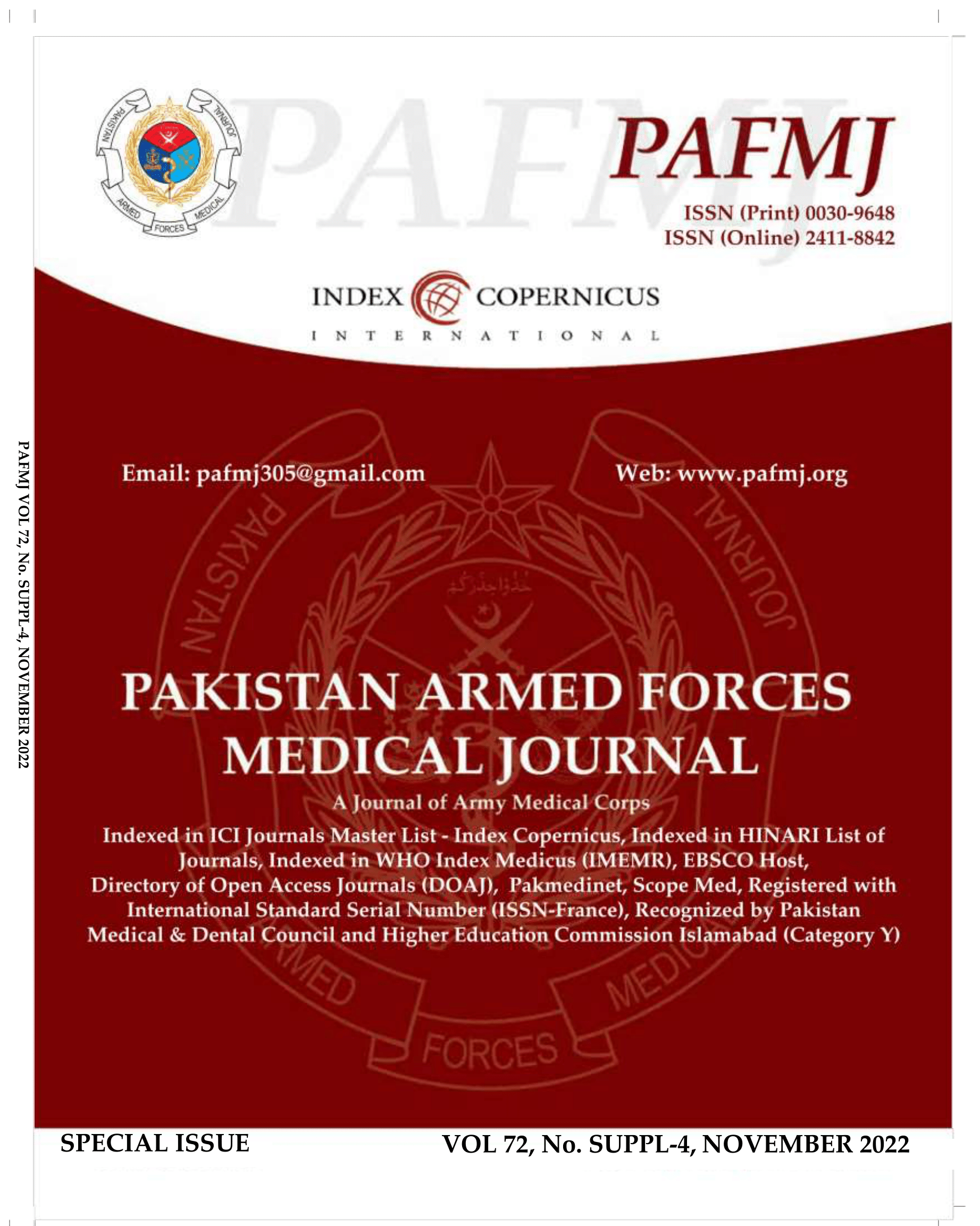 Downloads
How to Cite
Hisam, A., Mashhadi, S. F., Ashfaq, M., Javed, H., Ahmed, H., Waqas, M., & Amtal, T. (2023). Prevalence of Anxiety Related Irritable Bowel Syndrome Symptoms Among Medical Students of Rawalpindi. Pakistan Armed Forces Medical Journal, 72(SUPPL-4), S914–18. https://doi.org/10.51253/pafmj.v72iSUPPL-4.9837
Section
Original Articles