Comparison of Side to Side Staple Versus Hand Sewn Gastro Esophageal Anastomosis in Cases of Oesophagectomy in CA Esophagus
Mohammad Abid Khan

Lady Reading Hospital, Peshawar Pakistan

Abdul Baseer

Lady Reading Hospital, Peshawar Pakistan

Tahir Aslam

Fatima Jinnah Institute of Chest Disease, Quetta Pakistan

Viqar Aslam

Lady Reading Hospital, Peshawar Pakistan

Asif Ahmed

Lady Reading Hospital, Peshawar Pakistan
Keywords:
Esophago-gastric anastomosis, Esophagectomy patients, Hand-sewn technique, Stapled anastomosis technique
Abstract
Objective: To compare outcomes of side to side staple versus hand-sewn esophago-gastric anastomosis in esophagectomy
patients with carcinoma of esophagus after subtotal esophagectomy along with gastric tube reconstruction.
Study Design: Retrospective cross-sectional study.
Place and Duration of Study: Lady Reading Hospital, Peshawar Pakistan, from July 2019 to June 2020.
Methodology: After ethical approval, medical records of patients that underwent stapled/hand sewn gastro esophageal anastomosis due to carcinoma esophagus were included. Inoperable Ca esophagus and with thoracic anastomosis were excluded. Each anastomotic technique was applied on 50 patients randomly. The variables of study included demographic,anastomotic leak, anastomotic stricture, operative time, and other complications. All the cases were followed up for 1 year.SPSS version 26.0 was used for data analysis.
Result: From 100 patients, 56 were males and 34 females. Age ranged from 15 to 80 years with mean age of 48.5 and 51.1 respectively in two groups. In 42 cases tumor was present in lower end, middle third in 30 and middle lower third of gastro esophageal junction in 28 cases. Histo-pathologically 58 cases were adenocarcinoma, 31 squamous cell carcinoma and 11 adeno squamous carcinoma. The anastomosis time in group I was 6.8±.22 minutes while in group II was 13.2±1.71 minutes (p0.04). None of the patients in group I, having stapled anastomosis were found to have anastomotic leakage or stricture formation after 1 year of follow up while 04 patients in group II were reported to have anastomotic leakage and 06 patients had anastomotic stricture formation (p-<0.01).
Conclusion: Side by side stapled anastomosis technique was far superior to hand-sewn technique in terms of the time taken for anastomosis to be completed and patient outcomes (anastomotic leakage and stricture formation).
Downloads
Download data is not yet available.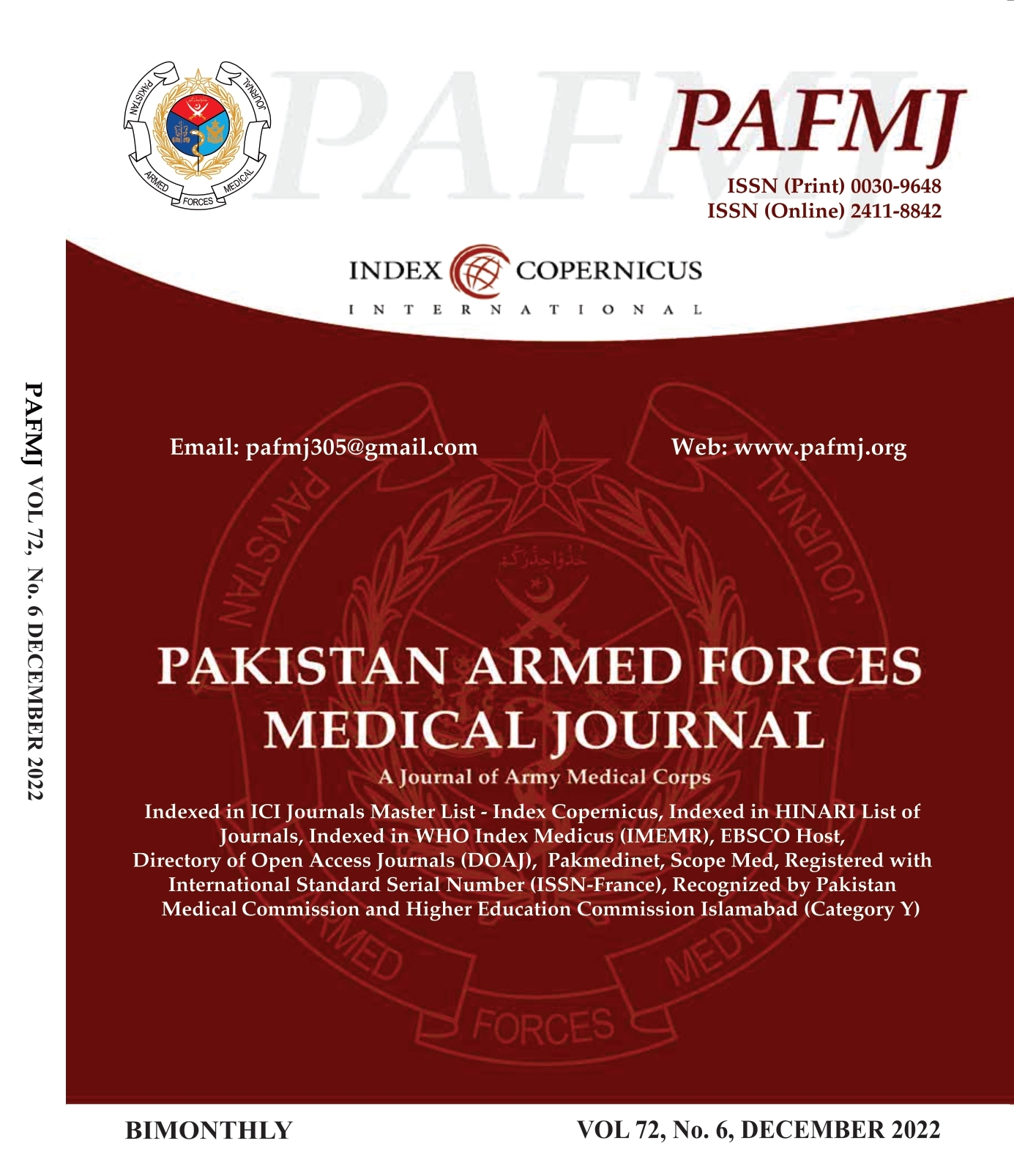 How to Cite
Khan, M. A., Baseer, A., Aslam, T., Aslam, V., & Ahmed, A. (2023). Comparison of Side to Side Staple Versus Hand Sewn Gastro Esophageal Anastomosis in Cases of Oesophagectomy in CA Esophagus. Pakistan Armed Forces Medical Journal, 72(6), 2151-54. https://doi.org/10.51253/pafmj.v72i6.9759
Section
Original Articles