Dental Anxiety and Its Determinants in Adult Patients of Gilgit Baltistan
Muhammad Siddique Kakar

Combined Military Hospital, Gilgit/National University of Medical Sciences (NUMS) Pakistan

Qamar Ishfaq

99 Military Dental Center, Gilgit Pakistan

Haroon Khattak

Combined Military Hospital, Hyderabad/National University of Medical Sciences (NUMS) Pakistan
Keywords:
Dental anxiety, Dental injury experience, Gilgit-Baltistan, Modified dental anxiety scale (MDAS)
Abstract
Objective: To evaluate the frequency of dental anxiety and its relationship with age, gender, marital status, education,occupational status, place of residence and previous dental injury experience in patients belonging to Gilgit-Baltistan.
Study Design: Cross-sectional study.
Place and Duration of Study: Psychiatry Department, Combined Military Hospital, Gilgit and 99 Military Dental Center,
Gilgit Pakistan, from Jul to Dec 2017.
Methodology: A total of 270 patients aged 18 to 65 years were selected for the study. The proforma was used to determine basic patient information, including past dental experience. Coral's Modified Dental Anxiety Scale (MDAS) was used to
measure the level of dental anxiety.
Results: The mean anxiety score was 8.95±2.53. Dental anxiety was common in 33.1% of the study population. Correlational analyses showed a significant positive relationship between younger age, female gender, single marital status, rural residence and negative past dental experience with dental anxiety.
Conclusion: Within the Gilgit-Baltistan population, it was seen that younger patients, single females, people from rural areas and patients with a past negative dental experience had more Dental anxiety.
Downloads
Download data is not yet available.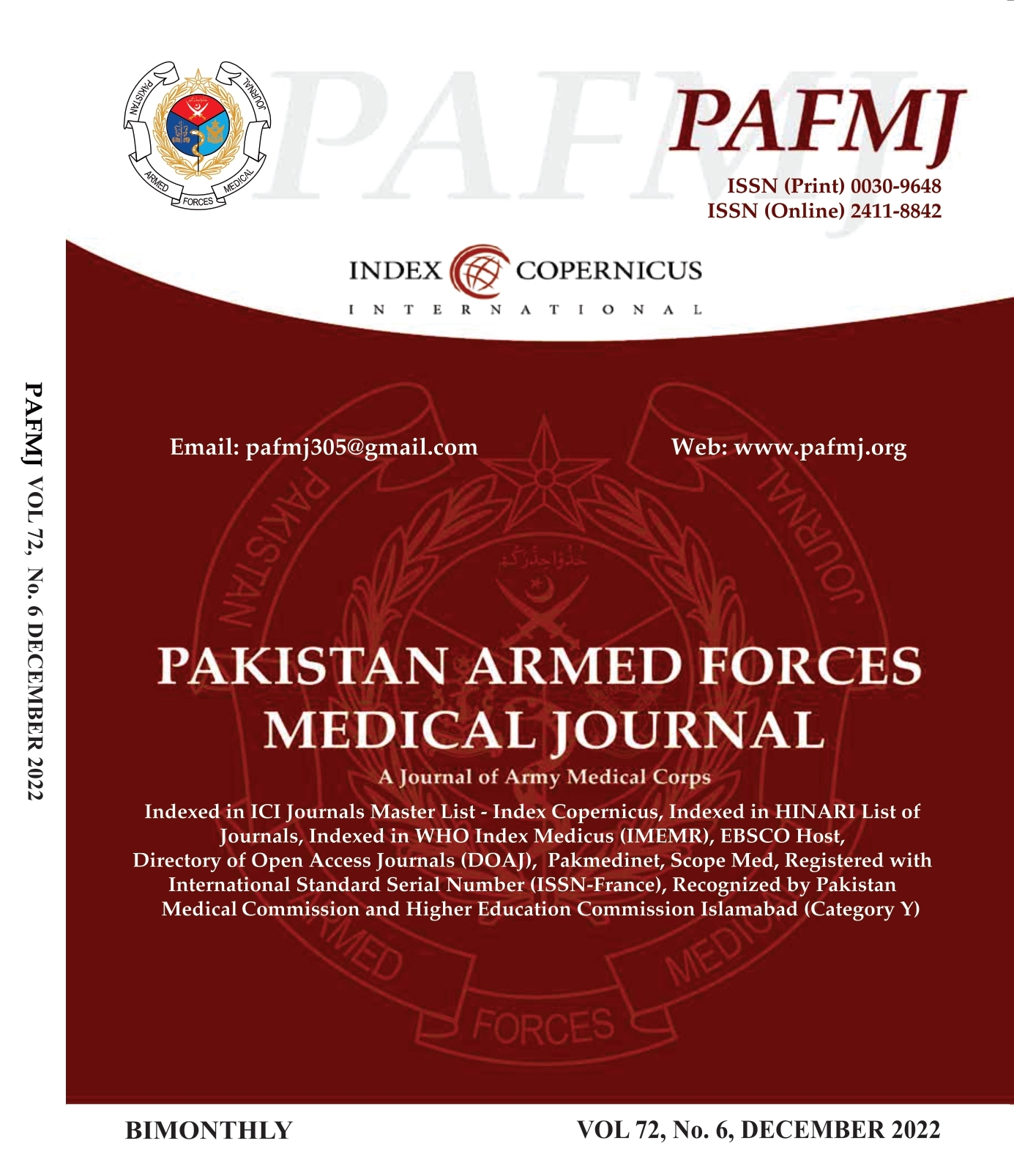 How to Cite
Kakar, M. S., Ishfaq, Q., & Khattak, H. (2023). Dental Anxiety and Its Determinants in Adult Patients of Gilgit Baltistan. Pakistan Armed Forces Medical Journal, 72(6), 2091-94. https://doi.org/10.51253/pafmj.v72i6.9756
Section
Original Articles