Prevalence of Online Fatigue during COVID-19: A Cross-Sectional Study on Academicians of Rawalpindi
Keywords:
Fatigue, health, technology, workload
Abstract
Objective: To determine prevalence of online fatigue among academicians and to analyse factors associated with online fatigue.
Study Design: Analytical, cross-sectional study.
Place and During of Study: The study was conducted online from Nov 2021 to Apr 2022 on academicians belonging to educational institutions and teaching hospitals of Rawalpindi Pakistan.
Methodology: One hundred fifty academicians, aged 20-75 years, belonging to Rawalpindi were enrolled through snowball sampling. Data was collected online by using google forms. A validated questionnaire having an online fatigue scale was used. Partial responses were excluded. Qualitative variables were expressed as frequency and percentage while quantitative variables were expressed as mean and S.D. Chi-square test was applied.
Results: Out of 150 academics, 72(48%) were males and 78(52%) were females. Mean age of participants was 32±9.4 years. Amongst the study participants 27(18%), 67(44.7%), 50(33.3%) and 6(4%) suffered from mild, moderate, severe and extreme online fatigue respectively. The degree of online fatigue was found to be significantly associated with female gender (p=0.000), older age (p=0.005) and higher level of education (p=0.002). Association of online fatigue with factors such as workplace(p=0.054), residence (p=0.129) and amount of technology usage (p=0.995) was found to be statistically insignificant.
Conclusions: Our study showed that online fatigue was prevalent among the academic community of Rawalpindi, especially females. Online fatigue can be reduced by training the academicians about work-life balance and updating their knowledge on practical technology.
Downloads
Download data is not yet available.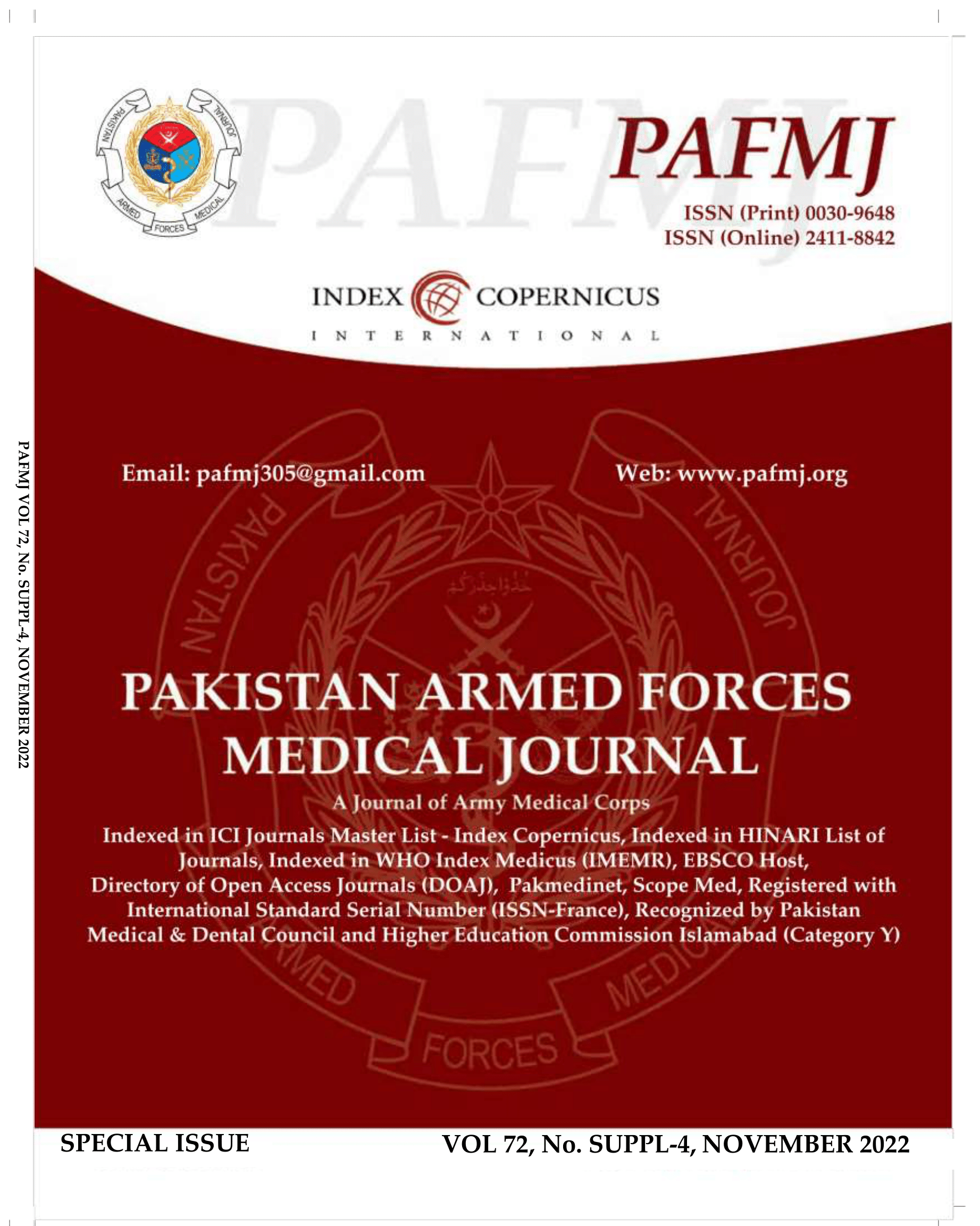 Downloads
How to Cite
Mashhadi, S. F., Khan, N., Shaukat, I., Saad, A., Cheema, A. H., & Hassan, A. J. (2022). Prevalence of Online Fatigue during COVID-19: A Cross-Sectional Study on Academicians of Rawalpindi. Pakistan Armed Forces Medical Journal, 72(SUPPL-4), S879–83. https://doi.org/10.51253/pafmj.v72iSUPPL-4.9684
Section
Original Articles