Psychosocial Impact of Acne Vulgaris, its prevalence and associated Risk Factors in University Students of Rawalpindi/ Islamabad
Keywords:
Acne Vulgaris, Dermatology Life Quality Prevalence, Perception of Acne, QOL, Risk Factors
Abstract
Objectives: To determine the prevalence of Acne Vulgaris, its effects on quality of life of the patient and its associated risk factors.
Study Design: Analytical Quantitative cross-sectional study.
Place and Duration of Study: University of Rawalpindi/Islamabad Pakistan, from Mar to May 2021.
Methodology: Non-probability convenience sampling was used. A total sample of 218 diagnosed cases of acne was included in our study. The data was collected via online Google forms and analyzed using SPSS 25.0.
Results: The prevalence of acne vulgaris was 16.8% in university students of Rawalpindi/Islamabad Pakistan. Among 218 acne cases, the overall Dermatology Life Quality Index score showed 36(17%) cases had no effect at all and 182(83%) had some effect on their quality of life. The impaired quality of life was associated with education and family history (p<0.05). Relatively more impaired aspects of life were physical symptoms (67%), one's own perception of acne (68%) and interference with work/studies (60%).
Conclusion: The impact of acne on physical symptoms and self-confidence of people affected their mental health. As a result, these patients found difficulties in studies, work, and their social life. Knowledge about one's ailment, early access to treatment and improved compliance significantly improves one's quality of life. Acne is a deeply rooted issue with serious psychological and social implications which need to be addressed.
Downloads
Download data is not yet available.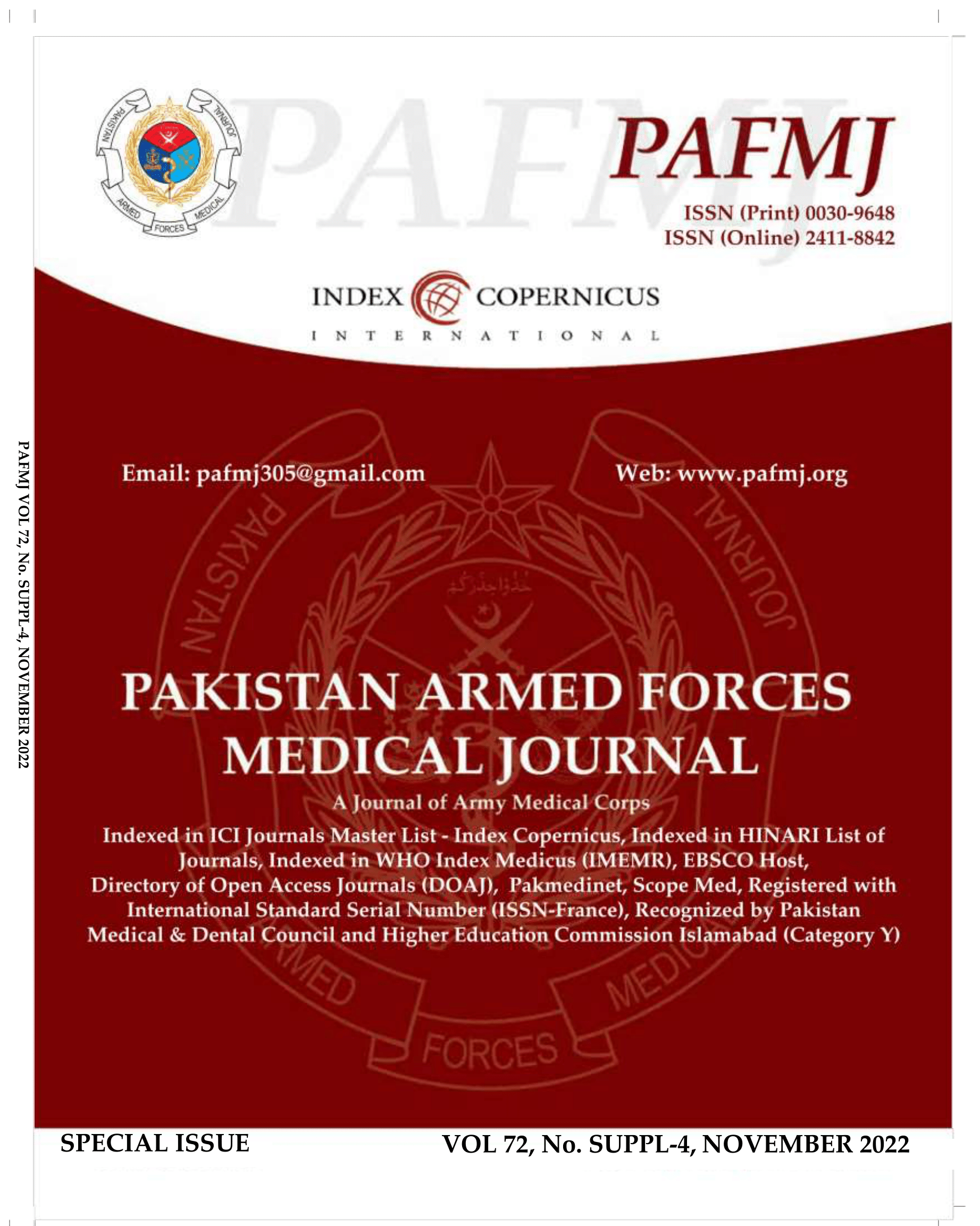 Downloads
How to Cite
Shahzad, A., Mashhadi, S. F., Zia, A., Masood, M., Ashfaq, N., & Khan, N. us S. (2022). Psychosocial Impact of Acne Vulgaris, its prevalence and associated Risk Factors in University Students of Rawalpindi/ Islamabad. Pakistan Armed Forces Medical Journal, 72(SUPPL-4), S827–32. https://doi.org/10.51253/pafmj.v72iSUPPL-4.9674
Section
Original Articles