Prevalence of Screen Addiction Based on Content Among University Students of Rawalpindi and Islamabad
Keywords:
Screen Addiction, content, Rawalpindi, Islamabad, university students
Abstract
Objective: To determine the prevalence of Screen Addiction & to compare the addiction scores with respect to type of content most consumed
Study Design: Quantitative Analytical Cross-sectional study
Place and Duration of Study: Universities of Rawalpindi and Islamabad Pakistan, from Jan 2022-Apr 2022
Methodology: The research was conducted over a sample size of 343 participants, studying in universities of Rawalpindi Islamabad Pakistan aging 18-30 years. Individuals having access to electronic devices were included while individuals with terminal illness were excluded. SA –SV (Smart phone addiction Scale-Short Version) was used to assess screen addiction while an Open and Close ended questionnaire, "Questionnaire to assess Screen Usage Behavior and Content Consumed" helped in assessing the type of content through google forms.
Results: Screen addiction value was 3.7 on the six-point SAS-SV Likert scale. Sample size was 343. Screen addiction was present in 70% (240 participants). The commonest screen used were smartphones/tablets (68.2%) while social media (67%) was the major reason behind the use. WhatsApp (35.9%) and Facebook (24.5%) were used most frequently. About 50% individuals agreed the reason for over usage was to relax and 29.74% spent more than 3 hours continuously on the screen. Our study shows prevalence of screen addiction to be significant (p<0.01).
Conclusion: Our findings reveal that most people are suffering from screen addiction and the content they're most addicted to is, social media. Attention needs to be drawn towards this issue given to the increasing social and psychological problems., 
Downloads
Download data is not yet available.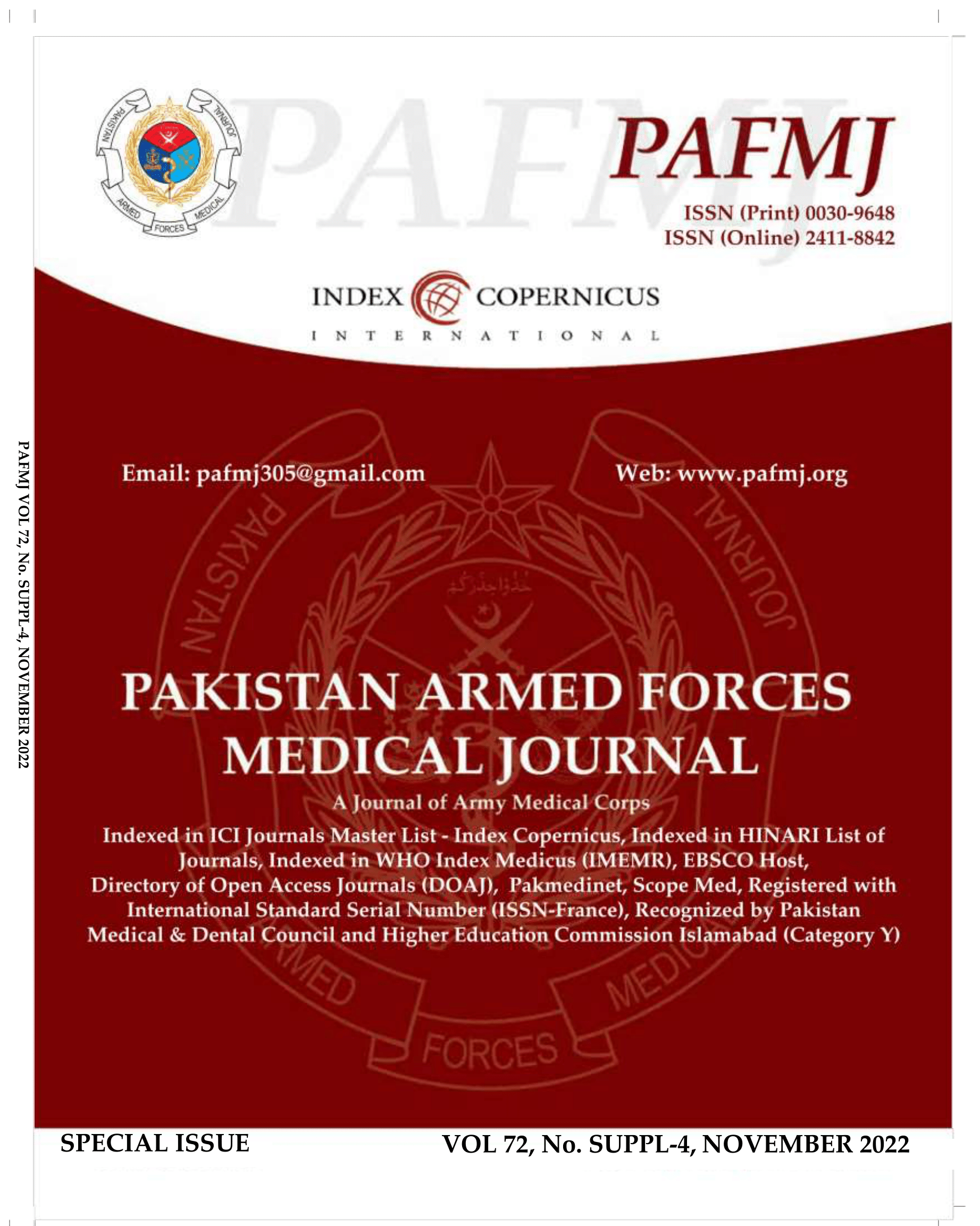 Downloads
How to Cite
Shahzad, A., Rehman, H., Hamid, F., Zaheer, U., Nasir, A., Toor, S. K., & Khan, I. U. (2022). Prevalence of Screen Addiction Based on Content Among University Students of Rawalpindi and Islamabad. Pakistan Armed Forces Medical Journal, 72(SUPPL-4), S816–21. https://doi.org/10.51253/pafmj.v72iSUPPL-4.9663
Section
Original Articles