Prevalence of Multivitamin Supplements useAmong General Population of Rawalpindiand Islamabad
Keywords:
Leaflet, Multivitamin, Non-Prescribed, Supplements
Abstract
Objective: To determine the prevalence of multivitamin supplement use among prescribed and non-prescribed population of
Rawalpindi and Islamabad Pakistan.
Study Design: It was a Quantitative analytical cross-sectional study.
Place and Duration of Study: The study was carried out among general population of Rawalpindi and Islamabad Pakistan,from Jan till Apr 2022.
Methodology: Nonprobability convenient sampling technique was used. The sample size was 385. The data was gathered through an online survey and was analyzed using IBM SPSS statistics version 25. Chi-square test was applied on qualitative variables with p-value significant at <0.05.
Results: Only 41% of people were prescribed multivitamins by their doctors while 59% were self-medicated. An overall prevalence of multivitamin supplementation among the population was 66.9%. About 48.3% of people are aware of their harmful effects. Majority (88.1%) of population consider vitamins good for their health. 70% of people buy supplements via pharmacist and almost half of the people do not read the leaflets that come with supplements. Male gender was statistically significantly associated with awareness of vitamin supplement use and encouraging its use to others (p≤0.05).
Conclusion: There exists a high prevalence of multivitamins use amongst the twin cities of Rawalpindi/Islamabad. Although most of the population had an awareness of what multivitamins are essentially, half the population do not know about the harmful effects of vitamins. Males had more awareness of multivitamins supplement use as compared to females.
Downloads
Download data is not yet available.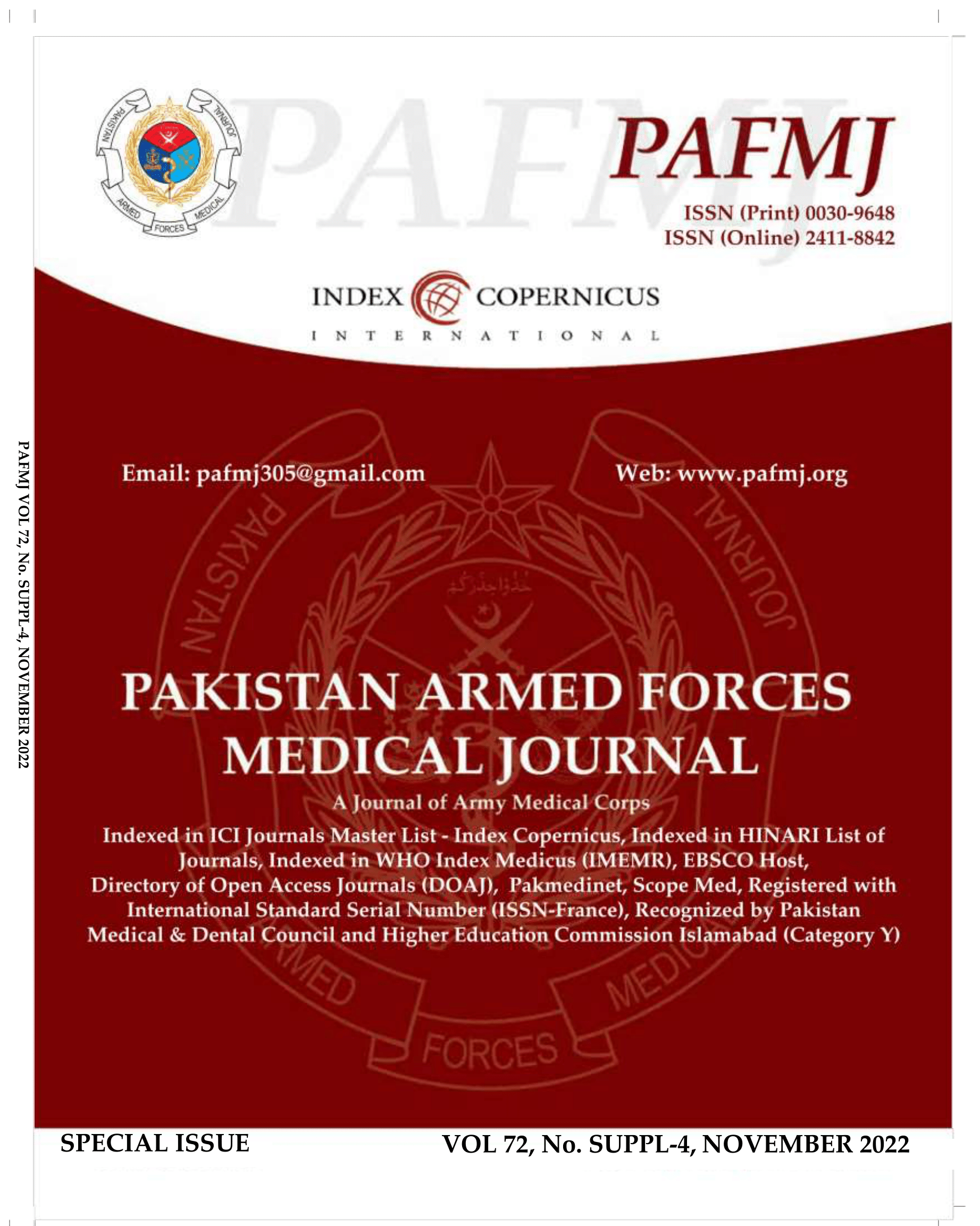 Downloads
How to Cite
Shahzad, A., Mashhadi, S. F., Safdar, S., Sultan, A., Osama, H., Ali Shah, S. M., … Abbas, S. (2022). Prevalence of Multivitamin Supplements useAmong General Population of Rawalpindiand Islamabad. Pakistan Armed Forces Medical Journal, 72(SUPPL-4), S800–804. https://doi.org/10.51253/pafmj.v72iSUPPL-4.9659
Section
Original Articles