Covid-19 Vaccine Hesitancy in Pakistan: A Cross-Sectional Study to Assess Resistance and Related Fears and Misconceptions
Keywords:
COVID-19, Vaccination, Vaccine Hesitancy
Abstract
Objective: The purpose of this study was to assess willingness to receive COVID-19 vaccine in Pakistan and to understand the reasons causing hesitation towards vaccine administration.
Study Design: A cross-sectional study was done through an online survey that was created using google forms.
Place and Duration of Study: The study was conducted online from Mar to Aug 2021 in different cities of Pakistan employing nonprobability convenience sampling technique. The link to the questionnaire was shared on different social media platforms such as WhatsApp and Facebook.
Methodology: Any individual over the age of 16 and willing to fill the questionnaire was enrolled. Questionnaire used were standardized Oxford COVID-19 vaccine hesitancy scale to assess intent and Oxford general vaccine hesitancy scale to assess attitude towards vaccinations in general. SPSS v25 was used for data analysis.
Results: A total of 589 valid responses were finally analyzed. Among the respondents, 24%(141) showed at least some hesitancy regarding COIVD-19 vaccination and 9%(53) of the respondents showed extreme hesitancy. The Pearson correlation coefficient indicated a significant positive correlation (p<0.000) between hesitancy to childhood vaccines and COVID vaccine hesitancy. There was also a significant correlation (p<0.000) between belief in conspiracy's related to COVID-19 virus and refusal to get vaccinated.
Conclusion: Vaccine hesitancy is present in roughly 1/4th of the study population. Conspiracy theories and low vaccine acceptance among the general public pose a severe danger to COVID-19 vaccination success. Public vaccine education programs should be started to educate the public regarding their fear of vaccination.
Downloads
Download data is not yet available.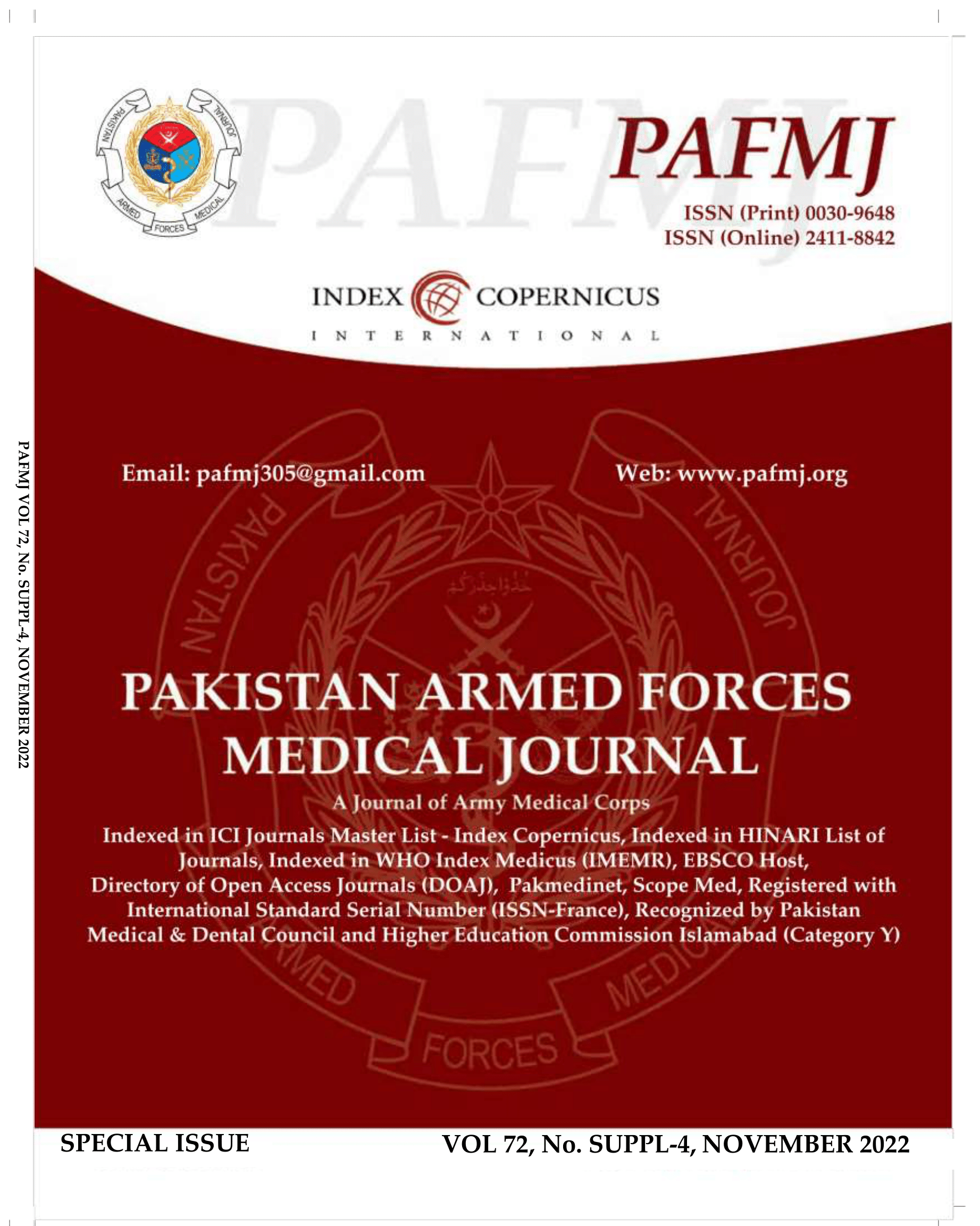 Downloads
How to Cite
Rathore, M. A., Mashhadi, S. F., Hayat, F., Aziz, H., Hundal, A., Ahmed, J., & Shahzad, T. (2022). Covid-19 Vaccine Hesitancy in Pakistan: A Cross-Sectional Study to Assess Resistance and Related Fears and Misconceptions. Pakistan Armed Forces Medical Journal, 72(SUPPL-4), S795–99. https://doi.org/10.51253/pafmj.v72iSUPPL-4.9658
Section
Original Articles