Prevalence of Myopia and Assessment of Perceptions of its Associated Risk Factors among Medical Students in Rawalpindi
Keywords:
Myopia, Prevalence, Risk factors
Abstract
Objective: To determine the prevalence of myopia among medical students and to assess the perception about the accompanying risk factors.
Study Design: Descriptive Cross Sectional.
Place and Duration of Study: Study was conducted among medical students of Rawalpindi Pakistan, over a time span of 6 months, from Dec 2021 to May 2022.
Methodology: Students participating in this study were belonging to both the genders with ages between 17-25 years. Students having history of LASIK surgery were excluded. A Pre-tested structured questionnaire was used for data collection and was distributed among students via Google Forms through various social media platforms. Analysis was done on SPSS version 26.
Results: A total of 300 students participated in this study, including 211(67%) females and 99(33%) males. About 150(50%) of the participants had myopia and 35(11.7%) of these had myopia since childhood. Among the myopes, 39(26%) were the ones whose parents had myopia and 98(65%) were the ones whose siblings had myopia too. Only 60(21%) students were aware of the risk factors such as increased mobile usage, reading in dim light, not wearing recommended glasses, sitting too close to TV screen. No statistically significant association was found between myopia and time spent on screen (p=0.333).
Conclusion: Myopia is widespread among medical students. Family history and genetics are linked to myopia. Time spent outdoors is very much less as compared to the time spent in front of screens by the students. A substantial proportion of students do not appear to be aware of current concepts and the actual risk factors leading to myopia.
Downloads
Download data is not yet available.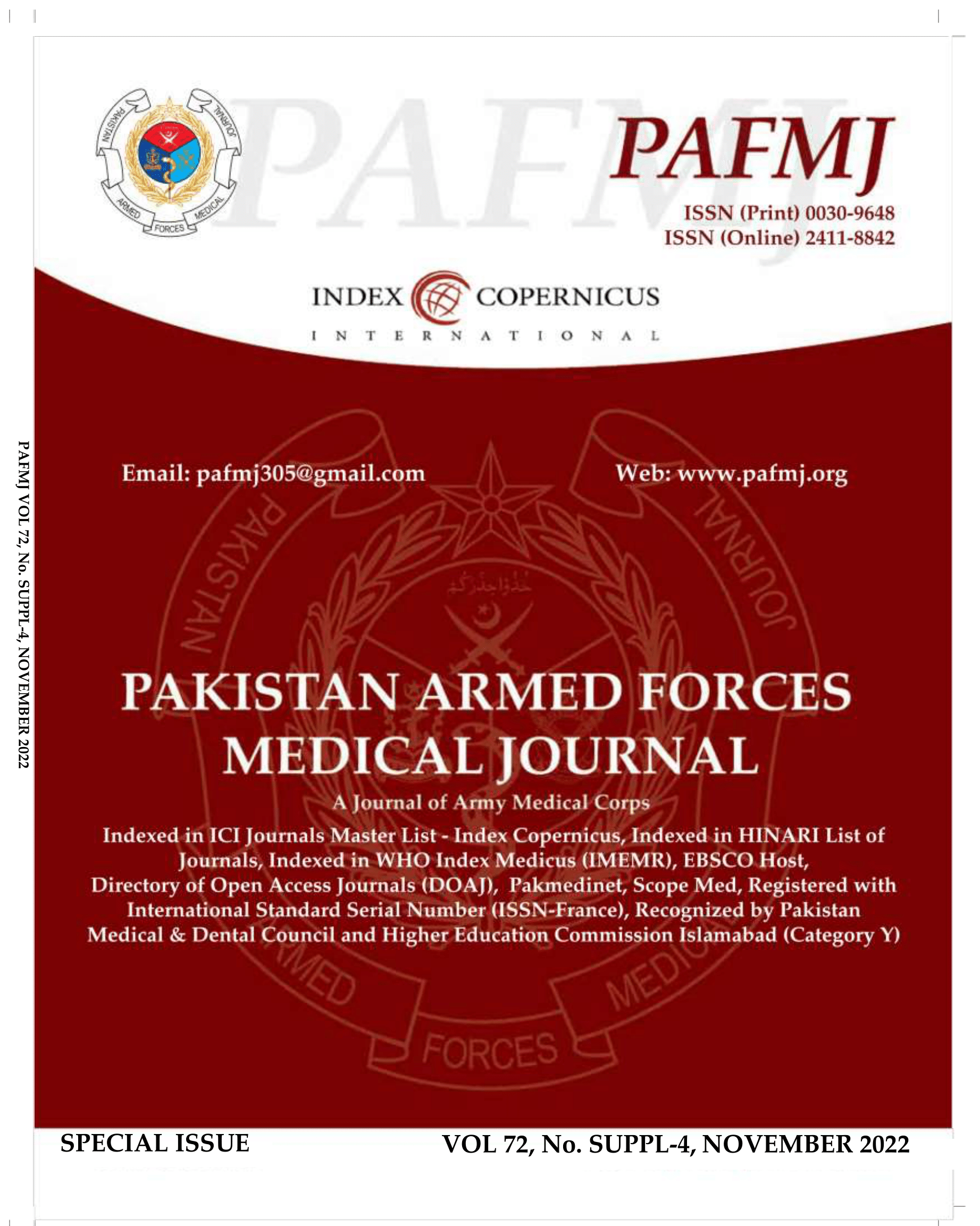 Downloads
How to Cite
Rathore, M. A., Mashhadi, S. F., Waris, S., Akhtar, A., Junaid, Z., Tariq, K. B., … Jabeen, S. (2022). Prevalence of Myopia and Assessment of Perceptions of its Associated Risk Factors among Medical Students in Rawalpindi. Pakistan Armed Forces Medical Journal, 72(SUPPL-4), S791–94. https://doi.org/10.51253/pafmj.v72iSUPPL-4.9657
Section
Original Articles