Prevalence of Body Dysmorphism and Its Association with Generalized-Anxiety in University Students of Twin Cities
Keywords:
Anxiety, Body dysmorphism, Body dysmorphic disorder, Body shape
Abstract
Objectives: To find the percentage of body dysmorphism in university students, and the association between body
dysmorphism and generalized-anxiety.
Study Design: Descriptive cross-sectional study.
Place and Duration of Study: Universities of Rawalpindi and Islamabad Pakistan, from Nov 2021 to May 2022.
Methodology: A total of 300 participants were recruited using convenience sampling technique. The questionnaire was provided online via google forms and had three parts. The first part included demographics, the second included a total of 19 questions, and the third part was the Beck Anxiety Inventory (BAI) which consisted of 21 items and measures the severity of anxiety. Frequency and percentages were calculated for descriptive analysis and chi square test of significance was applied to find association between body dysmorphism and general anxiety. Analysis was done via IBM SPSS v 25.
Results: Out of 300 participants, body dysmorphia was detected in 35(11.7%), 16(45.7%) were males, and 19(54.3%) were females. Amongst the 35 participants with dysmorphism, 13(37.1%) had low anxiety, 10(28.5%) had moderate anxiety, and 12(34.3%) had potentially concerning levels of anxiety. There was a significant association between body dysmorphism and anxiety (p-value< 0.00). The frequency of body dysmorphism was greater among participants who were single, undergraduate and had 3-7 hours of phone usage daily.
Conclusion: A significant proportion of students (11.7%) were suffering from body dysmorphia. There was no association between body dysmorphism and gender however male was found to be as much concerned about their bodies as females.Anxiety and Body dysmorphism were strongly associated however it can't be assessed which precedes which.
Downloads
Download data is not yet available.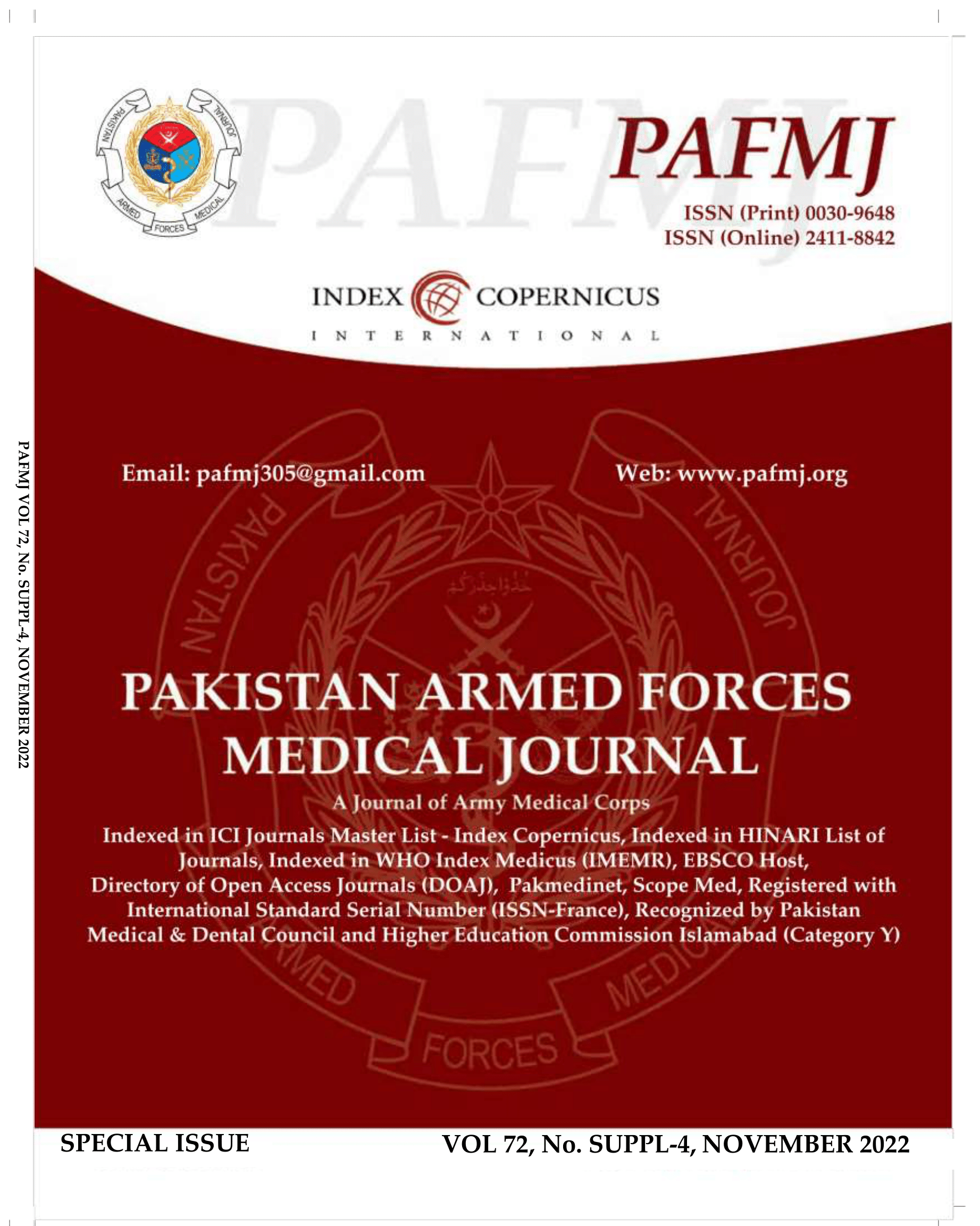 Downloads
How to Cite
Rathore, M. A., Mashhadi, S. F., Moeed, L., Ahmad, S., Mehmood, M., Abbasi, A., … Naseer, M. (2022). Prevalence of Body Dysmorphism and Its Association with Generalized-Anxiety in University Students of Twin Cities. Pakistan Armed Forces Medical Journal, 72(SUPPL-4), S786–90. https://doi.org/10.51253/pafmj.v72iSUPPL-4.9656
Section
Original Articles