Effect of Information Channels on Covid-19 Vaccine Acceptance among University Students of Rawalpindi/Islamabad: A Cross Sectional Study
Keywords:
COVID-19, Information channels, Mobile networks, Social media, Traditional media, Vaccination
Abstract
Objectives: To find the effect of information channels on Covid-19 acceptance among university students of Rawalpindi/
Islamabad.
Study Design: Cross sectional analytic study.
Place and Duration of Study: Study was conducted in four imminent Universities in Rawalpindi/Islamabad, Air University,Rawalpindi Medical University, Riphah University and Quaid-e-Azam University, Rawalpindi, from May to Aug 2022.
Methodology: Participants from four universities in Rawalpindi/Islamabad Pakistan, were recruited for this current research from May to August 2022. A sample size of 377±14 was computed using the Rao soft sample size calculator, maintaining a 5% margin of error and a 95% confidence interval a population proportion (50%). Non-probability convenient sampling was used.Data was analysed using SPSS version 26.
Results: There were 377 students recruited, out of which majority 207(55%) were female. Most of the students were in the Medicine and allied fields 227(60.2%). Almost, half of the respondents (44.56%) received information about the COVID-19 vaccine from mobile networks. The level of trust in vaccine information was also highest for Mobile Networks (31.30%).Participants' perceptions of the covid 19 risk, 156(41%) revealed high concerns for infecting family and friends with the virus.There was a significant association of female gender (p<0.05) and being from the Medicine and allied fields (p=p<0.05) with vaccine acceptance.
Conclusion: In our study the mobile and traditional media were reported as the main sources of information about the
COVID-19 vaccination however they were not significantly associated with vaccine acceptance. Female gender, education
level and being from the Medicine and allied fields was associated with intention to be vaccinated.
Downloads
Download data is not yet available.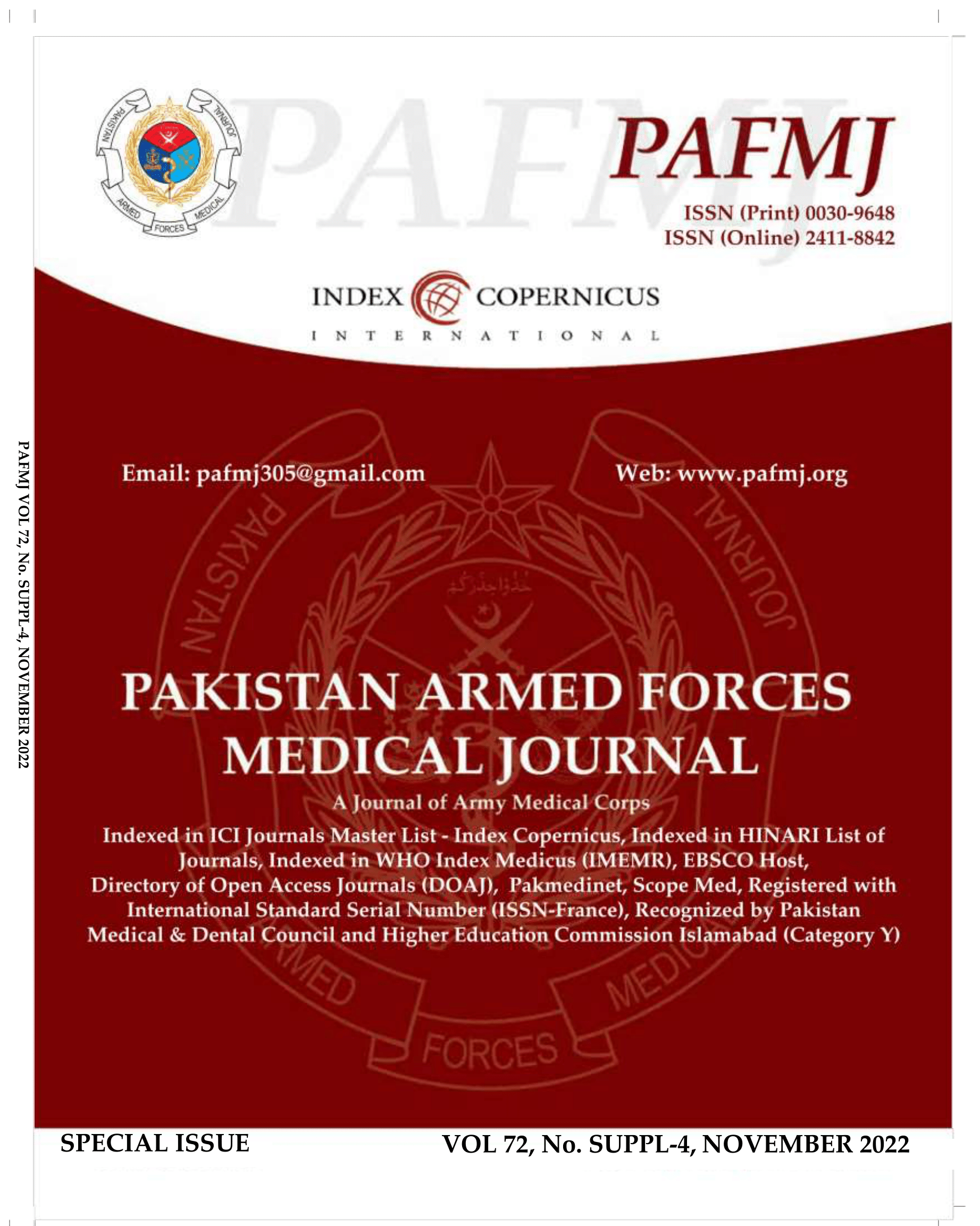 Downloads
How to Cite
Mohsin, S., Zahoor, M., Mashhadi, S. F., Rehman, M. A. ur, Abbasi, W. N., Javaid, R., … Faiz, U. (2022). Effect of Information Channels on Covid-19 Vaccine Acceptance among University Students of Rawalpindi/Islamabad: A Cross Sectional Study. Pakistan Armed Forces Medical Journal, 72(SUPPL-4), S693–97. https://doi.org/10.51253/pafmj.v72iSUPPL-4.9640
Section
Original Articles