Safety of COVID-19 Vaccines; Frequency of Side Effects and Association with Sociodemographic Characteristics among Medical Students
Shamaila Mohsin

Army Medical College/National University of Medical Sciences (NUMS) Rawalpindi Pakistan

Mamoona Zahoor

Army Medical College/National University of Medical Sciences (NUMS) Rawalpindi Pakistan

Syed Fawad Mashhadi

Army Medical College/National University of Medical Sciences (NUMS) Rawalpindi Pakistan

Usman Ali

Army Medical College/National University of Medical Sciences (NUMS) Rawalpindi Pakistan

Usman Yousaf

Army Medical College/National University of Medical Sciences (NUMS) Rawalpindi Pakistan

Noor-e- Malaika

Army Medical College/National University of Medical Sciences (NUMS) Rawalpindi Pakistan

Ayesha Amin

Army Medical College/National University of Medical Sciences (NUMS) Rawalpindi Pakistan

Amna Shaheen

Army Medical College/National University of Medical Sciences (NUMS) Rawalpindi Pakistan

Arsal Nasim

Army Medical College/National University of Medical Sciences (NUMS) Rawalpindi Pakistan
Keywords:
COVID pandemic, Normal pain, Vaccine side effects, Vaccines safety
Abstract
Objective: To find out the side effects of vaccines of COVID-19 and its association with sociodemographic factors among
students of medical colleges of Rawalpindi.
Study Design: Cross sectional analytic study.
Place and Duration of Study: A cross-sectional analytical study was carried out from May to Aug 2022 among medical students of three Medical Colleges (AMC, FUMC, RMC) in Rawalpindi Pakistan.
Methodology: There were 200 participants that were conveniently selected with the Rao soft sample size calculator. Avalidated questionnaire was used to collect data. SPSS (v:26) was used to analyze the data. Chi square analysis was used to assess the relationship between side effects and demographic characteristics and a p-value of 0.05 was taken as significant.
Results: Majority of the participants were male 126(63%) and unmarried 182(94%). The mean age of the participants was 20 years (SD=1.4). Almost all were vaccinated 197(98.5%) with two doses 195(97.5%). The side effects after the first dose were more profound as compared to the second dose, like normal pain 133(66.5%), tenderness at injection site 69(34.5%), fever 65(32.5%) and fatigue 80(40%). Muscular pains were also documented to be pronounced after the administration of first dose 58(29%). Association analysis showed significant association between first dose side effects, normal pain(p=0.001), tenderness
(p=0.004), redness (p=0.02) and fatigue (p=0.02) with gender variable. Whereas age and degree socio demographic variables reported significant association with first dose side effects, normal pain (p=0.04) and muscle pain (p=0.01), respectively.
Conclusion: It was conclusive that adverse effects were more common and more severe after the first dose than after the second. The most frequent side effect was normal pain at the injection site, found more frequently in men, with muscular pain being noticeably worse after the first dosage and surprisingly minimal following the second dose of the COVID-19 vaccination.
Downloads
Download data is not yet available.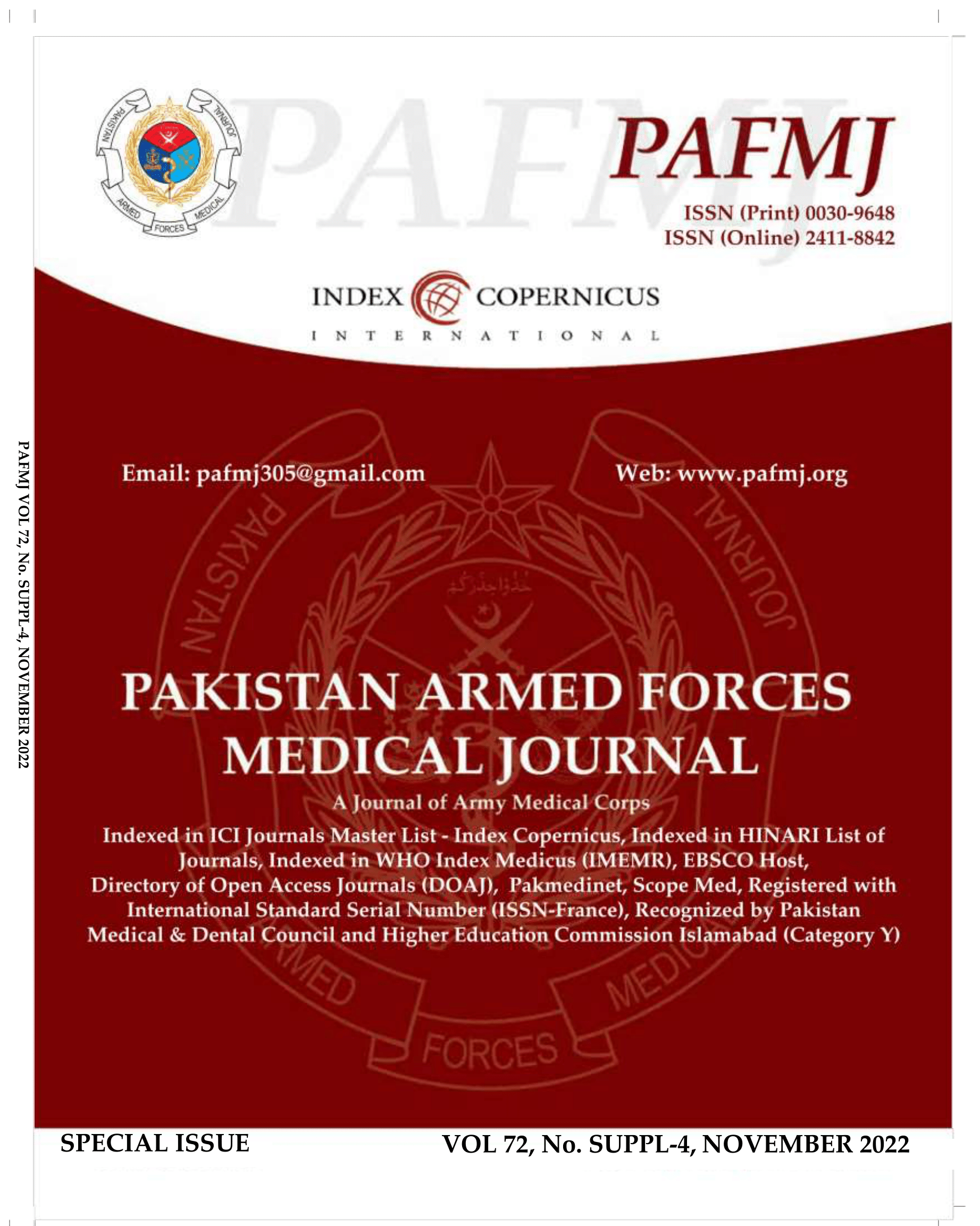 How to Cite
Mohsin, S., Zahoor, M., Mashhadi, S., Ali, U., Yousaf, U., Malaika, N.- e-, Amin, A., Shaheen, A., & Nasim, A. (2022). Safety of COVID-19 Vaccines; Frequency of Side Effects and Association with Sociodemographic Characteristics among Medical Students. Pakistan Armed Forces Medical Journal, 72(SUPPL-4), S688-92. https://doi.org/10.51253/pafmj.v72iSUPPL-4.9639
Section
Original Articles