FREQUENCY OF DIFFERENT CAUSES OF UPPER GASTROINTESTINAL BLEEDING USING ENDOSCOPIC PROCEDURE AT A TERTIARY CARE HOSPITAL
Causes of Upper Gastrointestinal Bleeding
Keywords:
Hematemesis, Melena, Upper GI bleeding, Upper GI endoscopy, Varices
Abstract
Objectives: To assess the outcome of early endoscopy in terms of frequency of different causes of upper gastrointestinal bleeding at a tertiary care hospital.
Study Design: Cross sectional descriptive study.
Place and Duration of Study: Outpatients / indoor patients, Department of Medicine Military Hospital Rawalpindi from 1st Jan 2010 to 30th June 2010.
Patients and Methods: Study was carried out in department of medicine Military Hospital Rawalpindi. Two hundred and forty four after cosen. Patients of upper gastrointestinal bleeding fulfilling the inclusion criteria were included in the study. Haemodynamically stable patients were kept empty stomach for at least 6-8 hours before procedure. A detailed history and thorough physical examination was carried out. Protocols for endoscopic examination were followed. Mandatory baseline investigations were obtained. Endoscopic findings were documented on a proforma. p value of less than 0.05 was considered statistically significant.
Results: There were 174 males (71.3%) and 70 females (28.7%). The age of the patients ranged from 15 years to 75 years, mean age was 52.23 years (SD = 14.78). The most common cause of upper GI bleed was varices in 176 (72.1%) patients; followed by gastric ulcer in 24 (9.8%) patients. Other causes in order of decreasing frequency included gastritis 16(6.55%), duodenal ulcer 14(5.73%), esophagitis 6(2.45%), Mallory Weiss tear 2(0.81%) and miscellaneous 6(2.45%).
Conclusion: Esophageal varices is the most common cause of upper GI bleed in our set up reflecting high prevalence of liver cirrhosis secondary to chronic HBV and HCV infection.
Downloads
Download data is not yet available.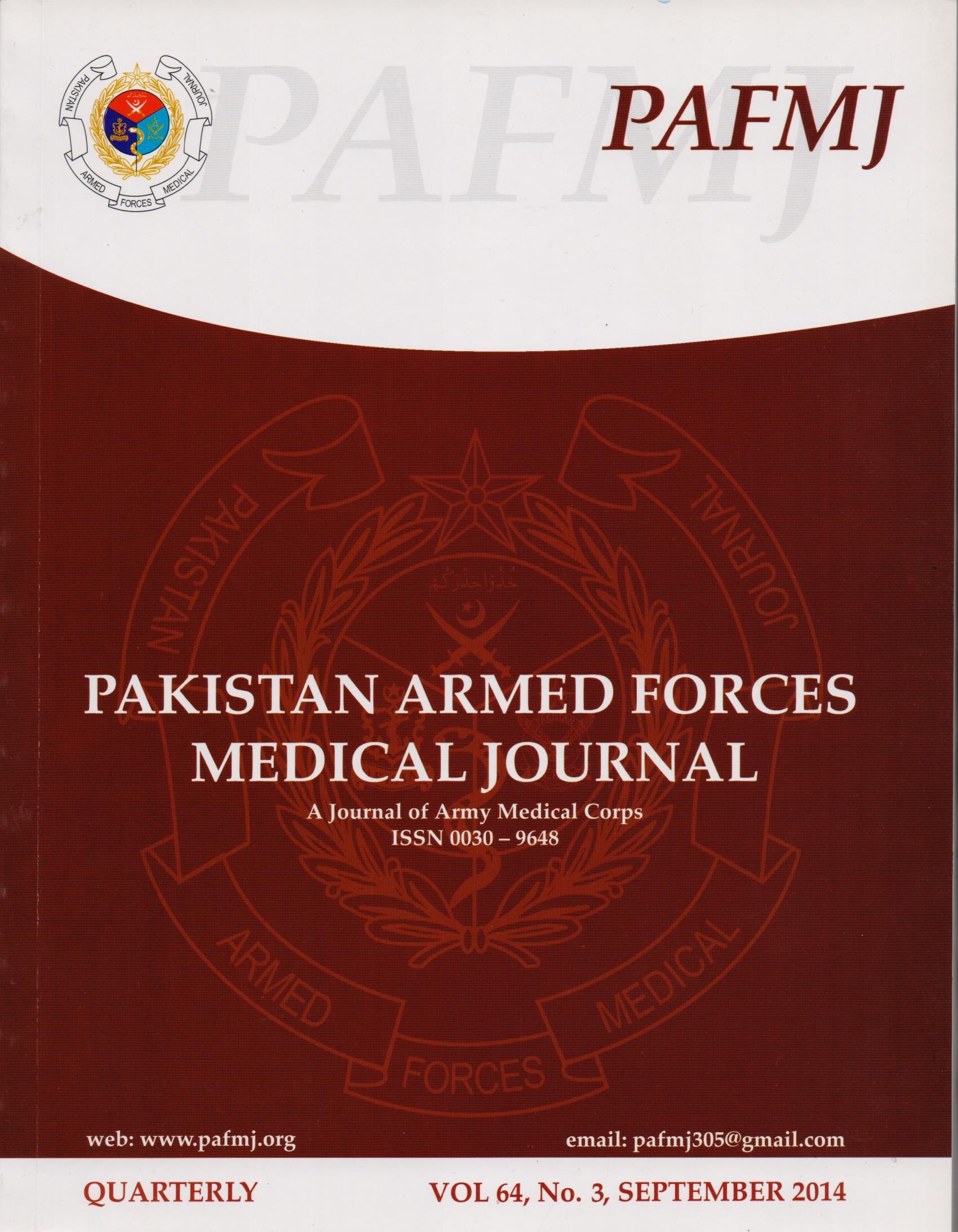 Downloads
How to Cite
Sher, F., Ullah, R. S., Khan, J., Mansoor, S. N., & Ahmed, N. (2014). FREQUENCY OF DIFFERENT CAUSES OF UPPER GASTROINTESTINAL BLEEDING USING ENDOSCOPIC PROCEDURE AT A TERTIARY CARE HOSPITAL: Causes of Upper Gastrointestinal Bleeding. Pakistan Armed Forces Medical Journal, 64(3), 410–3. Retrieved from https://pafmj.org/PAFMJ/article/view/924
Section
Original Articles