Frequency of Phantom Limb Pain in Lower Limb Amputees
Keywords:
Amputation, Phantom limb pain, Phantom limb sensations, Visual analogue scale
Abstract
Objective: To determine the frequency of phantom pain in lower limb amputees.
Study Design: Cross sectional study.
Place and Duration of the Study: Armed Forces Institute of Rehabilitation Medicine (AFIRM), Rawalpindi Pakistan, from Jan to Dec 2012.
Methodology: Ninety-Six lower limb male amputees fulfilling the inclusion criteria were enrolled. Pain severity was assessed on the visual analogue scale at admission, after one month and the second-month post-amputation.
Results: Ninety-Six male patients were studied. The mean age was 27.40 ± 5.0 years. 46 (47.91%) patients had amputation of left lower limbs. Bilateral lower amputation was 8 (8.33%). Mine blast injury was the leading cause of lower limb amputation in these patients (58.33%). In addition, 61 (63.54%) were experiencing Phantom limb pain (PLP). At admission, 31 (50.81%) patients described severe pain on the visual analogue scale; however, this number decreased to 2(3.27%) after two-months post-rehabilitation.
Conclusion: Many factors, including phantom limb pain, may delay rehabilitation and community re-integration of amputees. Therefore, it is very important to know the frequency of phantom limb pain; this knowledge will help us manage it in a timely manner.
Downloads
Download data is not yet available.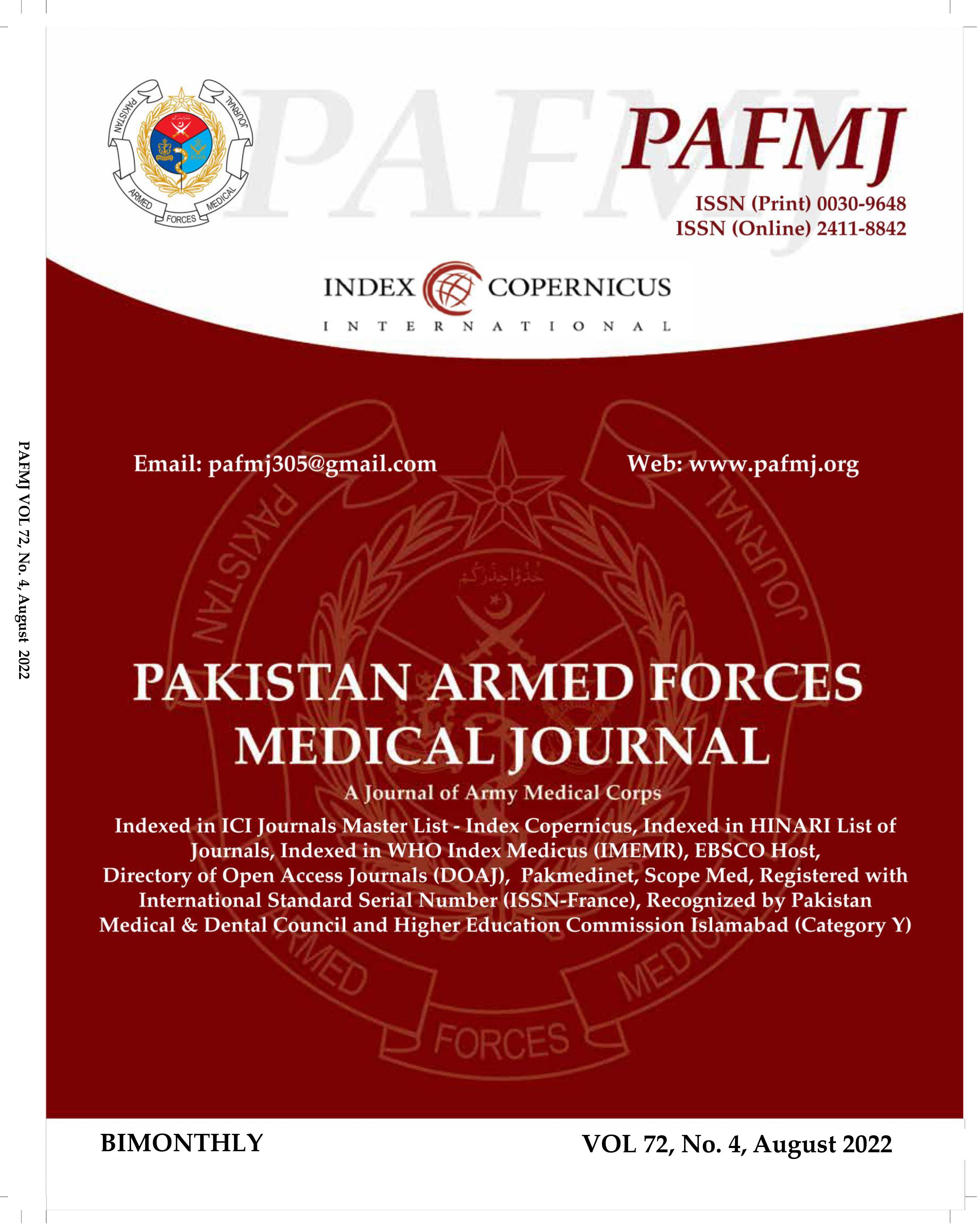 Downloads
How to Cite
Fahim, M., Ahmed, K., Nadeem, A., & Khalid, H. B. (2022). Frequency of Phantom Limb Pain in Lower Limb Amputees. Pakistan Armed Forces Medical Journal, 72(4), 1186–88. Retrieved from https://pafmj.org/index.php/PAFMJ/article/view/9213
Section
Original Articles