FREQUENCY OF DIFFERENT LEVEL OF AMPUTATIONS IN TYPE-2 DIABETICS
Level of Amputations in Type-2 Diabetics
Keywords:
Amputation, Diabetic foot, Diabetic foot ulcers, Glycemic control
Abstract
Objective: To determine the frequency of different levels of amputations in type-2 diabetics.
Study Design: Cross sectional study.
Place and Duration of study: Department of Surgery Combined Military Hospital, Peshawar, from 27 Aug 2012 to 27 Feb 2013.
Material and Methods: Non probability consecutive sampling technique was used to enroll 158 type-2 diabetics undergoing amputations satisfying inclusion/exclusion criteria. Data regarding level of amputation, glycosylated Hb% and duration of diabetes mellitus (DM) was recorded followed by analysis using SPSS version 17.
Results: Total 158 patients were enrolled, 102 (64.5%) male and 56 (35.44%) female, with male female ratio of 1.8:1. Mean age of presentation was 54.99 ± 7.84 years in males and 55.14 ± 8.99 years in females respectively, the difference being statistically insignificant (p=0.912). Mean duration of DM was found 10.88 ± 3.16 years in males and 10.03 ± 2.50 years in females while mean level of glycosylated hemoglobin was 7.54 ± 0.68 and 7.35 ± 0.63 in males & females respectively, both values statistically insignificant. Below knee amputation (BKA) was done in 55 (34.8%) patients, above knee amputation (AKA) 34 (21.5%), Toe amputation (TA) 42 (26.6%) and foot amputation (FA) in 27(17.1%).
Conclusion: Majority of the patients underwent major amputations and most frequent level of amputation was below knee amputation.
Downloads
Download data is not yet available.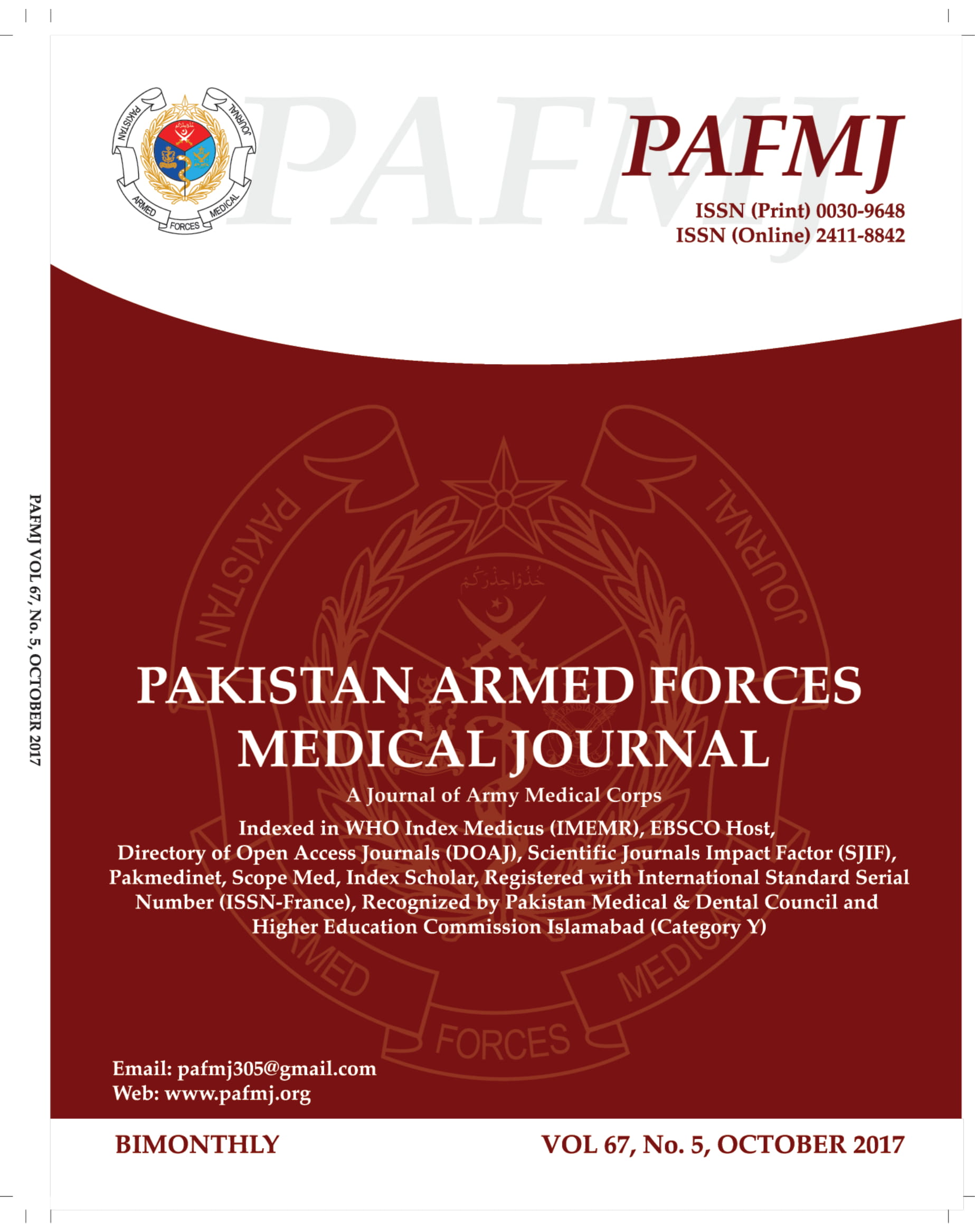 Downloads
How to Cite
Bin Ali, U., Shukr, I., Tanveer Sajid, M., Afzal, W., Hussain, M., & Mustafa, Q. U. A. (2017). FREQUENCY OF DIFFERENT LEVEL OF AMPUTATIONS IN TYPE-2 DIABETICS: Level of Amputations in Type-2 Diabetics. Pakistan Armed Forces Medical Journal, 67(5), 712–15. Retrieved from https://pafmj.org/PAFMJ/article/view/866
Section
Original Articles