COMPARISON OF SERUM SODIUM LEVELS IN COMPENSATED AND DECOMPENSATED CIRRHOSIS SECONDARY TO CHRONIC VIRAL HEPATITIS C
Serum Sodium Levels in Compensated & Decompensated Cirrhosis
Maryam Hussain

Combined Military Hospital Peshawar/National University of Medical Sciences (NUMS) Pakistan

Asifullah Khan

Combined Military Hospital Bahawalpur/National University of Medical Sciences (NUMS) Pakistan
Keywords:
Compensated cirrhosis, Chronic viral hepatitis C, Decompensated cirrhosis, Serum sodium level
Abstract
Objective: To compare the serum sodium levels in compensated (Child Pugh A) and decompensated cirrhosis (Child Pugh C) secondary to chronic viral hepatitis C.
Study Design: Comparative descriptive study.
Place and Duration of Study: The study was carried out in Department of Medicine Military Hospital Rawalpindi over six months from July to Dec 2012.
Material and Methods: A Total of 100 consecutive patients of cirrhosis secondary to viral hepatitis C infection fulfilling the inclusion criterion were taken from wards and emergency department of hospital. Two groups were made depending on examination and laboratory investigation. Group A comprising of patients with decompensated cirrhosis in Child Pugh class C and group B of patients with compensated cirrhosis in Child Pugh class A. Venous blood sample of each patient was collected for serum sodium levels and was transported to Armed Forces Institute of Pathology immediately for analysis.
Results: Serum sodium level in group A comprising of 60 patients with decompensated cirrhosis ranged from 120 to 145 mmol/with a mean value of 133.03 ± 6.70 whereas serum sodium level in group B comprising of 40 patients with compensated cirrhosis ranged from 132 to 145 mmol/l with a mean sodium level of 140.30 ± 3.20mmol/L. Difference was statistically significant (p=0.010).
Conclusion: Mean serum sodium levels were lower in patients with decompensated cirrhosis as compared to compensated cirrhosis.
Downloads
Download data is not yet available.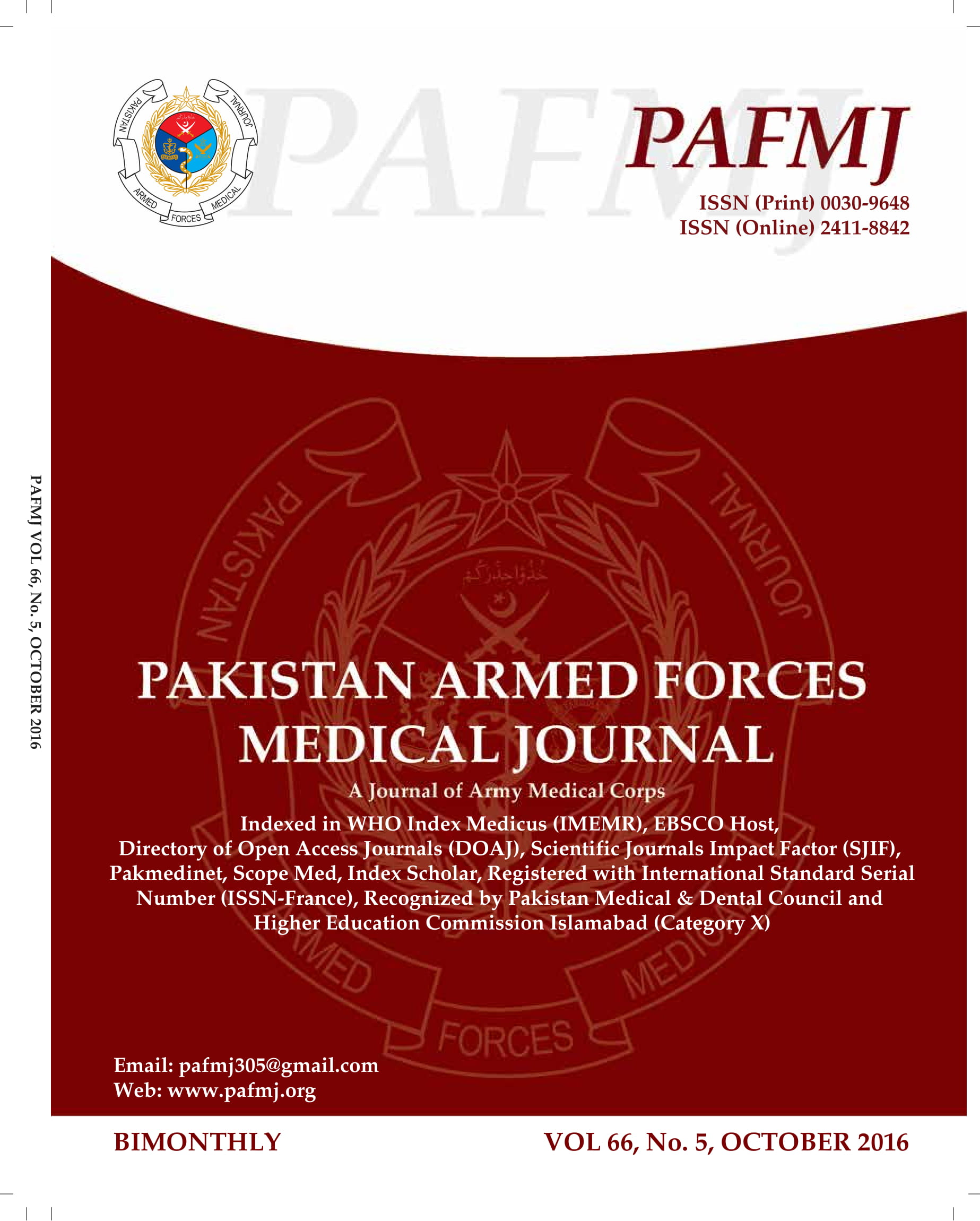 How to Cite
Hussain, M., & Khan, A. (2016). COMPARISON OF SERUM SODIUM LEVELS IN COMPENSATED AND DECOMPENSATED CIRRHOSIS SECONDARY TO CHRONIC VIRAL HEPATITIS C. Pakistan Armed Forces Medical Journal, 66(5), 752-55. Retrieved from https://pafmj.org/index.php/PAFMJ/article/view/859
Section
Original Articles