Histopathological Outcome of Oral Lesions in Pakistani Population with Special Emphasis on Oral Cancer
Keywords:
Biopsy, Histopathology, Non-neoplastic, Neoplastic, Oral lesions, Premalignant, Squamous cell carcinoma
Abstract
Objective: To evaluate varying histopathological outcomes of oral lesions in different age groups and locations of the lesions, with special emphasis on oral cancer.
Study Design: Cross-sectional study.
Place and Duration of Study: Histopathology Department, Foundation University Medical College Islamabad Pakistan, from May 2019 to May 2021.
Methodology: A total of 99 cases of oral lesions which were biopsied and were adequate in size were included in the study. Biopsies were evaluated histologically for non-neoplastic, neoplastic and premalignant lesions about age, nature and location of the lesions. Data collection was through Medix Online Histopathology Reporting System (MOHRS).
Results: A total of 99 cases were included in the study, out of which 41 cases (41.4%) were non-neoplastic, 56 cases (56.6%) were neoplastic, and 2 cases (2.0%) were premalignant lesions. Out of 41 non-neoplastic lesions, the majority were inflammatory (14 cases), followed by fibroepithelial polyps (5 cases), pyogenic granulomas (4 cases), and hyperplasia (3 cases). Out of 56 neoplastic lesions, 39 (69.6%) were confirmed as carcinomas, squamous cell carcinoma being the most common malignancy in 29 cases (74.3%), followed by verrucous carcinoma in 5 cases (12.8%). In addition, there were two cases (11.7%) of potentially premalignant lesions. Buccal mucosa and tongue were more predominant sites of oral pathologies than other sites.
Conclusion: In our setup, most of the oral lesions evaluated histologically turn out to be neoplastic and that too malignant, mostly squamous cell carcinomas. Most of the oral lesions occur in the fifth and sixth decade. Buccal mucosa and tongue.........
Downloads
Download data is not yet available.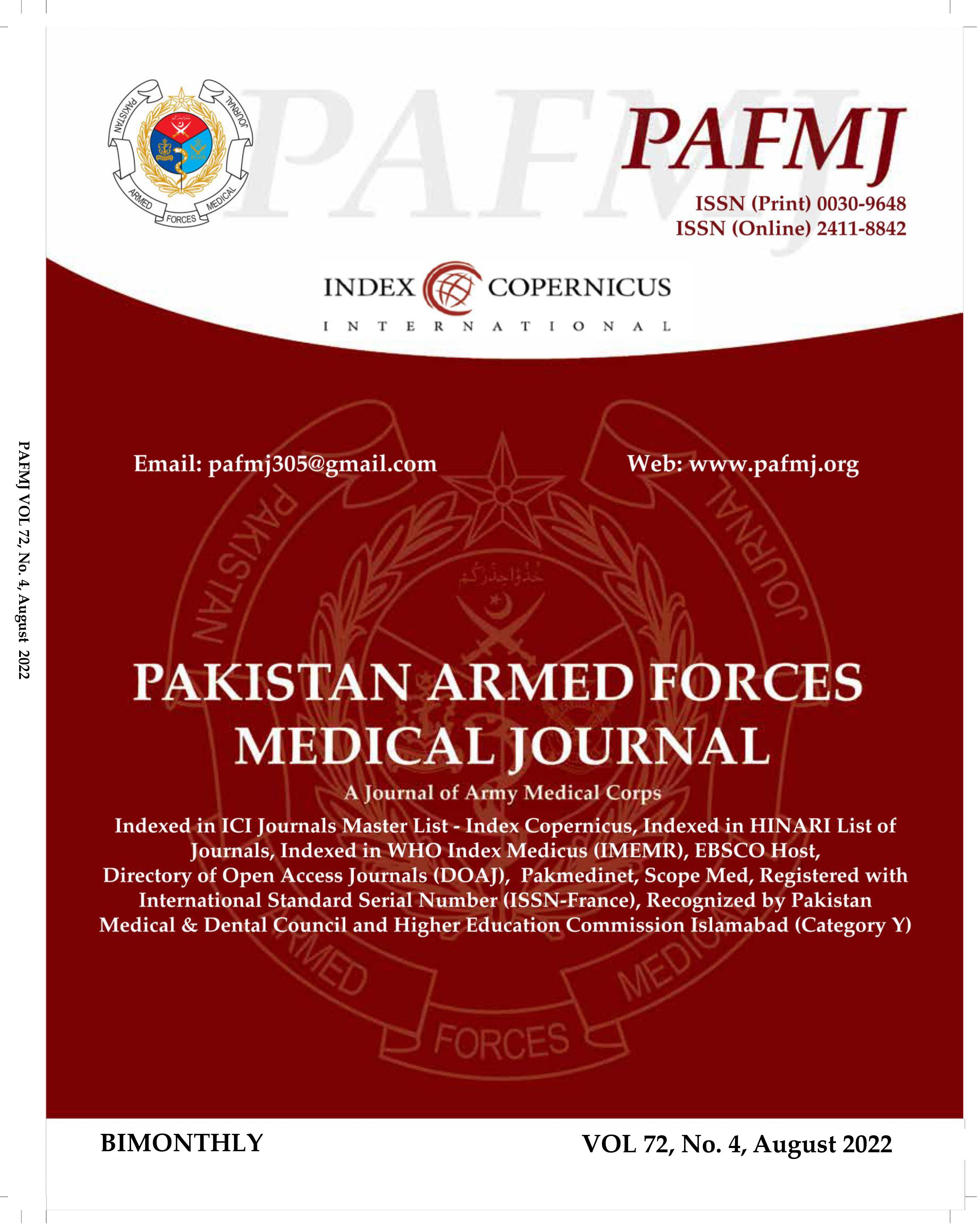 Downloads
How to Cite
Waheed, A., Sarfraz, T., Kaleem, F., & Riaz, R. (2022). Histopathological Outcome of Oral Lesions in Pakistani Population with Special Emphasis on Oral Cancer. Pakistan Armed Forces Medical Journal, 72(4), 1433–38. https://doi.org/10.51253/pafmj.v72i4.8577
Section
Original Articles