PATTERNS OF STRESS RELATED INJURIES OF LOWER LIMBS IN MILITARY SETUP ON SKELETAL SCINTIGRAPHY
Stress Related Injuries of Lower Limbs on Skeletal Scintigraphy
Ali Jamal

Armed Forces Institute of Pathology/National University of Medical Sciences (NUMS) Rawalpindi Pakistan

Mujahid Khalid Ali

Armed Forces Institute of Pathology/National University of Medical Sciences (NUMS) Rawalpindi Pakistan

Tariq Mahmood Mirza

Armed Forces Institute of Pathology/National University of Medical Sciences (NUMS) Rawalpindi Pakistan

Mehdi Raza

Armed Forces Institute of Pathology/National University of Medical Sciences (NUMS) Rawalpindi Pakistan

Umer I Farooq

Armed Forces Institute of Pathology/National University of Medical Sciences (NUMS) Rawalpindi Pakistan
Keywords:
Bone scan, Overuse injuries, Stress fracture
Abstract
Objective: To determine patterns of stress related injuries of lower limbs in military (training) setup on skeletal scintigraphy and frequencies.
Study Design: Cross sectional descriptive study.
Place and Duration of Study: Nuclear Medical Centre, Armed Forces Institute of Pathology (AFIP) Rawalpindi from Jul 2004 to Dec 2012.
Materials and Methods: Total 297 positive cases of military cadets/recruits on 3-phase skeletal scinitigraphy were included in study whereas negative cases were excluded. 99mTc-MDP (20mCi) was injected intravenously followed immediately by angioscintigraphic, blood pool imaging and delayed imaging after 2 hours. Acquisition was done on Siemens E-Cam ® and Scintronix ® Gamma Cameras. Radiotracer uptake in localized focal pattern was labeled as stress fracture, in linear pattern along the periosteum as sub-periosteal reaction or periostitis, linear uptake in poster medial distal tibial aspects as medial tibial stress syndrome or shin splints and up take at insertion sites of major lower limb muscles as activity induced enthesopathy, respectively.
Results: Stress fractures constituted 80.13% cases with bilateral middle third tibiae as the commonest site. Shin splints were present in 21.88% of cases and sub-periosteal reactive changes in 14.47% of the patients. Activity induced enthesopathy was present in 4.20% of patients with bilateral quadriceps femoris enthesopathy being more prevalent.
Conclusion: Most common overuse injuries are stress fractures followed by shin splints, sub-periosteal reactive changes and activity induced enthesopathy. Middle third of tibia is commonest site prone to stress fractures and overall right lower limb is frequently involved as compared to left in all stress induced injuries.
Downloads
Download data is not yet available.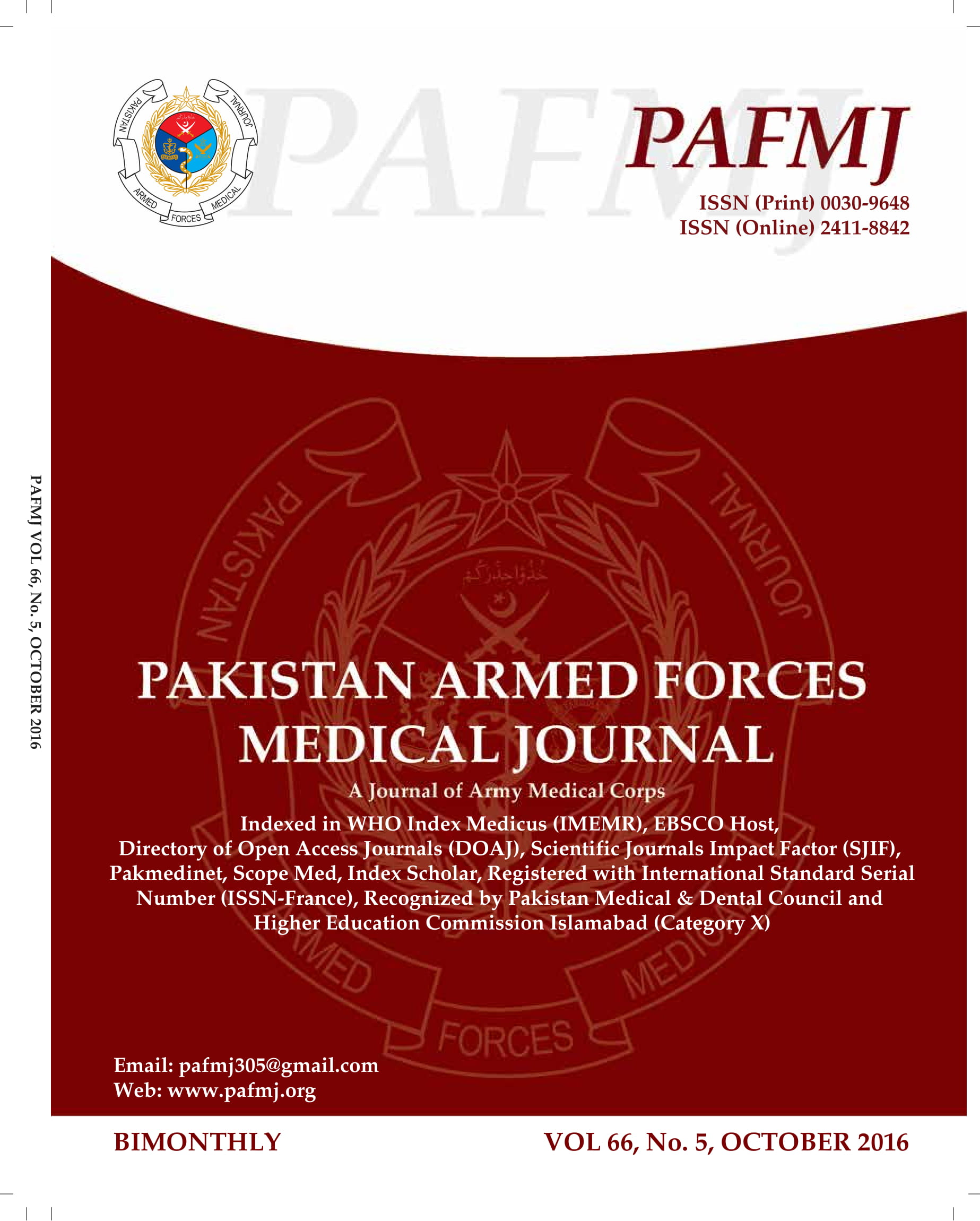 How to Cite
Jamal, A., Ali, M., Mirza, T., Raza, M., & Farooq, U. (2016). PATTERNS OF STRESS RELATED INJURIES OF LOWER LIMBS IN MILITARY SETUP ON SKELETAL SCINTIGRAPHY. Pakistan Armed Forces Medical Journal, 66(5), 742-46. Retrieved from https://pafmj.org/index.php/PAFMJ/article/view/850
Section
Original Articles